Four day exhibition organized by Artists Guild Ajitgarh begins: The annual exhibition, being organized by the Contemporary Artists' group 'Artists Guild Ajitgarh' from Mohali, Chandigarh Tricity, began on Friday at the group's Art Gallery in the Industrial Area, Phase 9.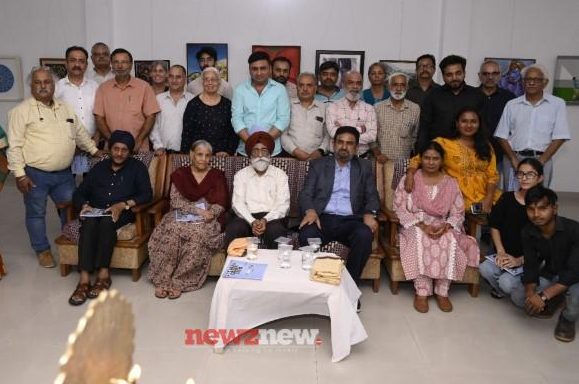 The four-day exhibition was duly inaugurated by Dr. Anmol Ratna Sidhu, Advocate General, Punjab. Apart from local artists, the works of artists from all over the country and abroad have also been displayed in this exhibition.
A total of 50 works have been kept in the exhibition, which includes paintings, graphics, print making and sculpture etc.
Former IRS and group founder and chairman Malkit Singh, who after his retirement made available a part of his assets in the form of this gallery shed to encourage art and artists, said that this annual exhibition will be organized from the year 2011.
The purpose of which is to give respect to the works made by the artists and to reach the common people through such a platform. He told that year after year, he has been receiving wide response from artists and visitors in this exhibition.
During the inauguration, Dr. Sidhu lauded the efforts of Malkit Singh and group chairman and former professor of Art College Ishwar Dayal that their initiative would set new dimensions for art in the Chandigarh Tricity area.
He said that the hard work, creativity and vision of the artist is clearly reflected in each of the works displayed which is worthy of praise.
Admission is free during the entire duration of the exhibition.