Ganesh Chaturthi: Eco-friendly earthen idols of Ganpati in demand: In view of the ongoing Covid-19 crisis, idol makers are coming up with eco-friendly, earthen Ganesha idols this 'Ganesh Chaturthi festival'. 'Ganesh Chaturthi' is to be celebrated on August 22 this month.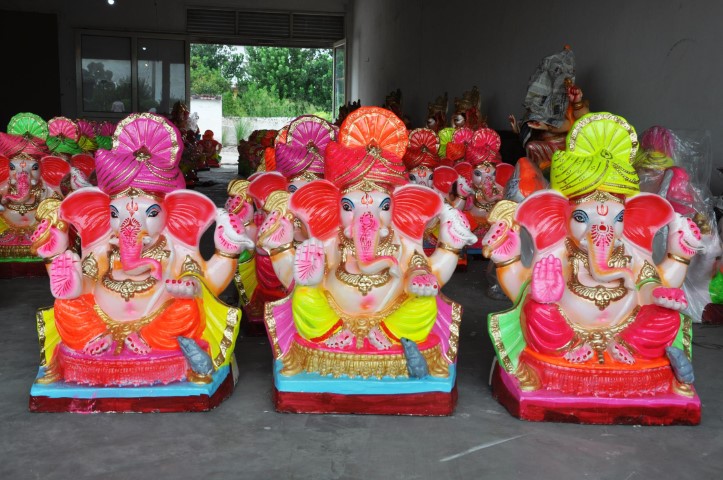 This festival the idol makers have decided not to make big Ganpati idols with Plaster of Paris which have been creating environmental problems.
Phool Chand Chaaran, who hails from Rajasthan and runs an idol-making workshop on the Zirakpur-Ambala road opposite the Singhpura bus stand says, "We are making only earthen Ganpati idols with pure clay. The clay was specially brought from the Ganges river beds of Haridwar before the lockdown was imposed, because of its 'ease of dissolution' properties and due to sacred considerations. The idol dissolves within an hour and later the clay can be used in gardening and even in flower pots."
The earthen Ganeshas' trend started due to the COVID-19 restrictions, which do not allow people to gather at a particular immersion site to avoid the spread of the coronavirus. With these idols, devotees can perform the immersion ceremony of Ganpati easily in the safety of their homes. The idols can be easily immersed at home in a small water tub too.
Adds Phool Chand, "This is the reason that we have decided to not exceed the height of the idols more than 3 feet and prepare only earthen idols. And even the customers are  demanding clay made idols due to COVID-19 restrictions."
Ganesh Utsav celebrations have already begun and will culminate with the observation of Ganesh Chaturthi on August 22. According to Phool Chand, last year the festival was in July and he had received more than one thousand orders in advance. But this year's orders aren't good like last year due to the pandemic. He says that there is a drop of 25 percent in demand for Ganesha idols. He explains that while the large-sized idols are not being demanded there is an increase in the sale of smaller sized idols.  
This season Phool Chand and his team of 8 artists have created over 1300 idols of Ganesha of heights 1 foot, 2 feet & 2.5 feet. The beautiful idols showcase intricate workmanship and are competitively priced in the range of Rs. 200-Rs. 2000.