GGDSD College holds Annual Prize Distribution Function: Goswami Ganesh Dutta Sanatan Dharma College honoured as many as 1050 students from academics, extra-curricular activities and sports during the Annual Prize Distribution Function.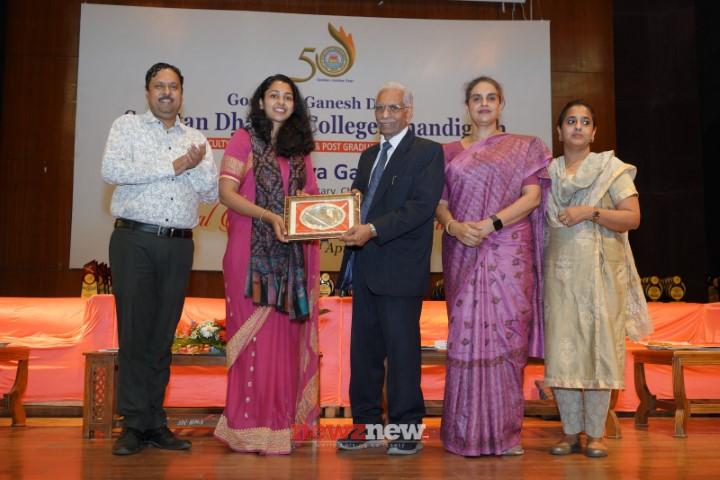 Also seven faculty members were honoured for completing PhD.
Ms Purva Garg, IAS Education Secretary, Chandigarh, Chief Guest of the event was welcomed by Dr P. K. Bajaj, General Secretary, GGDSD Society. Ms Purva Garg congratulated the winners, advising them to stay grateful to their parents, teachers, institution, peers and friends and to always remember that they are the wind beneath their wings.
Ms Garg also congratulated the stakeholders on the Golden Jubilee year and commended them on working to implement New Education Policy by focussing on sports and starting Innovation Cell.
The Principal, Dr Ajay Sharma read the Annual Report and enumerated many achievements of the college. The college lifted the Shadi Lal Overall Memorial Trophy for Men for second year in a row.
The college also won the Overall Trophy for Panjab University Youth and Heritage Festival Zone A for 8th consecutive year. The NIRF ranks the college in top 100-150 colleges of India. Department of Commerce and Management, Bio Sciences and Economics are rated as High Rated Department by UGC Delhi.
The Ministry of Education has bestowed Certificate of Appreciation for Entrepreneurial activities in college and Certificate of Recognition for being a Sustainable Campus. The college boasts of more than 200 student placements and internships.
The event concluded with a vote of thanks extended by Registrar of the college, Dr Madhu Sharma.