GGDSD College  organises Annual Cultural Extravaganza: VIRASAT 23: GGDSD College organised Annual cultural extravaganza Virasat 23 on the College grounds. The vibrant festivities continued all day long, starting with an inspirational welcome address by College Principal Dr Ajay Sharma.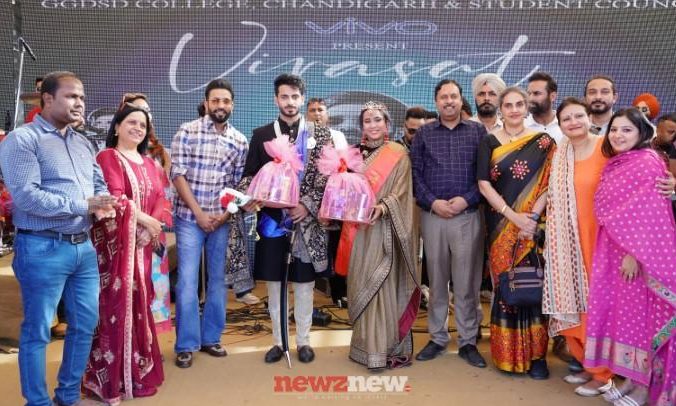 The function started with a devotional performance by Vanshika and Osheen. It was followed by excellent performances by various College groups including various foot-tapping musical performances by Jas-Rohan,  Paras and Simon.
There were several electric dance performances by college groups such as Luddi, Adab Mutiyar, Flowzicians, Naati, Bhangra and Pristine. The fest concluded with the long-awaited announcement of winners of the Modelling competition. Kartikey and Rishu were named Mr and Ms Virasat, Videh and Khushi Thakur were titled Mr and Ms Proficient, Anish and Shivangi bagged the title for Khush Poshak.
The fun continued after the fabulous student performances ended as the star cast of Chal Jindiye, Neeru Bajwa, Kulwinder Billa and Jass Bajwa, arrived to promote the upcoming film. The energy level of the excited audience escalated with an electrifying performance by Dilpreet Dhillon which has culminated with a great dance act by the Swastik Group.
DSP Charanjit Singh Virk distinguished alumni of the college graced the occasion with his presence as honoured Chief Guest.