Guinness Record Holder Rajesh Yadav on an  adventurous tour to Bhutan
 City-based young photographer, Rajesh Yadav, who was recently in the news for setting up a Guinness World Record by opening 'Triyagyoni', a pop-up restaurant for fine dining Indian cooking at the highest point in the world, has been on a bike expedition in Bhutan spreading the message of peace and friendship between the two countries. He is accompanied by Saman Kumar, a wedding planner.
The two adventurers set on the peace mission following a scuffle on the Indo-Bhutan Border on 15th August, when a security officer from Bhutan destroyed the tricolour flag mounted on a private Indian vehicle. High tension prevailed due to this unfortunate incident. It was then, the two young professionals decided to set on a peace mission displaying the national flags of both the nations on their Bullet motorcycle.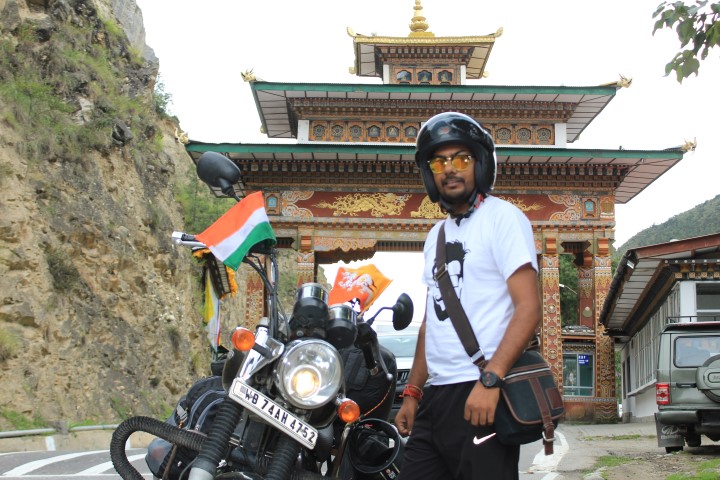 Informing about the hardships on their way, Rajesh Yadav said, "First, we faced difficulty in getting the permission for our bike; then, on our way back, the rear wheel of the bike got damaged and we had to transport the vehicle on a truck, because the nearest motor garage was around 100 kilometer away. Over all it was a great experience. People in Bhutan are friendly and of helping nature. That is why it is called the happiest country in the world."
They started their journey from Silliguri and moved forward to Phuntsholing, Thimpu, Punakha, Chelela (the highest pass), Paro and Tiger's Nest monastery.
Rajesh Yadav, having done photography for some of the reputed media organizations in the City for the past 17 years and now a successful entrepreneur who runs his own photography venture 'Colors Art', said, "The journey was full of adventure and I would love to visit Bhutan again and again."