NewZNew (Chandigarh) : Inviting the industry from Chandigarh and Punjab region to set up units in non-core sectors at Chhattisgarh at a session organised by Confederation of Indian Industry (CII) on business opportunities in Chhattisgarh at CII NR Headquarters in sector 31 A here today, H.E. Mr Balramji Dass Tandon, Governor of Chhattisgarh emphasised that "If there is any place to invest in India today, it is Chhattisgarh. There are three pre requisites for smooth setting up and profitable functioning of any business, viz uninterrupted power supply at competitive rates, easy availability of land and water. In Chhattisgarh, we have all these in ample, to the extent that we are supplying power to states like Maharashtra and Gujarat. Land is very competitively priced and the power tariffs too are 35 % lesser that the national average in Chhattisgarh".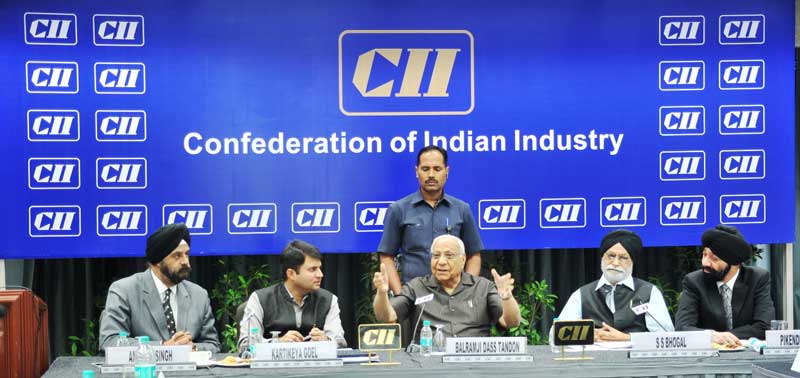 "Other reasons why Chhattisgarh is the best choice for business expansion is that it has huge untapped potential to serve the large steel manufacturing companies and Agri production and add value by processing it to earn huge profits", he added.
"Besides, it is centrally located, extensively connected by rail, road and air to major ports and international airports, very rich in minerals –  produces one-eighth of India's minerals i.e worth $ 2.7 billion, highly skilled labour, top academic institutes and robust infrastructure", informed the Governor, who has held senior cabinet posts thrice in Punjab.
"The Government of  Chhattisgarh is very pro industry and providing various fiscal incentives like 50 % Capex subsidy, 100 % Interest subsidy, 100 %  Electricity Duty exemption etc, in addition to various non fiscal incentives and a strengthened single window system", further added Mr Tandon.
"We invite the enterprising entrepreneurs and MSMEs from Chandigarh and Punjab region to invest in various priority sectors of the state and set up units in ancillary, downstream industries and sectors related to Agro & Food processing, Minor Forest Produce, Healthcare & Pharma, Automobile, IT/ ITES, Electronics, Defence Manufacturing, Renewable Energy etc", he added.
Addressing the apprehensions of some of the CII members regarding the naxalism in Chhattisgarh, Mr Tandon said that "Those areas are far too distant from the industrial and educational hubs. The tribal areas are at least 400 kms from Raipur, Naya Raipur are just as safe as Chandigarh or Punjab. The industry is absolutely safe there and even gets their indirect support, because they know that it provides employment to their people".
Mr Kartikeya Goel, Director – Industries, Government of Chhattisgarh said that "We are offering immense First mover advantages to industry in Naya Raipur, which is the first smart and first Greenfield city of India, located strategically between two major highways connecting south and east India with central India. This would enable easy and cheaper transit of finished goods and raw materials to and from ports. We have already laid city wide dedicated fiber optic duct for the Smart City. Various infrastructure amenities like Electricity, Water supply and sewerage network are SCADA enabled.
"In the industrial hub comprising Durg- Bhilai- Raipur- Naya Raipur, we have envisaged to have 10,000 + MSMEs, 20+ Industrial areas, STPI, IT SEZ and EMC, 8 educational institutes of repute, including IIT, IIM, AIIMS, IIIT etc besides special Electronics Manufacturing clusters, incubation hubs and Agro and Food Processing Park", he shared.
Mr SS Bhogal, Chairman, CII Punjab Council & Managing Partner, Bhogal Exports shared that "It is a continuous endeavour of CII to bring the best global and domestic opportunities to the regional industry for their expansion and diversification plans. Today's session was one such initiative highlighting the key advantages of Chhattisgarh as a business destination".