NewZNew (Chandigarh) : The much anticipated mega Punjabi film 'Saadey CM Saab' is ready for a worldwide release on 27th of May. This was announced by the film's lead Actor, the living legend of Punjabi Entertainment Industry – Harbhajan Mann & other members of the cast & crew at a press conference at Waves Cinemas, City Emporium Mall, Chandigarh. Trailer of the film was also shown to the gathered media.
Apart from Harbhajan Mann- Dev Singh Gill, Gurpreet Ghuggi & Sumeet Singh, MD of Unisys Infosolutions –Saga Music, the company that has produced the movie were present.
'Saadey CM Saab' is the story of three friends who refrain from politics but however, due to a vicious circle of fate they fall into politics. With polls in Punjab around the corner & looking at the sorry state of affairs that Punjab politics is in, the film will certainly give a resounding & positive message.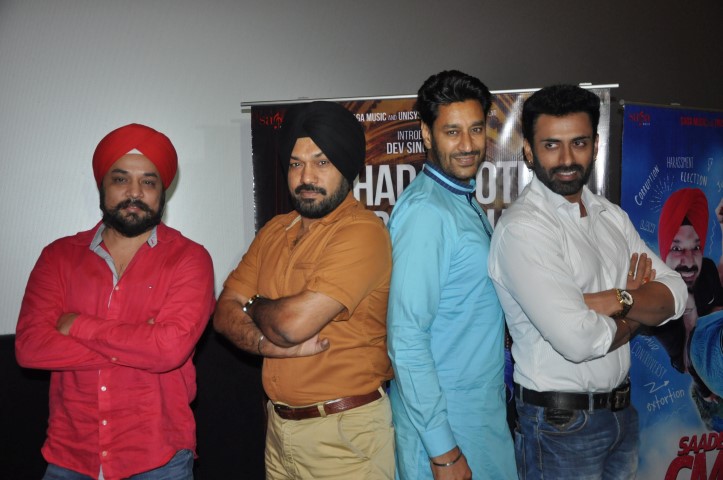 "This is a thriller comedy film and has a unique storyline. The film has been made with superior technical expertise. The movie has a good 25 minutes of visual effects & the production designing is quite impressive. These aspects match any Bollywood movie so we thought that 'Saadey CM Saab' demanded access to not just a Punjabi but a wider Hindi film audience. I am very happy that the movie is being dubbed in Hindi." Said Harbhajan Mann.
So 'Saadey CM Saab' will release worldwide simultaneously in Punjabi and Hindi. This will make 'Saadey CM Saab' the first Punjabi film to be dubbed in Hindi.  "The advantage will be that audiences from even Hindi speaking states like Haryana will easily be able to watch the film." Said Gurpreet Ghuggi.
According to the Producer, Sumeet Singh, "Everything associated with the film is big & state-of-the-art. We roped in Sunita Radia for Cinematography, she has worked with Binod Pradhan in Hindi films like Devdas, Munna Bhai MBBS, Rang De Basanti, Ta Ra Rum Pum etc; she has independently done the Cinematography of many other films like Jal, Aalaap etc. What's more, National Awardee Rashid Rangrej who has worked in major Pollywood/ Bollywood films is the Art Director. With such people at the helm, I am sure, we will give this Industry, a Film, which will end up setting up an enviable benchmark."
Dev Gill, a Super Star of South India who is known for his negative roles in block busters like Bhag Milkha Bhaag, Magadheera, Lingaa etc. is part of the star cast. What's more, Rahul Singh a Bollywood Film actor cum model, Actress Kashish Singh who is a Model & a stunning beauty are also in the star cast.  Gurpreet Ghuggi too is acting in the film. The title song has been sung by Daler Mehndi.
"All in all the film has all ingredients of doing well at the box office. Not only will it entertain but will also leave you with a feeling of patriotism, when you leave the movie hall." Said Actor Dev Singh Gill.
In the run up-to the release the creative team at Unisys Saga music has done some very unusual social media activities which are a first time in Pollywood. A live Facebook launch of 'Saadey CM Saab's' Trailer with Harbhajan Mann & Gurdas Maan, live facebook chats with fans of Harbhajan Mann along-with celebrities like Milkha Singh, running enthusiast Fauja Singh and UK's Dhol Sensation Rani Taj have been done.