Hartek Group launches Hartek Foundation to create a better tomorrow: The Hartek Group, one of the fastest growing concerns in the Indian power sector, has gone all out with its social welfare initiatives by launching its voluntary not-for-profit Hartek Foundation to give impetus to its larger purpose of giving back to the society and creating a better tomorrow.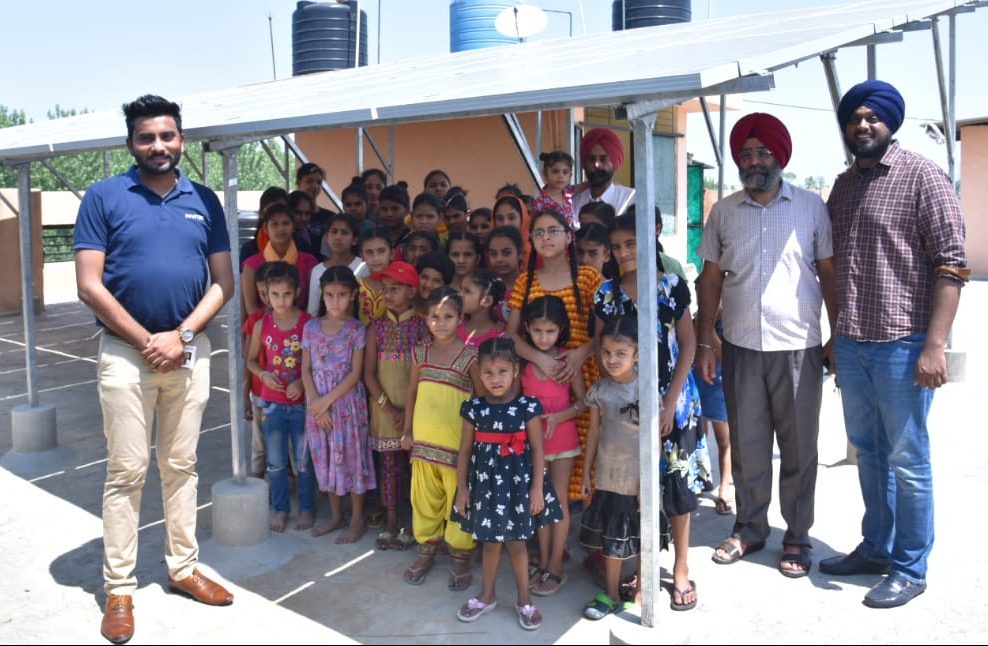 With sustainability at the heart of all its efforts in line with the Hartek Group's motto of "Making Your Future Powerful", the Hartek Foundation will primarily be focusing on community welfare, women empowerment, environment, education and health to "add value to the lives they touch". Targeting all-inclusive growth through sustainable initiatives, strategies and technologies, the Hartek Foundation will strive to bring about a perceptible difference through an exhaustive range of activities covering these focus areas.
Under the aegis of the Hartek Group, this voluntary organisation aims to empower communities by adopting villages, lighting up rural households with rooftop solar plants and solar streetlights and hiring specially abled candidates.
In the field of education, the Hartek Foundation plans to introduce a flagship scholarship programme for engineering students, set up an incubation centre with innovation labs to encourage budding entrepreneurs and support school-going children's education by providing them books and stationery.
In tune with the Hartek Group's resolve to fight climate change through sustainable practices, environment forms an area of special focus for the Hartek Foundation, under which it will undertake water conservation programmes like rainwater harvesting, adopt waste management techniques and conduct cleanliness and plantation drives.
The Hartek Group has taken upon itself to combat climate change by encouraging the adoption of green energy through its innovative rooftop solar solutions.
The Hartek Foundation will also do its bit for women empowerment by sponsoring special education facilities for women and enhancing their employability through training/skill development programmes and self-help groups, besides working actively towards fostering health and well-being by sponsoring the medical treatment of the poor, carrying out breast cancer awareness drives and organising free medical camps in slums and villages.
Commenting on the initiative, Ms Keerti Singh, Director, Corporate Social Responsibility (CSR) Operations, Hartek Group, said, "The Hartek Foundation is an endeavour that goes beyond our CSR obligations. As we are committed to growth though sustainable practices, sustainability is not only the driving force behind our social activities, it is also a part and parcel of our day-to-day business practices. As a conscientious corporate citizen, we envisage the Hartek Foundation as a medium to redouble our efforts to make this world a better place through socially meaningful initiatives."
Fulfilling its responsibilities towards the society through its commendable community initiatives from time to time, the Hartek Group has been at the forefront of championing the cause of the underprivileged sections of the society by sponsoring the education of school-going girls, conducting free health camps in slums and extending help to migrant labourers during the lockdown through its association with the Sood Foundation run by Bollywood actor Sonu Sood.
Besides conducting theme-based competitions and awareness campaigns on clean energy in schools on Akshay Urja Diwas, the Hartek Group has installed a 10-kWp rooftop solar plant at a shelter home for girls in Kharar. It also joined hands with 94.3 MyFM last year for its initiative "Ek Rakhi Fauji Ke Naam", under which hundreds of rakhis from Chandigarh, Mohali and Panchkula were collected and delivered to soldiers stationed at the border.
Know More About Hartek Group
The Chandigarh-based Hartek Group is one of India's fastest growing concerns catering to the power sector through five strategic business units—Power Systems, Rooftop Solar, Power Distribution Products, Fuel Services and Smart Grids. Its flagship company, Hartek Power, is one of India's leading EPC firms. Having executed over 150 high-voltage and extra high-voltage substation turnkey projects, Hartek Power has also connected over 1.5 GW of solar projects to the grid. The Hartek Group's rooftop solar vertical, Hartek Solar, has been rated among India's top rooftop solar installers by Mercom Capital Group. The company is firming up its foothold in the rooftop segment by coming up with innovative and customised solutions. Having secured over 3,000 clients since its inception 29 years ago, the Hartek Group also manufactures a complete range of power distribution equipment under Hartek India, which has a long-standing tie-up with big multinationals like Siemens and Schneider Electric.