Haryana Open returns on PGTI schedule after 12 years: The TATA Steel Professional Golf Tour of India (PGTI), the official sanctioning body for men's professional golf in India, is staging the Wonder Cement Haryana Open 2023  at the Panchkula Golf Club from October 25 – 28, 2023.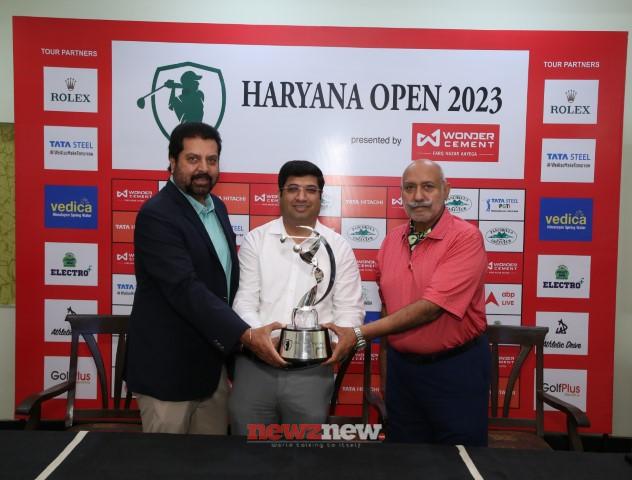 The tournament carries a prize purse of Rs One crore, the highest ever for an event at Panchkula. The Pro-Am event will be played on October 29.
The Haryana Open returns to the PGTI schedule after 12 years. The fifth edition of the event is being supported by Govt. of Haryana and Host Venue Panchkula Golf Club.
The tournament featuring 121 professionals and three amateurs in this four day long tournament which includes TATA Steel PGTI Ranking leader and international winner Om Prakash Chouhan, other international winners Rashid Khan, Rahil Gangjee, Khalin Joshi, tricity lad Yuvraj Singh Sandhu and Viraj Madappa as well as Olympian Udayan Mane and other prominent names Aman Raj and Honey Baisoya, to name a few. Defending champion Mithun Perera of Sri Lanka, who won the 2011 edition, is also participating.
Besides Chandigarh's Yuvraj Singh Sandhu, the other notable names representing the Tricity at the event are those of Chandigarh's Abhijit Singh Chadha, Akshay Sharma, Harendra Gupta, Angad Cheema, Amrit Lal, Ranjit Singh, Amandeep Johl, Harmeet Kahlon, Gurbaaz Mann, Amritinder Singh, Rajiv Kumar Jatiwal as well as Panchkula's Aadil Bedi and Chandimandir's Ravi Kumar.
The foreign names in the field besides Sri Lankan Mithun Perera are those of N Thangaraja and K Prabagaran, also from Sri Lanka, Bangladeshis Jamal Hossain, Badal Hossain, Md Akbar Hossain, American Varun Chopra, Nepal's Sukra Bahadur Rai, Canada's Sukhraj Singh Gill and Andorra's Kevin Esteve Rigaill. Two of the three amateurs participating, Abhishek Kumar and Ankush Saroha, are from the Panchkula Golf Club.
Uttam Singh Mundy, CEO, PGTI, said, "With an impressive field and handsome prize purse on offer we can expect to witness a pulsating week of golfing action in Panchkula." Vivek Patni – Director, Wonder Cement Limited, said, "We truly value our mutually beneficial collaboration with the PGTI and are eagerly looking forward to a highly successful event with India's top golfers showcasing their talent."
Col. A S Dhillon, GM, Panchkula Golf Club, said, "We look forward to hosting the country's leading professionals at the highly-anticipated Haryana Open which returns to the Panchkula Golf Club (PGC) after a long gap."