Honda's unique drive makes Chandigarh families and children learn about road safety with a fun twist
More than 2,000 happy kids and families learn basics of safe riding & road safety for pedestrians
India's favourite animation superstars Chhota Bheem & Chutki enthrall all with their informative yet fun filled stage performance
Honda brings over 10 different road safety activities for everyone in family including road safety theatre, cycling zone, CRF 50 zone, photo-op and selfie zone for kids to safety riding trainer and for adults
NewZNew (Chandigarh) : Striving to be a "Company society wants to exist", Honda Motorcycle and Scooter India Pvt. Ltd. (HMSI) – the No. 1 two-wheeler brand in Chandigarh and Punjab made this weekend a fun one for thousands of families in the city with the inauguration of its 'Safe Riding with Chhota Bheem' awareness drive at the Chandigarh Traffic Park.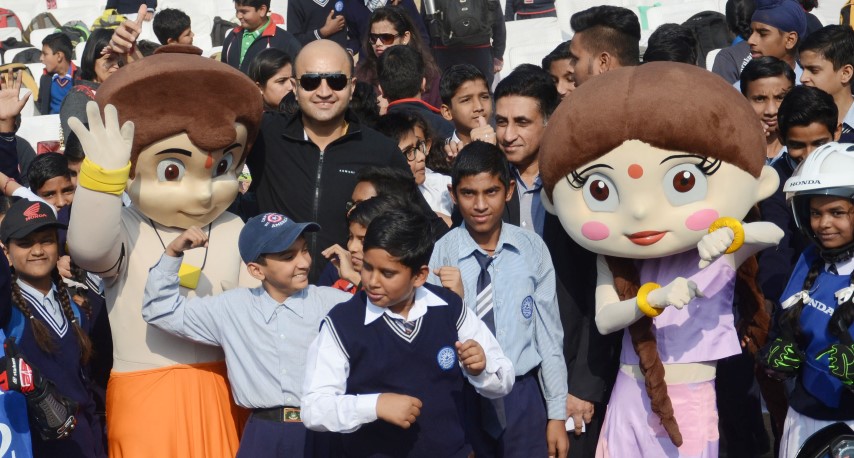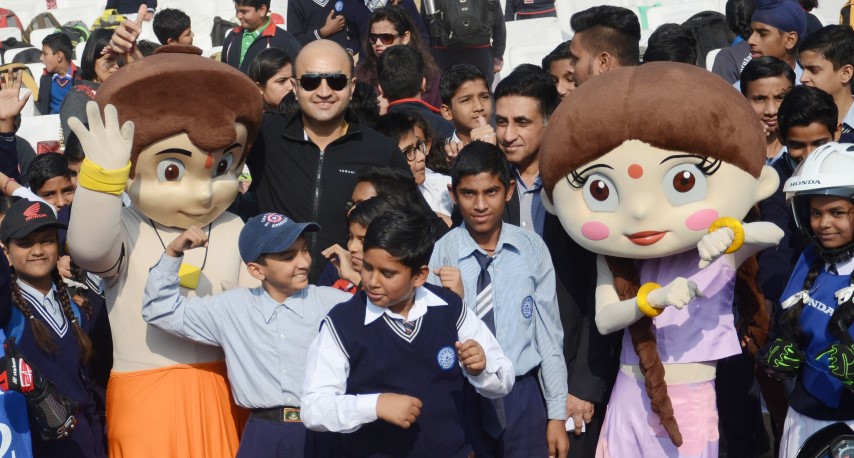 Present at the inauguration of the unique awareness drive were Mr. Eish Singhal (IPS) SSP-Traffic & Security, UT, Chandigarh, Mr. Ashish Choudhary (Deputy General Manager – Sales & Marketing, Honda Motorcycle & Scooter India Pvt. Ltd.) and India's most popular animation characters – 'Chhota Bheem' and his best friend 'Chutki' who spread the message of road safety to over 1,000 happy kids and families in their signature fun style.
Coming all the way from Dholakpur to make their superstar dance entry on stage were Chhota Bheem and Chutki who had the full attention of every child. Through dance, music and masti Chhota Bheem and his best buddy Chutki urged families to follow healthy road safety habits such as – importance of zebra crossing, meaning of various road signs, abiding to traffic rules, importance of protective gear and always wearing ISI certified helmets while a riding two-wheeler.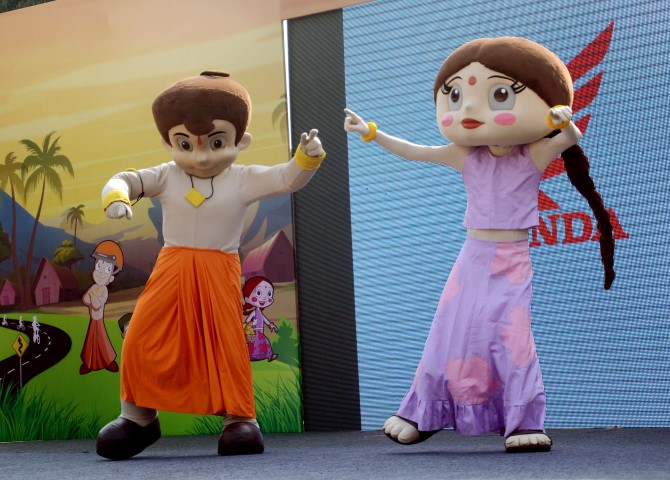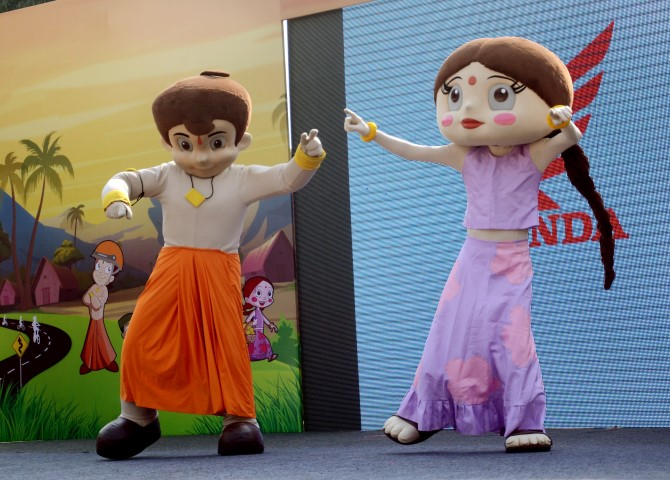 Honda ensured that there was something for everyone – cycling and road safety games for 5 to 8 year old kids, on the spot road safety drawing contest and activities for 8 to 10 year olds, practical understanding of safe riding through supervised riding experience on CRF 50 for 9 to 12 year olds.
What made the day all the more memorable was that all kids took home their favourite memories with Chhota Bheem & Chutki. Additionally, few young lucky contest winners got a chance to dance with the animated duo. Amongst the most popular activities were – the instant photo opportunity zone with Chhota Bheem, selfie zone, kids soft play area and the road safety pledge zone.
Not only young minds, Honda also educated adults – both new riders on correct riding posture and experienced riders on the right method of riding a 2Wheeler.
Elaborating on Honda's commitment to promote road safety globally and in India Mr. Yadvinder Singh Guleria, Senior Vice President – Sales & Marketing, Honda Motorcycle & Scooter India Pvt. Ltd. said "Chhota Bheem is the role model for not just small kids but entire family. The Chhota Bheem character conveys all the aspects of a superhero – be it strong values, might, courage, discipline or learning that children across India aspire to become. With the unique Road Safety with Chhota Bheem awareness drive, Honda is making families in Chandigarh learn the importance of road safety both for riders and pedestrians through a fun approach. At the core of our drive are children, whose role as effective conscience-keepers within families is often underestimated. Our association with Pogo and Chhota Bheem gives us a huge platform to connect with people, inculcate road safety measures and promote good riding habits amongst them."
Expressing delight on the Chandigarh response to Honda's activity Mr. Ashish Choudhary, Deputy General Manager – Sales & Marketing, Honda Motorcycle and Scooter India Pvt. Ltd. said, "As a leading corporate citizen Honda understands its responsibility towards the society goes beyond business. We are delighted to associate with Chhota Bheem to help further spread Honda's Road Safety message. The response from Chandigarh has been phenomenal and we look forward to extending this initiative to 8 cities across India."
For Honda, road safety is a global priority since 1970. In India, Honda 2Wheelers is promoting road safety awareness right from its inception in 2001. Since then, the company has educated over 8 lakh people of all age groups on safe riding. Leading the road safety cause from the front, Honda 2Wheelers is the first two-wheeler brand in India to adopt 10 traffic training parks across India (Chandigarh, Ludhiana, Jaipur, Delhi * 2, Bhubaneswar, Cuttack, Yeola (Nashik), Hyderabad and Indore).