How to get All-in-One Paytm QR Code: Paytm All-In-One QR code is the only QR code using which you can accept payments using Paytm wallet.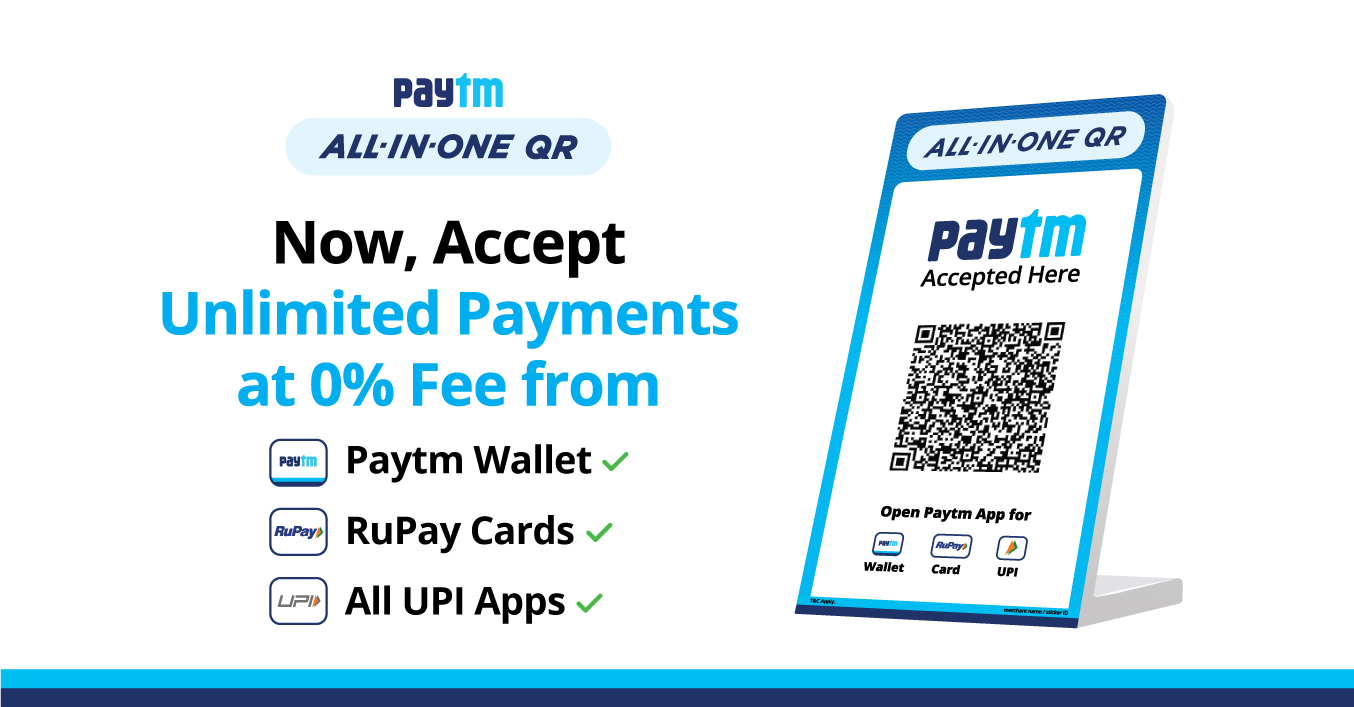 Use a single QR code to accept all your payments from any UPI App, Paytm wallet, Credit/Debit card, Netbanking and EMI. Applicable for accepting unlimited payment using UPI, Wallet, Paytm Payments Bank Account and Rupay Debit Card
Step1: Register with Paytm for Business to become a partner 
Any merchant who runs a business of any scale can get access to Paytm for Business within minutes. They just need to follow the following steps:
1.    Go to Google Play Store / Apple App Store and download Paytm for Business
2.    Choose a preferred language from a list of 11 Indian languages
3.    Login with existing Paytm phone number and password
4.    After OTP verification, the merchant will get 3 options: 'Accept payments using QR', 'Sell to your friends & family' and 'Buy in bulk, save money'
5.    For payment services, the merchant needs to choose 'Accept payments using QR'
6.    Fill in basic details like PAN number, Name, Address, Business Category and Bank account number
7.    Once signed up, the person gets instantly on-boarded as a merchant ready to accept digital payments
These simple steps would open the doors of millions of Paytm and UPI customers for the business.
No KYC, No documentation, No Charges!
Step 2: Order for All-in-One Paytm QR & start accepting payments!
Once a merchant gets on-boarded on Paytm for Business, there is a personalized QR created for him. Please note that the QR code has to be activated before starting to accept payments. 
1.    Open the Paytm for Business app and tap on 'Show QR' icon on the top shelf
2.    QR code will be displayed on the screen along with options to 'Order', 'Download' or 'Activate' the QR code
3.    Tapping on the 'Order QR' icon will open a list of different QR types. The merchant can select one design and place the order
4.    Along with the QR sticker, the merchant will also receive 'Paytm Accepted Here' stickers and step-by-step guidelines
5.    To activate, the merchant needs to open Paytm for Business app, click on 'Show QR' option and select 'Activate your new QR' 
6.    Scanning the received QR will activate the new All-in-one QR and it will start accepting payments
7.    All payments received through this QR will be visible in the app
The most important and unique thing about Paytm All-in-one QR is that it allows unlimited free transactions from Paytm Wallet, RuPay cards and all UPI-based payment apps with instant settlement. 
How can a merchant use the Business Khata service?
Business Khata is a free service and helps the merchants to record all bills and maintain customer-ledgers digitally. Using this service, they can also set payment due date, which will send automated reminders to their customers.
1.    To make a new entry, open Business Khata on Paytm for Business app and click on Daily Khata
2.    Click on 'New Entry' to enter sale amount, payment received, customer name, mobile number, and description
3.    Merchants can also add a photo of the invoice/ bill to the entry
4.    If the payment received is less than the sale amount, it will automatically be registered as 'Udhaar (Credit)'
5.    The new entry will be displayed on the Home Page of Business Khata, from where you can access complete details
6.    They can check a customer's details and click on 'Send Payment Reminder' for automated payment requests
7.    The customer will receive a notification with their billing history, and they will be able to make payments through the same link using Paytm UPI or Paytm Wallet
Using Business Khata, merchants can also generate reports of all cash and credit sales.

What are the other services available on Paytm for Business app?

Paytm for business opens up the whole Paytm ecosystem for merchants. A registered merchant can:
1.    get quick business loan without any paperwork on the basis of the transaction history
2.    promote their store to Paytm customers nearby and get new customers
3.    order for new Paytm merchandise like Calculator, radio, keychain
4.    order store supplies on Paytm Wholesale
5.    create their own Digital Store on Paytm and sell to family & friends
6.    use Paytm created business cards with QR for promotions
7.    sell GV to their customers for repeat business
Paytm for Business has evolved a lot in the last two years and is still growing at a great pace. We continue to add new features & products at regular intervals and you will always find some new exciting service to help our merchant partners grow their business.