NewZNew (Chandigarh) : while there are various religious sects and groups that propagate that one must be benevolent and should have a feeling of brotherhood amongst the caste or religion, Nirankari Baba Hardev Singh Ji Maharaj explains that there is no difference, whatsoever in the existence of any human, and that there is the feeling of oneness that should prevail, and hatred and differences due to any of these reasons should end. This is the only way that our surroundings can become peaceful, is the message of His Holiness that was spread today at Sant Nirankari Satsang Bhawan Sector 30-A, by Sant Nirankari Mandal Secretary Shri SL Gulati Ji, while giving a tribute on the sad demise of Mata Dropti Nasa Ji, and addressing hundreds of devotees.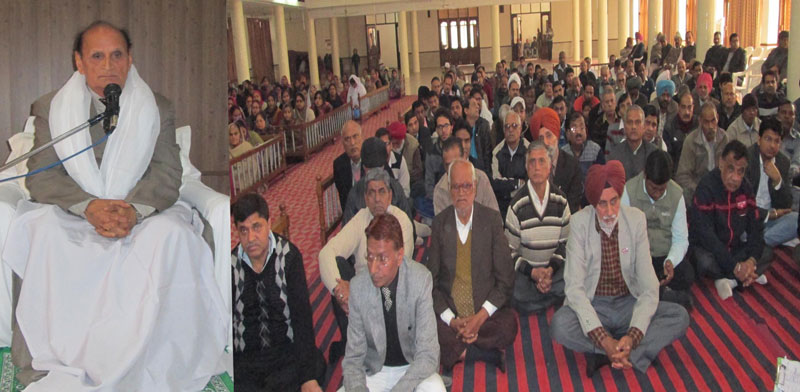 Shri Gulati Ji further said that as has been mentioned in religious scriptures and emphasised by gurus and saints that if one does not aim at attaining God-knowledge while alive, he will be forced to face the consequences of both good and bad deeds during this lifetimes, in another. Shri Gulati Ji also said that it is very important that one doesn't ignore this, as when the end is near, one cannot go back in time to recover this loss. Since there is no certainty of death, it is vital that one takes obeisance in the Satguru's feet while there is still time, and attain knowledge of the Omnipresent Almighty.
On this day, notable saints from Delhi, Col C.S. Toor, Assistant Mukhya Sanchalak Shri H.S. Kohli, and Shri Shiv Juneja Shri Shubh Karan Ji spoke of the inspiring life of Mata Dropti Ji. Also present was Zonal Incharge, Chandigarh, Dr. BS Cheema Ji and Sanyojak Shri Mohinder Singh Ji.