NewZNew (Chandigarh) : The martyrdom of Baba Gurbachan Singh Ji is commemorated with organizing blood donation camps where devotees donate blood and enhance the spirit of brotherhood rather than hatred, said Sh. Ajit Balaji Joshi IAS, Deputy Commissioner, UT Chandigarh while inaugurating the blood donation camp organised by Sant Nirankari Charitable Foundation at Sant Nirankari Satsang Bhawan, Sector 30-A.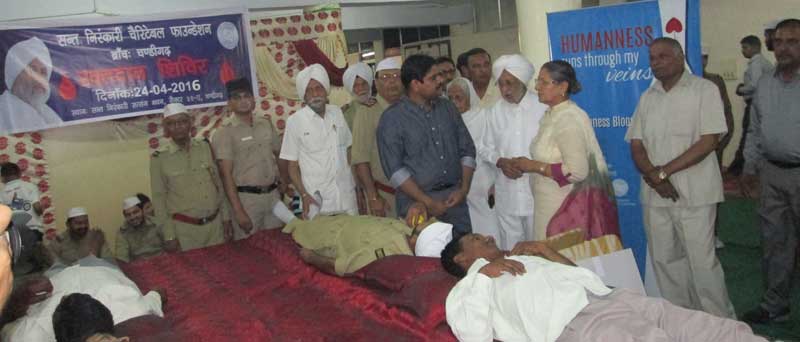 He further said, "I am asked to say some inspirational words, but as I see, everybody is already so motivated here, so I am overwhelmed with no words to say."  Appreciating the volunteer programs of the Mission, Sh. Joshi stated that the manner, in which the Mission promotes such activities as are helpful for the community, deserves special mention and applause. He appealed to the volunteers of the Mission that they provide assistance in the administration's activities and whenever the administration organises any such activity in rural or sub-urban areas; they come forward to participate and employ their collaborative spirit to make it a success.
On this Blood Donation Camp which was organized by Sant Nirankari Charitable Foundation total 546 donors donated blood out of which 82 women donors.
Dr. BS Cheema Ji, Zonal Incharge, Chandigarh zone said that more than 4500 volunteers donate blood on a yearly basis, now in the Chandigarh zone. The first camp was organised on the occasion of Annual Nirankari Sant Samagam in the year 1986, and since then, there has been a demand that such camps be organised every year, as not only it will be a huge service to the community, but will also meet constant demand of blood," added Dr. Cheema Ji. Furthermore, he said that the purpose is to increase brotherhood as there is no distinction of caste, creed, color and class when the blood is transfused from one being to another.
 Dr. Cheema Ji added that Baba Ji has always emphasised that "human blood should flow in veins and not in drains."
Smt. Joginder Kaur, Member Incharge, North Branches, Sant Nirankari Mandal said while presiding over the congregation, "The purpose of these camps is to create organic unity in mankind and to instill the spirit of brotherhood and camaraderie. This year the Mission has organised 79 blood donation camps in the country in a single day. Last year a total of 494 blood donation camps were organised in the country."
Sh. Mohinder Singh Ji, Sanyojak Sant Nirankari Mandal Chandigarh concluded by saying that the Nirankari devotees are establishing Universal Brotherhood through blood donation.
A team of 25 para-medicos from PGIMER, headed by Dr. Suchet Sehdev, Assistant Professor, Blood Transfusion Department PGIMER conducted the camp here.