newznew (Chandigarh) : Dr.Sarbjeet Singh addressed the Media where he said "Orthodontic treatment not only helps us achieve a beautiful smile and improve our self-confidence, but also helps in maintaining overall oral health. A beautiful smile not just enhances your confidence but also affects your lifestyle in various ways. A good smile is a result of healthy and well aligned teeth, which also affects your speech, your laughter, and your eating habits".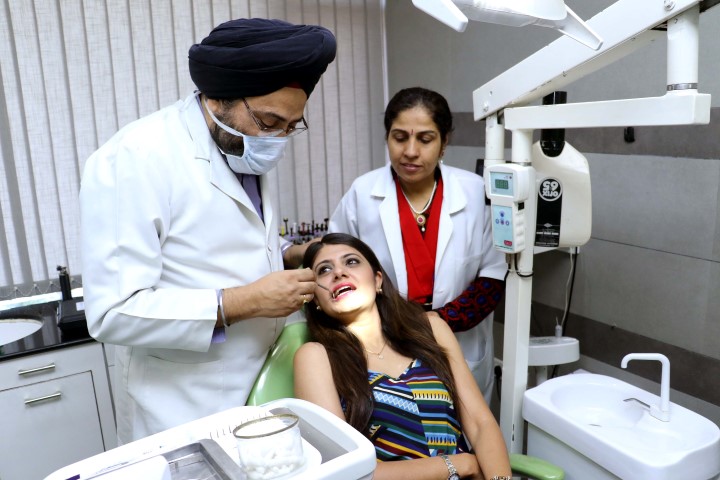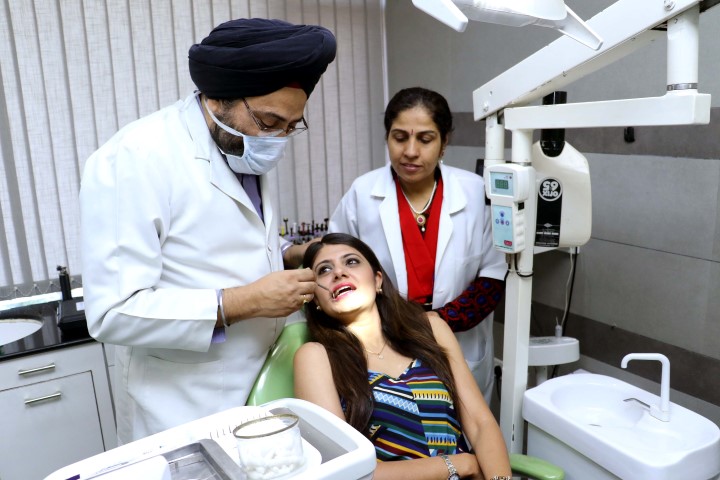 Dr. Sarbjeet Singh Further said "A gorgeous smile can do more for our confidence and beauty than clothes or jewellery. But flashing a stunning smile is easier said than done. Many of us suffer from what is known as 'misaligned, malaligned or crooked teeth', because of which we find ways to hide our teeth and consequently suppress our smile. This could cause a poor impression on people."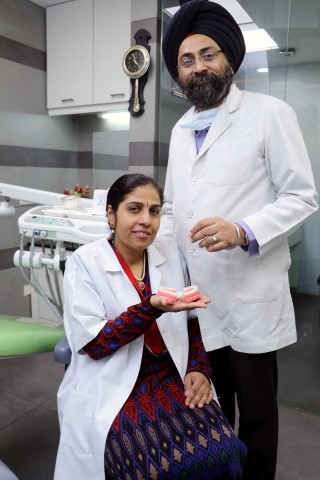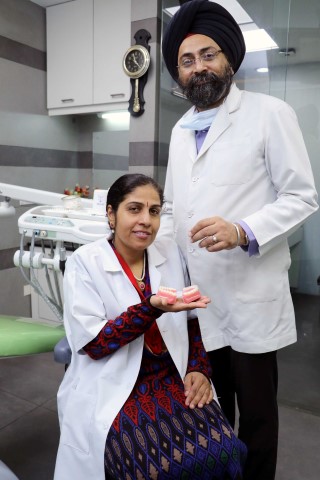 Dr.Sarbjeet Singh described "Orthodontist treat malalignment of teeth in a variety of ways. The most common are braces. This involves fixing of metallic wires along with metallic or ceramic (tooth coloured) brackets onto the tooth surface. Once fixed, the braces cannot be removed, and one has to go back frequently to one's doctor for adjustments. The treatment with braces can often cause discomfort to the patient because of the poky wires and sharp edges of the appliance. Average treatment time is 1½ to 2 years, though this may vary from case to case. There are dietary restrictions too and oral hygiene issues associated with this treatment".
 Dr.Sarbjeet Singh also said "One of the most popular treatment options used globally are Invisalign clear aligners. An all-new technology in the field of orthodontics, is now also available in India. It's removable, effective and comfortable and are custom designed and manufactured specifically for you . Best of all, they are VIRTUALLY INVISIBLE! One can wear them and nobody is ever likely to notice. The treatment begins with meticulous planning. With the help of a 3D software, the doctor is able to plan and monitor the treatment more closely. With newer advanced technologies, they effectively straighten teeth predictably and more comfortably. The adjustment phase is minimal, it does not require any dietary restrictions, or change in one's cleaning and flossing routine.
The patient is given a set of clear aligners that are to be used progressively. Although they are required to be worn throughout the day, they can be removed for eating and brushing. Visits to the doctor are much fewer, and there's little disruption in one's lifestyle. The aligners are made of superior quality material that meet the most stringent accuracy, wear resistance, and material strength criteria. Finally, because of, Invisalign can treat both simple and complex cases of malalignment of teeth. So, a perfect smile is the inevitable result! their superior technology".
Dr.Sarbjeet Singh expressed"There are several advantages to invisalign treatment over braces
Virtually invisible: Invisalign aligners are a clear alternative to braces, giving you a virtually invisible treatment option that lets you keep your confidence, beautiful smile, and lifestyle even when you are in treatment.
More comfortable: Invisalign aligners are comfortable, with no metal brackets to irritate your gums or the inside of your mouth.
Maintain oral hygiene: Invisalign aligners are removable so it's easier to clean your teeth and maintain your oral health during treatment.
Potentially fewer doctor visits: Invisalign treatment typically requires fewer doctor visits than some types of braces.
Visualise the progressive movement: Invisalign Treatment allows you to visualise each stage of the treatment process, from the beginning to the end.
Dr Sarabjeet Singh of the Perfect Smile Dental Clinic ,Sector 35C is a certified Invisalign-Trained Orthodontist in this region, who can be contacted on Mobile Number 9876061283 for appointments for Consultations.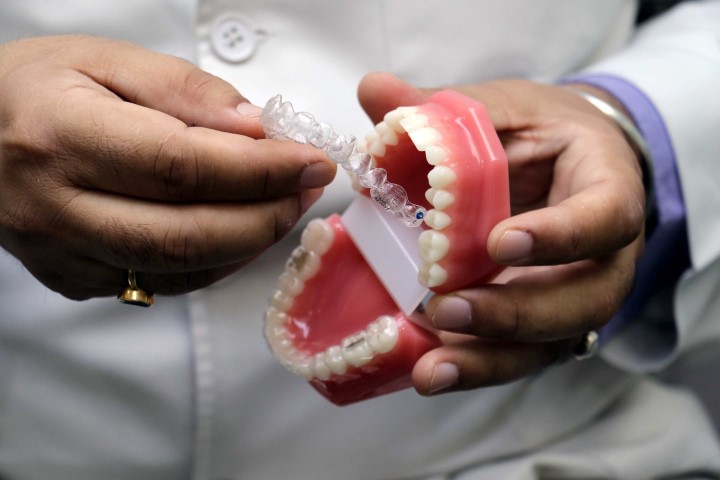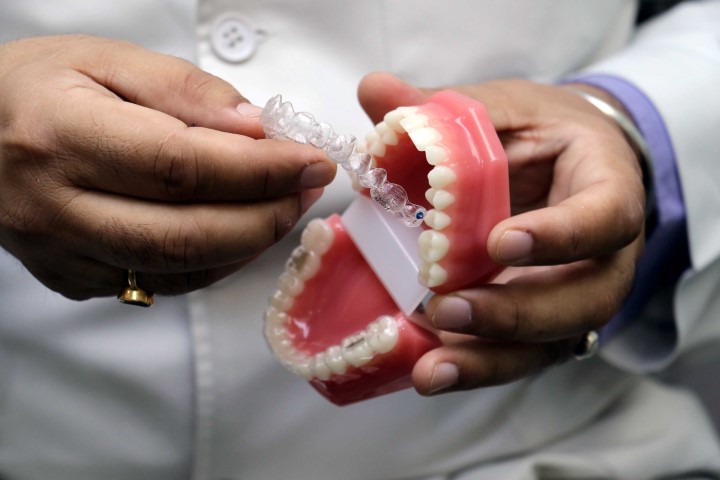 SPEEDO ORTHODONTICS
Patients' number one concern before starting orthodontic treatment is how long treatment will it take. Nowadays, there is an increased tendency for researches to focus on accelerating methods for tooth movement due to the huge demand among patients especially adults for a shorter orthodontic treatment time. Unfortunately, long orthodontic treatment time poses several disadvantages like higher predisposition to caries, gingival recession, and root resorption.
Patients are always  concerned about the duration of Orthodontic treatment,  how long treatment will it take. Because of general dentist starting the cases and also due to visiting orthodontic practices, there has been a tremendous increase in duration of Orthodontic treatment with visiting doctors leaving the cases in between and with the next Orthodontist not have any incentives left ,generally prolongs the duration of braces.
Many methods are available to accelerate tooth movement, such as lasers, surgical , mechanical/physical stimulation methods, drugs, magnets etc. Also, they come with additional advantages such as reduced rates of relapse, reduced orthodontic pain and reduced root resorption.These methods have been successfully proven to reduce treatment times, but an easier method in control of orthodontist is to use frictionless ,very esthetic, self ligating braces which reduces the time of Orthodontic treatment by 40-50 percent(Speedo orthodontics).
These self ligation braces are absolutely tooth coloured like ceramic braces but they don't use rubbers for tying on brackets, hence do not become Discoloured(yellow)with food.These braces have passive tooth coloured  locks on the bracket which ligate the wire and hence do not press on the wire ,so there is less friction and less pain leading to less duration. With the advent of newer tooth coloured wires ,these Speed braces have become absolutely invisible with the added advantage of considerable decreasing the duration of treatment
Lasers, vibrations, cyclic forces (acceledent device) are the current methods used to achieve the Regional Acceleratory Phenomenon that have greatly reduced or eliminated the invasive nature of previous procedures. Also, they come with additional advantages such as reduced rates of relapse, reduced orthodontic pain and reduced root resorption