India Gate Basmati Rice hosts public interest awareness and education initiative  'Basmati Rice No Compromise' in Chandigarh: KRBL Limited's India Gate Basmati Rice, the World's No.1 Basmati Rice brand together with the Eat Right India initiative under the aegis of the Food Safety and Standards Authority of India (FSSAI) hosted the Chandigarh leg of the nationwide 'Basmati Rice No Compromise' public interest education and awareness initiative in the city.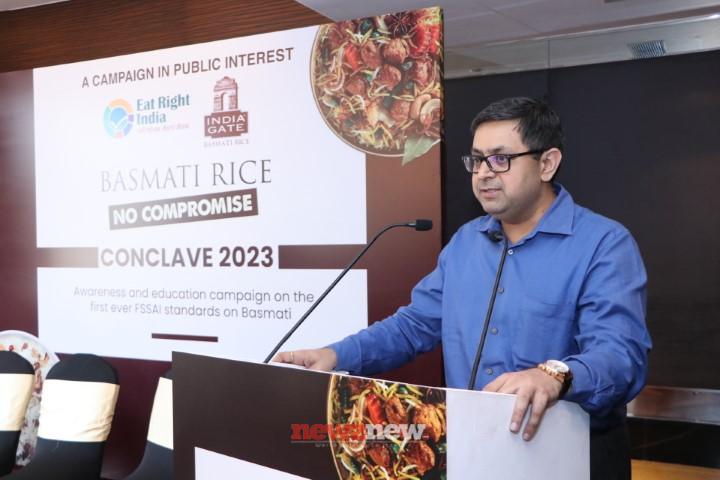 Even as the regulations came into effect on 1st of August 2023, India Gate Basmati Rice has taken the lead through this initiative in promoting healthier eating habits, encouraging balanced nutrition, and enhance food safety awareness among consumers across India whilst raising widespread awareness of the recently released FSSAI regulations on identity standards for Basmati Rice.
An initiative in public interest by KRBL, the 'Basmati Rice No Compromise' Conclave kicked off in Chandigarh in the presence of Dr. Abhinav Trikha, IAS, Commissioner of Food Safety, Food Safety and Standards Authority of India, Punjab
Mr. Ayush Gupta, Business Head, India Market, KRBL Limited and a Basmati Rice industry leader, said, "We laud the FSSAI for their visionary approach in establishing identity standards for Basmati Rice. These regulations will undoubtedly bolster consumer confidence in the authenticity and safety of our cherished Basmati rice, both within India and in the global arena. As the World's No. 1 Basmati Rice Brand, India Gate has always been committed to maintaining the integrity of the Basmati grain through compliance, and these regulations align perfectly with our mission to deliver the finest Basmati rice to consumers worldwide.
Dr. Abhinav Trikha, IAS, Commissioner of Food Safety, Food Safety and Standards Authority of India, Punjab said he was happy to see the initiative being taken up to create awareness through such conclaves, adding, development brings issues of people not maintaining standards. "It is important that standards are set and are ensured they are tested and being met to combat such issues. Our country is late as far as food safety is concerned, but a lot has been done. Now the focus has changed and adulteration is being tackled effectively. Its time to differentiate the standard and sub-standard material." He added, India is known for high quality basmati rice and through such conclaves, gaps are duly addressed.
It is for the very first time that FSSAI has laid down identity standards for various forms of Basmati Rice, including brown Basmati, milled Basmati, parboiled brown Basmati, and milled parboiled Basmati. These standards, as outlined in the Food Safety and Standards (Food Products Standards and Food Additives) First Amendment Regulations, 2023; and notified in the Gazette of India, signify a momentous step forward in promoting the reputation and trustworthiness of Indian Basmati rice in the Indian markets.
The first-ever regulations take on the issue of rampant adulteration in Basmati Rice sold in India and therefore restrict presence of non-basmati grains to 15% in Basmati Rice, ensuring that the consumer gets unadulterated quality basmati rice.
The standard comprehensively captures various attributes of the basmati rice which are pivotal for building a food safety culture. As per the standard, basmati rice shall possess a natural fragrance, characteristic of basmati rice and be free from artificial colouring, polishing agents and artificial fragrances. These standards also specify various identity and quality parameters for basmati rice such as average size of grains and their elongation ratio after cooking; maximum limits of moisture, amylose content, uric acid, defective/damaged grains and incidental presence of other non-basmati rice etc.
"KRBL has always been at the forefront to ensure quality standards are followed. It is our responsibility to ensure they realise the importance of purity, quality standards and are able to differentiate Basmati rice from other non-Basmati and adulterated products. We are hopeful these discussions across the country will be a starting point for consumers and trade alike to start making informed decisions that ultimately are the cornerstones of ensuring a safe and healthy life", Gupta added.
By bringing together diverse perspectives, this conclave aims to create a unified vision for a thriving and responsible Basmati rice industry. The "Eat Right" initiative, launched by FSSAI, is a nationwide campaign that encourages individuals and customers alike to make the right choices and take informed decisions on food choices and adopt healthier lifestyles. Through this collaboration, India Gate Basmati Rice is taking an active role in supporting this crucial initiative and furthering FSSAI's mission of ensuring food safety and promoting healthy diets.
With a shared vision of helping consumers make informed food choices, India Gate Basmati Rice will work together with FSSAI to educate consumers about these new basmati standards so that they can choose the right basmati thereby protecting the interests of the consumers in getting what they pay for. Basmati rice is known for its distinct aroma, flavour, and long grains, making it a preferred choice for consumers who seek wholesome and delicious meal options.
"Basmati has unique quality characteristics that no other rice in the world possesses. Basmati is a GI product of India. Over the years, due to mass commercialization, there is a significant amount of adulterated basmati available in trade. These include blending of other grains, mixing artificial fragrances and colours. The prime objective is to safeguard the integrity of the grain and maintain the authenticity of flavour and taste, and ensure that consumers get what they pay for [Pure Basmati]. Through our media engagement, we want to empower consumers to make well-informed choices, fostering a deeper connection with our brand and values", Gupta concluded.
The Conclave at Chandigarh brought together subject matter experts along with industry stakeholders including Shri S Gurvinder Singh, Director, Department of Agriculture, Government of Punjab, Shri Anand Sagar Sharma, Joint Secretary, Department of Agriculture, Government of Punjab, Shri Harjot Pal Singh, Joint Commissioner, Food Safety, Food and Drug Administration, Punjab, Dr Jai Prakash Kant, Senior Lecturer/Senior Instructor, Chandigarh Institute of Hotel Management and Catering Technology, Shri Sukhvinder Singh, Designated Officer, Food Safety and Standards Authority of India, Chandigarh, Dr Ranbir Singh Gill, Principal Rice Breeder, Punjab Agriculture University, Dr Kamaljeet Singh Suri, Principal Entomologist, Punjab Agriculture University and Chef Vikas Chawla, CEO, Core Hospitality Solutions