NewZNew (Chandigarh) : CII's Young Indians (Yi) Chandigarh Tricity Chapter organized a Panel Discussion on 'India of My dreams – Global Innovation Hub' as a part of its Annual Day at CII NR Headquarters in sector 31 – A, here today. Mr Amit Chugh, Director, Midas Touch Advisors and Mr Munish Jauhar, CEO, Graycell Technologies were also nominated as the Chair and Co-Chair of the CII Yi Chandigarh Tricity Chapter respectively.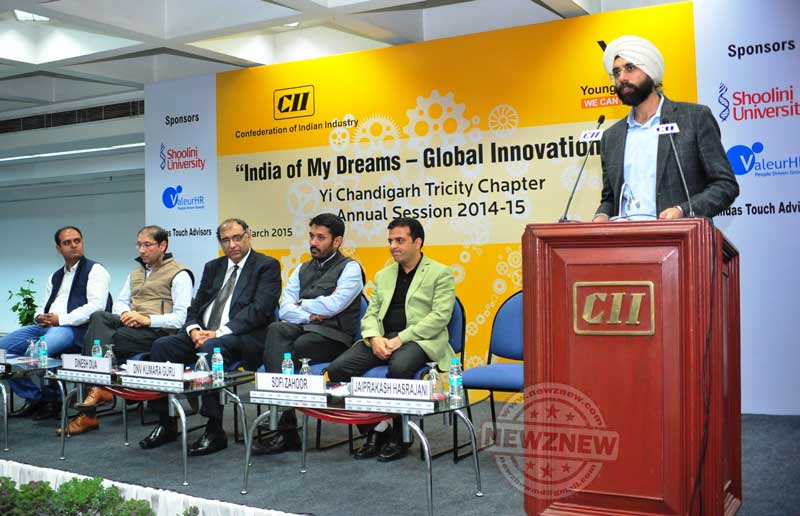 "Innovation is a different way of doing things and creating values for the society at large. India is not ready for innovation but renovation and that too we Indians are master of doing it in a very cost effective way, for example, In India best generic drugs are far less expensive than western countries" – Mr Dinesh Dua, CEO & Whole Time Director, Nectar Lifesciences Ltd
"India as a country has seen innovation take place within its own systems in different ways. The challenge for us is to move from stop-gap or jugaad innovations to more systemic innovation system." – Mr D N V Kumara Guru, Yi National Chairman & Director – External Relations, Indian School of Business (ISB)
"It's going to be a long journey for India to reach the same stage, as the developed nations are at right now. India as a nation needs a great push in next 5-10 years to reach that stage. We have to look at innovation in different ways like how to reduce the cost of product but not compromising the quality" – Mr Atul Khosla, Pro-Vice Chancellor, Shoolini University
"India as a country has start taking the baby steps for research & development in every field. There is no doubt about the potential of India to be known as nation for innovation but for that we have to create the conducive environment" – Mr Sofi Zahoor, Sr Director India – HR & Operations, QuarkXpress Publishing R&D (India) Pvt Ltd
Mr Jaiprakash Hasrajani, Chairman, Yi Chandigarh Tricity Chapter & Co-Founder & CEO, ValeurHR – "Making india a Global Innovation Hub is the dream we want to work on for next few years at Yi Chandigarh and we invited innovation leaders from industry and academia to come with clarity on innovation and what can be done, in our Annual session. It was wonderful to see excitement in speakers and audience alike on our goal and it has encouraged all of us tremendously. I am sure, Yi will continue to innovate in nation building initiatives and bring bottom line impact".