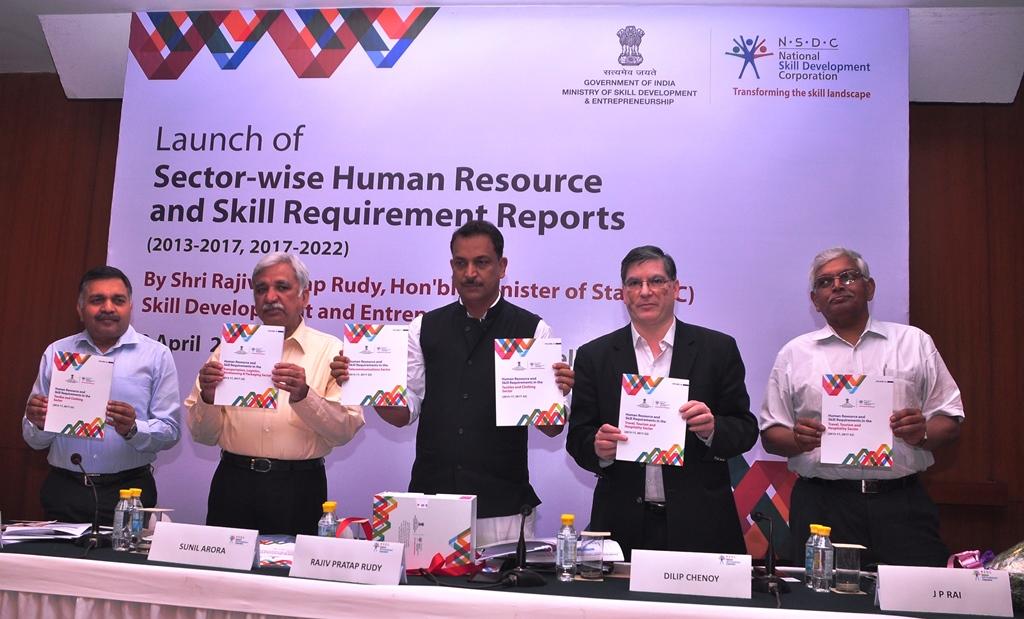 NewZNew (Chandigarh) : Shri Rajiv Pratap Rudy, Minister of State (I/C) for Skill Development and Entrepreneurshiptoday launched the Human Resource and Skill Requirement reports across 24 sectors in India which will serve as the baseline for all skill development initiatives being planned across the country.
According to the findings of the research reports, the incremental human resource requirement across these 24 sectors
is nearly 109.73[1]million whereby the top 10 sectors account for about 80% of requirements.
The reports were commissioned by National Skill Development Corporation (NSDC) and authored by a leading international consulting firm KPMG. The objective of these skill gap reports was to understand the sectorial and geographical spread of skill requirements that exist. The figures have been estimated on the basis of extensive stakeholder engagement including small, medium and large enterprises in every sector as well as Sector Skill Councils (SSCs), training providers in the skills space and academia. The skill gap studies provide a granular data on the skill gaps for two time periods- 2013-17 and 2017-22.
Commenting on the launch of the skill gap reports, Shri Rudy said, "In line with our Hon'ble Prime Minister Shri Narendra Modi's vision of making India the skill capital of the world; this is yet another endeavour from our ministry. As the old adage goes, what we cannot measure we cannot correct. The idea behind the Skill Gap Studies is to understand in which sectors we are likely to face the biggest gaps. It is imperative for us to plan the skilling of future workforce of India on the basis of these reports."
"These reports will be used for the implementation of the recently announced Pradhan Mantri Kaushal Vikas Yojana; for State Skill Missions, and for various other skill initiatives being planned across the country," he further added.
Commenting on the studies, Dilip Chenoy, Managing Director and CEO, National Skill Development Corporation (NSDC) said "These studies are an attempt to remove the information asymmetry that exists in the skills landscape in the country. The studies have been conducted through extensive primary interaction with key stakeholders including industry, training providers, trainees, sector skill councils and government. More than 1000 industry experts, 19 Sector skill councils, 110 training institutions and 1500+ trainees have been engaged for the studies. The findings will help draw key insights for skill development plans for both government and corporates."