"Integrative Approach to Gut Health" National Conference organized at PGIMER: Haryana Yog Aayog in collaboration with National Institute of Nursing Education (NINE) and Yog Centre, PGIMER, organised a hybrid international conference at the NINE auditorium.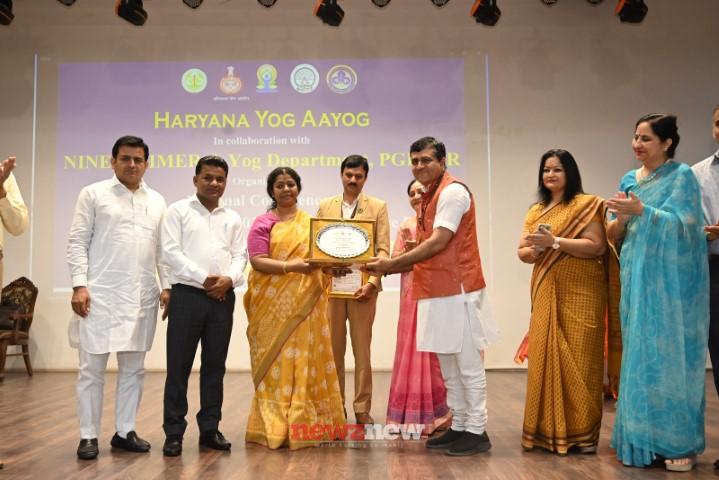 As many as 700 participants registered through online mode and over 350 participants attended the conference physically. Speakers from all over the world joined the conference as guest speakers.
Dr Sukhpal Kaur, Principal of NINE, PGIMER, Chandigarh welcomed chief guest Dr. G. Anupama, IAS, honorable Additional Chief Secretary,  Department of Health and Family Welfare and AYUSH, Haryana and other dignitaries including Dr. Jaideep Arya, Chairman, Haryana Yog Aayog as a Co-organiser and  Sh. Kumar Gaurav Dhawan, IRS, Deputy Director, PGIMER, Dr. Vandana Disodia, HCS, Additional Director, AYUSH,Haryana, , Dr. J.S. Thakur, HOD of Public Health & Community Medicine, PGIMER, Dr. Mahendra Singh, Principal, Govt. College of Yoga Education  & Health, Chandigarh and Dr. Sapna Nanda, Principal, Govt. College of Education, Chandigarh as Guest of Honor.
The chief guest, in her address, shared her experience and expertise of her medical background on the theme of the conference. She also appreciated the efforts of Dr Jaideep Arya , chairman, Haryana Yog Aayog, for his work in the field of yoga and naturopathy. She also encouraged everyone to inculcate yoga, naturopathy in their lives.
Dr Kumar Gaurav Dhawan , deputy director, PGIMER, appreciated the efforts of Haryana Yog Aayog and NINE for organising this conference. Dr Vandana Disodia, additional director, AYUSH, Haryana , said Panchkula will be ranked 3rd position in establishing National Institute of Ayurveda.
Dr Jaideep Arya, chairman, Haryana Yog Aayog, and Dr Arya emphasised the need of gut health for the sake of immunity. While explaining the scientific benefits of yog asanas, he elucidated the effects of asanas i.e Vajrasana, Mandukasana & Uttanpadasana on regulating the functioning of Digestive system.  Dr JS Thakur, head of department of public health, PGIMER also shared his views on the importance of research in yoga for better awareness among participants.
Dr. Sapna Nanda , Principal, Govt college of Education , as a dietician she shared her view on the importance of diet and life style to live a healthy life.Dr. Mahender, Principal, GCYEH also appreciated the efforts of organism and mentioned about the bright future of yogasan in the medical, sports and education.
In the felicitation ceremony, the Golden Book of World made during the 75 lakh Surya Namaskaran project was presented to the chief guest by chairman Haryana Yog Aayog along with other officials. The chief guest was also felicitated by Dr Jaideep Arya, Dr Sukhpal Kaur and other dignitaries were felicitated by officials of NINE and Haryana Yoga Aayog.