Inter-College Environment Fest SHARINI kickstarted today at GGDSD College: Inter-College Environment Fest -SHARINI kickstarted today at Goswami Ganesh Dutta Santan Dharma College, Chandigarh today.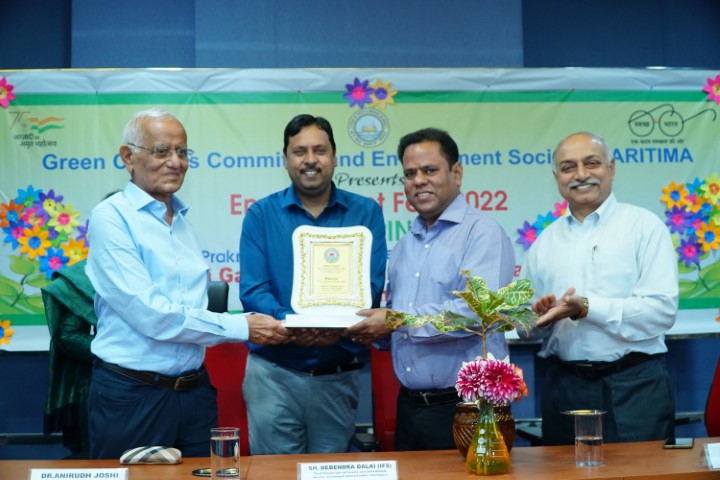 The 3-day Fest is being hosted by Green Campus committee and College Environment Society to commemorate 'World Forest Day' and to educate the students about the multiple facets of environmental conservation through various activities.
Dr. Debendra Dalai (IFS), Director, Science and Technology, also the Director Environment & Forests, and also Chief conservator of Forests, Chandigarh inaugurated the Fest and motivated the students towards conservation of nature. He gave various tips on combating pollution while addressing the students and made them aware of the various initiatives of the Chandigarh Administration towards environment conservation.
He emphasized that each individual must take personal responsibility and small steps to bring big changes in the environment and conserve these invaluable natural resources for prosperity. He was happy to share the increase in Green Cover area of Chandigarh and the Bird Park set up to promote Eco-tourism.
Dr. Anirudh Joshi, General Secretary of the Goswami Ganesh Sanatan Dharma Society while giving the welcome address took the audience on a nostalgic trip down the memory lane as he mused on the biodiversity offered by Chandigarh. He also proposed that a research be conducted on the affects of biodiversity on biochemistry.
general secretary of the GGDSD College Society welcomed the chief guest and shared his achievements towards saving environment. Principal, Dr. Ajay Sharma put forth the Green initiatives of the college and the Green mission of the college with its timelines and encouraged the students to take proactive measures for environmental protection.
The activities for the day included Eco-Jagriti, Harit Kala and Metamorphose – 'Best Out of Waste' Competition. The green volunteers Dikshant, Aditya, Komal and Pooja were honored on the occasion for their commendable efforts by the chief guest.