NewZNew (Chandigarh) : The Inter-School Robotic Competition 'Abhiyantriki2k16'  culminated today at New Public School, Sector 18-B, Chandigarh. It was devoted to helping young students discover and develop a passion for Science, Engineering, Technology and Maths.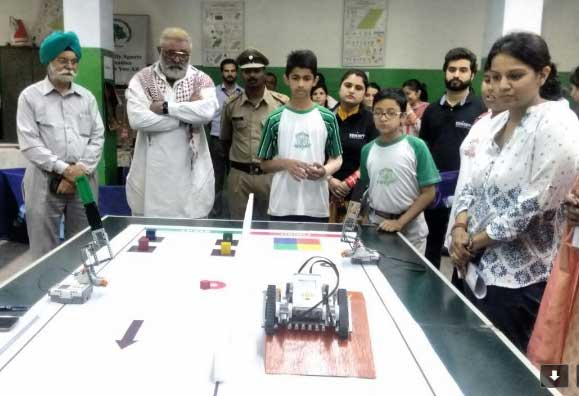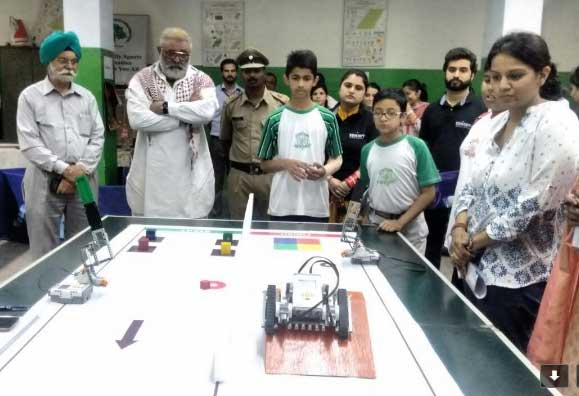 The Robotic Competition was designed to help high school-aged young students discover how interesting and rewarding the lives of engineers and scientists could be. A competition of this kind is unique; as, the Vice Principal of New public School Ms. Sushma put into words,"It is a sport where participants play with and learn from pros. Designing and building a robot is a fascinating real-world professional experience. Competing infuses in the participants much excitement and the adrenaline rush as do the conventional varsity tournaments.'
'Abhiyantriki 2k16' was divided into two categories- 'Open Category' and 'RoboRun Category'. Overall 140 students, of class 4th to class-10th, from different schools like Blue Bird High School, Saupins 32,Sector, ATS Valley, Lawrence Pubic School, New Public School participated in this event.
In the 'Open category' the students had to prepare a model, presentation, skits or poem on the given topics. Third Position was bagged by Mount Carmel School, Chandigarh, The New Public School got the second position and the winners were team from ATS Vally School. In the senior category Blue Bird School, Panchkula were the team placed third, Lawrence Public School was second and the winners were from Saupin's, Sector 32, Chandigarh.
For the 'RoboRun Category' students were given a task for which they had to build the robots and then complete the task in the given time and the winners were Saupin's Mohali as well as Gurukul Panchkula. Second position was also bagged by Gurukul Panchkula and Blue Bird School was placed third.
Yograj Singh gave away prizes to the winners and encouraged  students to be part of such competitive events as it infuses excitement, students learn how to work in a team, and it's not whether you win or lose, it's how you play the game. He gave a word of advice to the parents too, saying parenting is serious business and they should never discourage their children and burden them with their own expectations.