Invincible Season 2: Watch All Episodes Online On Prime Video: Invincible Season 2 is a sci-fi fantasy anime series that is now streaming online on Amazon Prime Video. This series is based on the comic written by Robert Kirkman, Cory Walker, and Ryan Ottley.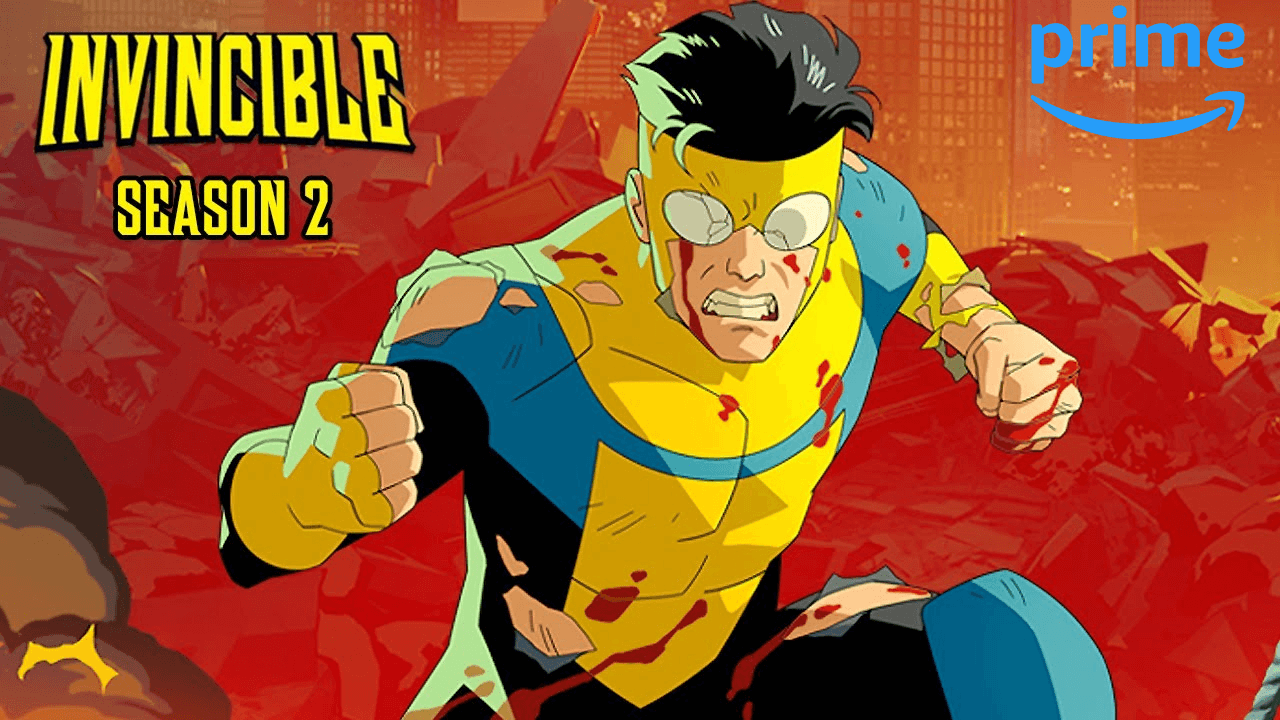 There are a total of 8 episodes scheduled to be released for this season. In that, 4 episodes will be premiered by this month.
Invincible Season 2 Season 1
Mark Grayson is a 17-year-old young man who is like every other kid his age. Except his father is one of the most powerful superheroes on the planet, Omni-Man. Mark starts to develop his power and finds that his father is not as heroic as he thought. In the end, his father left him in devastating pain.
Invincible Season 2 Season 2
After Mark Grayson gets his powers like super strengths, flight, endurance, and invulnerability, he becomes a superhero. Mark calls himself the Invincible. His journey after the betrayal of his father Nolan Grayson to earn back people's trust became a bit difficult. Will he complete his quest and become a superhero or he get killed at the hands of his father "Omni Man" is the main crux.
Invincible Season 2 Episodes
| | | |
| --- | --- | --- |
| Episodes | Title | Release Date |
| 1 | A Lesson For Your Next Life | 3 November 2023 |
| 2 | TBA | 10 November 2023 |
| 3 | TBA | 17 November 2023 |
| 4 | TBA | 24 November 2023 |
| 5 | TBA | Released Before 2024 |
| 6 | TBA | Released Before 2024 |
| 7 | TBA | Released Before 2024 |
| 8 | TBA | Released Before 2024 |
Invincible Season 2 Cast
Here are the characters involved in the adult animated superhero series Invincible Season 2,
J.K. Simmons as Omni-Man/ Nolan Grayson
Steven Yeun as Invincible/ Mark Grayson
Gillian Jacobs as Atom Eve
Walter Goggins as Cecil Stedman
Sterling K. Brown as Angstrom Levy
Seth Rogen as Allen the Alien
Ross Marquand as Immortal
Khary Payton as Black Samson
How to Watch the Invincible Season 2 Episodes On Amazon Prime Video
1. Download and install the Amazon Prime Video app or go to the Prime Video website.
2. Login using the email address or mobile number.
3. Choose any of the subscription plans and buy it.
4. Complete the payment process using the desired payment method.
5. Then find Invincible Season 2 using the search option.
6. Select the required episode that you want to watch.
7. Click the Play button to stream the content online
Invincible Season 2 Trailer
Overview of Invincible Season 2 Episodes
Check out complete the information about the Invincible Season 2 Episodes,
Title: Invincible Season 2
Director: Jeff Allen, Paul Furminger, Dan Duncan, Jay Bajer, Jason Zurek
Character: Omni-Man, Invincible, Atom Eve, Angstrom Levy, Immortal
Voice Actors: Gillian Jacobs, Walter Goggins, Seth Rogen, Ross Marquand
OTT Platform: Amazon Prime Video
OTT Release Date: 3 November 2023
No. of Episodes: 8
Languages: English