Clean transportation coming to the city famous for waterfalls and marble rocks as e-rickshaws charge with solar power through a Smart City Mission pilot.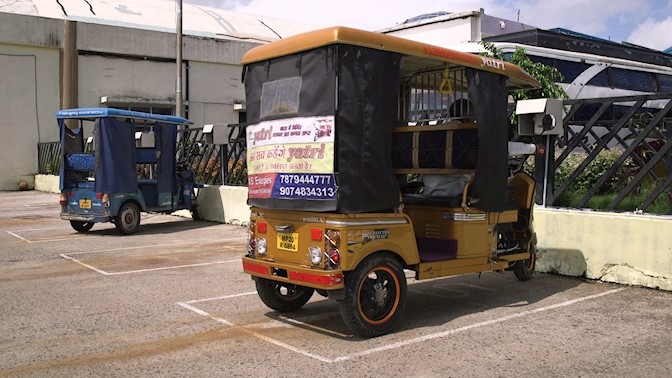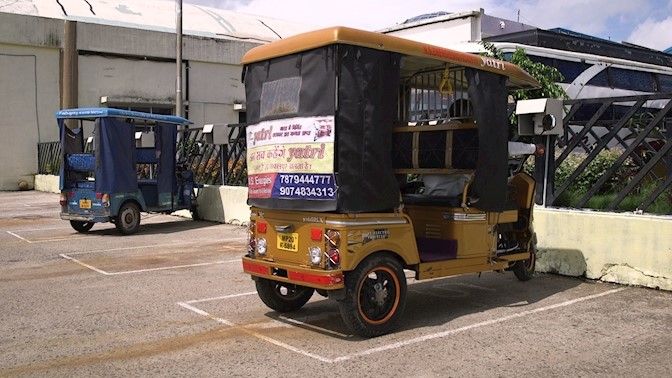 ABB India is providing critical technology through its solar inverters for solar powered charging stations for e-rickshaws at four locations in Jabalpur. As the sun hits the solar panels at the charging station, generating the direct current (DC) energy, the ABB inverters convert that power to the alternating current (AC) used in charging the e-rickshaws. The solar powered charging stations are part of a renewable energy project initiated by the Jabalpur Smart City Corporation. The solar panels are also connected to the state grid to feed in additional power generated through net metering. The ABB inverters come with Wifi connectivity for remote monitoring and centralized billing provisions in the future.
Jabalpur currently has 400 licensed e-rickshaws plying in the city. This pilot project is an endeavor to provide these e-rickshaws with renewable-energy-powered charging stations. The ultimate aim is to also convert the 5,000 diesel-run city rickshaws to a cleaner, greener mode of propulsion, reducing carbon emissions in transportation and bringing down pollution levels in the city. Currently, conventional rickshaws emit at least 46 tons of CO2 per day in the city. This project is one of the first of its kind in the country, demonstrating green generation and green usage. The solar powered charging stations, capable of generating 50 kilowatts of electricity, take between 7 to 8 hours for a full recharge, enabling the vehicle to travel 100 to 150 kilometers.
"We are privileged to partner Jabalpur's journey in pollution-free and environment-friendly transportation with ABB's market-leading charging technology for these e-rickshaws. Such pilots are key to creating a wider eco-system of clean energy generation and consumption and realizing India's vision of 175 GW of renewable energy by 2022," said Sanjeev Sharma Managing Director, ABB India. "It is an important step that this project has been included as part of the Smart City Mission, as this will aid faster deployment of such technology and also ultimately different modes of EVs and charging infrastructure can be explored with the required urban planning and development," he added.
"We are creating renewable-based infrastructure for the e-rickshaws at nine locations throughout the city. For this project we generate solar power, some of which is fed back to the grid," said Sachin Vishvakarma, CEO, Jabalpur City Transport Services Ltd.
Most rickshaws in the country run on diesel or compressed natural gas (CNG) transitioning to electric ones. The former contribute to local pollution, while the latter require grid-connected electricity, which is not always reliable. Solar-powered charging stations will contribute to the overall transition to green transportation and bring about last-mile connectivity sooner.
These solar e-rickshaws are part of the country's larger ambitious program of going all electric in transportation by 2030. India is one of the signatories to the Paris Climate Agreement and programs  like these taken up on a larger scale will also contribute to maintaining the Agreement targets of reducing carbon emission intensity by up to 35 percent from 2005 levels and 40 percent of India's energy being generated from non-fossil fuel sources. India imports over 80 percent of its crude-oil requirements, a figure that is projected to double to around $300 billion by 2030.
The Indian government is likely to float bulk procurement tenders for three-wheeler electric rickshaws on the same model as the government's Unnat Jyoti by Affordable LEDs for All (Ujala) scheme, where LED lamps are procured in large numbers through competitive bidding and distributed through an agency to bring down costs.
ABB is a pioneering technology leader in electrification products, robotics and motion, industrial automation and power grids, serving customers in utilities, industry and transport & infrastructure globally. Continuing more than a 125-year history of innovation, ABB today is writing the future of industrial digitalization and driving the Energy and Fourth Industrial Revolutions. ABB operates in more than 100 countries with about 136,000 employees. www.abb.com/in