Jet Airways, India's full service, premier international airline, today announced that it has redefined 'JetBoutique' – its classical, on-board shopping experience, by taking it online.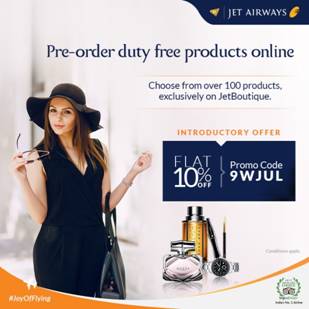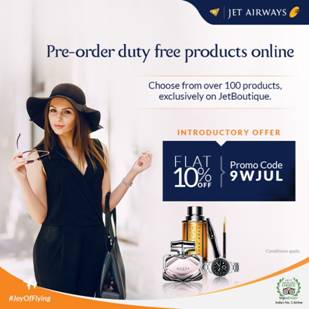 Guests of the airline will now be able to enjoy the luxury of shopping online for their favourite international, lifestyle brands from partner duty free stores at their convenience for having their purchases delivered on-board during their travel. In fact, guests with confirmed bookings on select international flights, can pre-book their orders of inflight duty free products at the airline's website (www.jetairways.com) for delivery onboard their flights.
With the launch of the pre-order facility, Jet Airways becomes the first Indian airline to offer this service, in its endeavour to consistently offer exceptional value to its guests. Pre-ordering will also help guests save time at the airport, aside from the convenience of online shopping.
As part of the online launch celebration, Jet Airways' guests shopping at 'JetBoutique' on jetairways.com can take advantage of an introductory 10% discount while placing orders, after browsing the online catalogue.
Jayaraj Shanmugam, Chief Commercial Officer, Jet Airways, said, "JetBoutique enjoys a strong appeal among our international guests. We are confident that its digital version will also resonate equally well with our guests, especially the new-age millennial travellers, many of whom are keen to savour experiences and explore more while travelling with us. It is another example of the many ways in which we use technology to create and enhance our guest experience for added convenience. We are certain that this service will lead to numerous delighted guests."
To begin with, on-board deliveries of purchases made on 'JetBoutique' will be available to guests travelling on select international sectors, which include flights arriving to/ departing from Mumbai and Delhi.
The launch of the digital version of JetBoutique places Jet Airways among a select number of leading international airlines that offer this facility to their guests.