Jio joins Dineout's Great Indian Restaurant Festival as Digital Partner: Jio and Dineout, India's largest dining out platform have come together for the latest edition of Great Indian Restaurant Festival (GIRF) starting 1st August 2019 and concluding on 1st September 2019.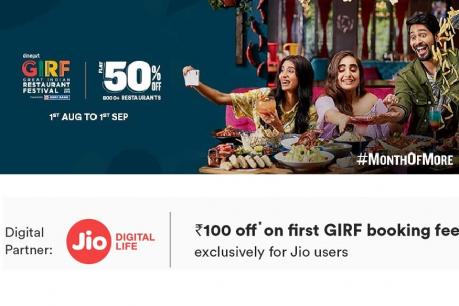 Through the association, Jio continues to enrich the digital life experience of its users by providing exclusive benefit during Dineout's biggest ever food and drinks festival.
Users of Dineout are generally charged a booking fee while making reservations on the platform. In return the users get discounts on the bill and can also enjoy 1+1 offers on food, drinks & buffets.
This GIRF, Jio subscribers in 17 cities (where Dineout is operational) can avail Rs 100 off on their first booking fee during the offer period. This is an exclusive benefit for Jio users.
The discount code will be available in the Coupons section in the MyJio app of Jio users. The Jio subscribers who do not already have the MyJio app installed can also download the app and access the coupons for redemption on Dineout platform.
Things to look forward to in 4th Edition-
8000+ restaurants offering FLAT 50% off on total bill, food bill, drinks bill and buffets
Top rated restaurants across 17 cities of India
Benefit for Jio users –
Rs 100 off on their first booking fee during GIRF
Coupon code applicable on Food Bill/ Drinks/ Buffet or Total Bill
Discount coupon code to be available in Coupons sections of the MyJio app
Know More About Great Indian Restaurant Festival (GIRF):
The festival is slated from 1st Aug-1st Sep giving flat 50% off deals on total bill, food bill, drinks bill, buffet and coupons spanned across 8,000+ restaurants in following 17 cities: Delhi (Delhi NCR), Mumbai, Bangalore, Kolkata, Pune, Chennai, Hyderabad, Ahmedabad, Chandigarh, Goa, Jaipur, Lucknow, Indore, Surat, Kochi, Ludhiana and Nagpur.
GIRF is restaurant industry's first ever food & drinks festival which was launched in 2017 with the idea to promote the dining out culture among consumers and change the way Indians dine out.
The festival has been instrumental for both consumers as well as for the partner restaurants. No questions asked Flat 50% off deals, cashbacks, bank offers, partner offers and more at top-rated restaurants are the main drivers behind the success of the festival.