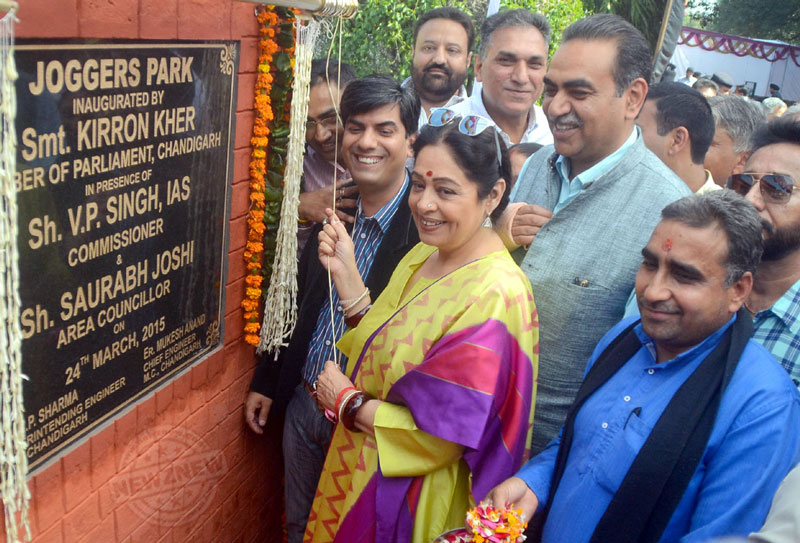 NewZNew (Chandigarh) : It was a special day for those who are conscious about their health and love to go for a walk or a sprint every day. With a 1630 meters long cinder track, the newly made Joggers Park was inaugurated in Sector-15 today by Lok Sabha MP Kirron Kher in the presence of BJP state head Sanjay Tandon and area MC councilor Saurabh Joshi. The special guests were welcomed by Chief Engineer Mukesh Anand. The park stretches from Sector 15-16 traffic light point up till the 10-11-15-16 roundabout. Joshi organized a special public inauguration function where the administration officials, councilors, mayoral staff, media persons and local residents gathered in good numbers. Both Kher and Tandon blessed Saurabh Joshi for his efforts.
Joshi told that the total area of the park is 3 acres and the track is a special 19 inches layered one which is a special cinder track that used to be there until the 1964 Tokyo Olympics. This cinder track is a type of race track generally proposed for athletics. There have been installed bollards with 18 watts bulbs totaling 37 in number throughout the track. We haven't gone for heavy voltage pillars this time because it affects the birds around and consequently they do not make their nests on the trees in that particular area. On the approach way to the park, 6 electrical poles with 45 watts bulbs have also been installed. The total cost has been estimated at Rs. 35 lacs.
In her speech, MP Kirron Kher was all praise for Joshi's efforts. She said, "Mostly I see the government projects in UT start off but do not end up soon. But the case is different here. It is Saurabh Joshi's efforts and Chief Engineer Mukesh Anand's support with which this project has actually become a reality in a short span of time. I wish I also get some time off and come here for a walk. Our city is already an example of perfection for the whole country and if we keep growing and maintaining like this, soon we will be an example for the whole world."
Local RSS head Amritsagar said that this area was ruled by garbage and malba earlier and now it would be a fresh place to visit every morning. Quoting the Swachh Bharat Abhiyaan, he commented that it is us only who are responsible for the trash all around. One who comes to clean is safai wala because he is actually the cleaner and we are the culprits.
The horticulture department also has done a commendable job in this project. 300 Ficus Benjamin plants have been grown as they would absorb the carbon monoxide emitting out of the vehicles passing by. 1000 other different shrubs, 110 Juniperus plants, 120 palm and 500 other flower plants have been sown here to give a healthy environment to the visitors.
On this occasion, councilors from other wards, Harjinder Kaur, Rajbala Malik, Asha Jaswal, Satinder Singh, Rajinder Kaur Rattu, Des Raj Gupta, Hardeep Singh, M.P. Kohli, Surinder Bala, Devesh Moudgil and Heera Negi also made a presence. Additional commissioner Rajiv Gupta, SHO Udaypal and SHO Narinder Patial also spared their precious time for this inauguration function.