Jubilee Group announces Launch of Jubilee Walk : Founded on the belief that buildings are more than just physical structures, Jubilee Group, a young and professionally managed real estate organization, aims to create modern structures for people to work, play and live in.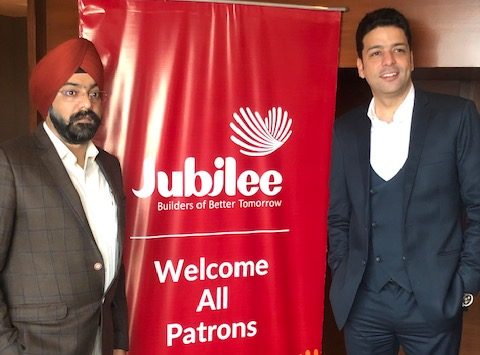 Guided by this brand philosophy, Sanyam Dudeja, Director, Jubilee Group today announced launch of Jubilee Walk, Signature Retail & Office Suites in Mohali. Designed to be among the region's most sustainable project, every aspect of it is benchmarked against global criteria.
After acquiring a premium project of 80 Cr last year, Jubilee Group is starting the year with yet another big project. The Group gives Mohali commercial real estate its 1st International High Street Concept, world-class project, Jubilee Walk, one among its many firsts.
With an investment outlay of close to 200 crore, these signature retail & office suites will fill the existing market gap between the demand and supply in this category.
Mohali all set to witness International High Street Concept blending Retail and Office spaces, Entertainment areas & Food Joints
Jubilee Walk is spread over 2.02 Acres of land located on the junction of Airport road and Himalaya Marg. Double Height Retail Showroom on ground level, for the first time ever in Mohali
The Group's maiden project Jubilee Square, known for its strategic & practical architecture, will set a precedence for a whole new level of shopping experience for people and will offer Possession by 31st March
The company has already acquiring the land from GMADA and starting the first phase of Construction. The Group has acquired its 3rd site from GMADA for a whopping Rs 101cr.
Located on the premium 200ft wide Mohali International Airport road, the Group boasts of two State-of-the-art retail projects – "Jubilee Square" Commercial SCOs and "Jubilee Walk" Signature Retail & Office Suites.
This is the first project in Mohali with 2 sides open-able SCOs with parking on both sides, with International Airport, IT City with Infosys & 42 other campuses in close proximity and only a few minutes drive from Knowledge City. Jubilee Walk is approachable from all major landmarks of Chandigarh, Mohali, Kharar, Aerocity.
Seeing an immense potential in Mohali for organized commercial retail, Sanyam Dudeja, Director, Jubilee Group says, "Mohali has seen a spurt of real estate revival recently" – The viability and economic potential of retail space and mall space in Mohali has spurred the real estate revival in the area. Jubilee Group with its new projects, not only fills the demand supply gap in organized commercial real estate in Mohali, but assures unmatched opportunities to businesses in terms of customer attention, visibility, and also driving customer traffic all the year long like never before."
Talking about the Group's Brand values and philosophy, he says, "Jubilee Group strives to specialize in conceiving building concepts that are people-oriented, maximizing the purposeful development and utilization of land and space thoughtfully. Essentially these are life spaces to nurture, stimulate and inspire the human mind, thus improving the living quality and environment for the community."
Jubilee Walk – Unique Features:
Design & Concept by RSP (Singapore based Design house)
Fully equipped Club House, Swimming pool, Restaurant, Spa & Fitness Centre on the top level
For the first time ever in Mohali, Double Height Retail Showrooms on ground level
Great accessibility with 8 lifts and escalators for seamless movement of people within the building
Separate double Height Lobby with drop-off area for offices
Designed to cater to natural traffic flow, neighbourhood needs and to attract maximum footfall for increased profit in Retail
Ideal blend of Retail, Offices, Entertainment and Food joints
Commercial Real Estate in Mohali – A Reality Check
Airport road and Sector 70 are the new buzzing commercial and retail hubs where new projects are coming and investors are showing interest. As number of projects are limited and demand for retail and office spaces are high investors are now getting attracted towards these areas. There is strong end-user demand in these areas as not much non IT office spaces are available in Mohali.
Chandigarh /Tricity is in one of the top Tier 2 cities in India where commercial realty is flourishing and has scope for future expansion due to its location and upcoming airport and logistic hub
Average rental yield of a commercial property is 6% to 10% as compared to 1.50% to 3.5% for residential 
Start-up boom has also led to more demand for commercial real estate 
International brands are entering India and also Tier II cities, and are looking for quality retail space across the country. PE is also flowing in and upcoming REIT platform has attracted many private players
There is a Revival and surge in demand in Food & Beverages space as premium dining restaurants offer scope for expansion due to upwardly mobile and affluent population
Co-working spaces are also fuelling demand in office spaces
Investors are now more inclined towards premium locations of Mohali and Aerocity where supply is limited and rental demand is robust.