Karm Yuddh Web Series Episodes On Disney+ Hotstar: Karm Yuddh is the new web series from Disney Plus Hotstar. It is created by Kailashnath Adhikari and Ravi Adhikari.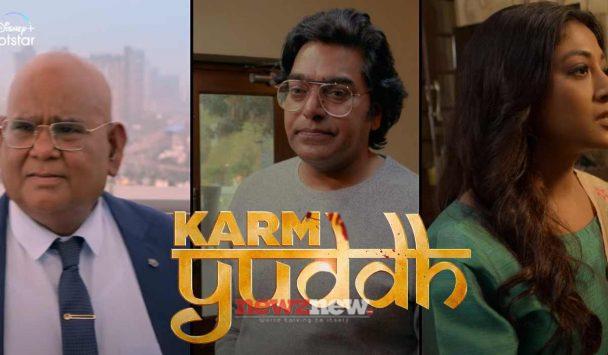 The series stars Satish Kaushik, Paoli Dam, Anjana Sukhani, and Chandan Roy among others in prominent characters. Disney Plus Hotstar has dropped the official trailer for the series and it also announced the streaming date.
Watch Karm Yuddh Hotstar Specials on September 30 (Friday).
Karm Yuddh Web Series Plot of the series
Karm Yuddh series is about the Roy families, their personal actions, legacy, and vengeance make the city worsen into a blood bath.
What is The Release Date Of Karm Yuddh Series?
Karm Yuddh will start streaming on Disney Plus Hotstar from September 30. According to sources, the first 9 episodes of the series will available online on its day of release.
Karm Yuddh Web Series Cast
Satish Kaushik
Paoli Dam
Anjana Sukhani
Chandan Roy Sanyal
Nitinn R Miranni
Pranay Singh Pachauri
Ankit Bisht
Madhurima Roy
Shruti Chauhan
Tara Alisha Berry
Soundarya Sharma
Akash Dhar
Rajesh Khattar
Karm Yuddh Web Series Trailer
Watch the fiery action trailer of upcoming Karm Yuddh Series from Hotstar,
Karm Yuddh Web Series Details
Check out the complete details of Karm Yuddh Hotstar Specials Episodes below,
Name: Karm Yuddh
Season: 1
Episodes: 1- 8 (Tentative)
Type: Web Series
Online Video Platform: Disney Plus Hotstar
Language: Hindi
Streaming Date: September 30, 2022