NewZNew (Chandigarh) : People young and old, all turn to look up when an aeroplane scorches across the sky, such is the charm these flying machines have over man. Giving the tricity's younger lot an opportunity to learn the basics of aviation from close quarters, Elante Mall today organised a first-of-its kind  Aero-modelling  workshop at its 'Elante Kids Carnival', being held in the mall from June 4 to June 12,  2016.  More than 50 super-excited children participated in this engaging activity conducted by Elante Mall where they were explained the Aero-modelling concept and fundamentals and got to participate in an activity on construction of aero model i.e. chuck glider.
Commenting on the idea behind holding this workshop, Mr Manoj Agarwal, Head of Operations, said, "Elante Kids Carnival is a fantastic opportunity for parents to get their kids all set for the summer holidays by exposing them to new and stimulating activities. Today at our aero-modelling workshop, the students were taught about the basics of aerodynamics, the principles of flying and different parts of aircraft and its functions".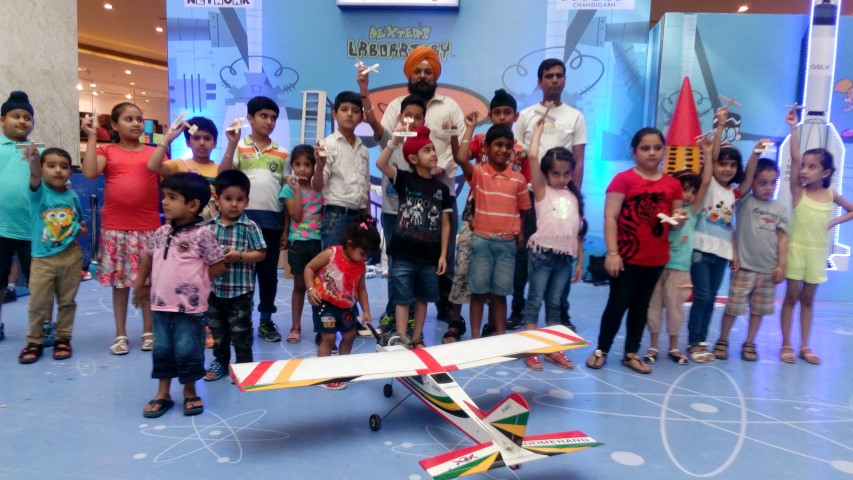 "The motto of the entire exercise was to ignite young minds towards innovations and make students think like scientists and engineers, all the activities during the 9-day carnival have been designed to create a memorable and meaningful experience for a kid which also facilitates their career in the related fields", he added.
At the Aero-modelling workshop, the children were taught about the theory of flight. The USP of the workshop was the practical demonstration of aircraft control with the aid of static & working models of aeroplane brought by ex-pilot Capt. Gurmeet Singh, who conducted the workshop. There was also an open model of aircraft which was used to explain to kids the various internal and components of an aircraft and what functions they perform. The kids got to try out first-hand the various control systems like how to turn an aircraft left or right etc with the help of the working model brought for the Aero-modelling activity.
A major hit at the Aero-modelling workshop was the activity involving live flying demonstration of a Drone (a quad-copter) by experts which made the day of the children.
The workshop worked as a great motivator for kids who have dreams of pursuing their future in the world of aviation. The chance to interact with an aviation expert, which is not an everyday affair for kids, was like a god-sent opportunity for them. The children came forward and asked lots of questions which Capt. Singh was more than happy to answer in detail but in the simplest of manner to ensure the message got registered with the kids. While sharing interesting facts about aircrafts, Capt. Singh conducted an impromptu quiz amongst the kids which was great fun.