KRAFTON Launches Defense Derby in India and Over 190 Countries Globally: RisingWings, an independent studio of KRAFTON, Inc., officially launched Defense Derby, a real-time strategy mobile game that rejuvenates the tower defense genre in India.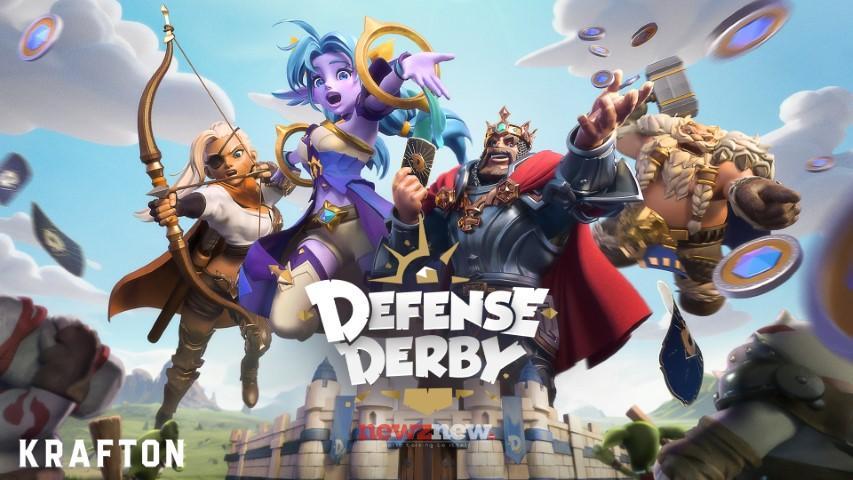 In addition to India, the game will now be accessible in over 190 countries wherein players can download the game from Google Play, Apple's App Store, and Samsung's Galaxy Store.
Defense Derby invigorates the tower defense genre with exhilarating 4-player PvP battles, intricate strategic challenges, intense psychological warfare, and dynamic synergy effects. At the heart of the game lies a novel approach where players dive into a thrilling "scouting stage," fiercely bidding against competitors to secure units and form their ultimate teams.
With these units expertly arranged within their fortress, players counter continuous monster attacks, striving to remain the last player standing.
Defense Derby provides an array of game modes to enrich the gaming experience of its players. In the core Derby Mode, players battle against each other (PvP), while Blitz Mode offers PvE challenges.
The Valley of Trials presents a unique test, compelling players to conquer challenges using a restricted selection of units. With Friendly Derby, players can establish rooms to engage their friends in combat. Themed Mode, offering a periodic shift in rules, is accessible for a limited period.
Anticipated updates also include the Ban Pick Mode, allowing players to block specific opponent units, and Quest Mode, where the first to survive the onslaught and complete specific quests wins.
In celebration of Defense Derby's official release, KRAFTON and RisingWings arranged a collection of exciting in-game events. Every player receives a 'Welcome Package' brimming with bonuses such as 20,000 Gold, a Rare Hero card, a Rare Unit card, and a Special Castle Skin.
Moreover, players can earn an array of rewards including Legendary Unit cards, Rare Unit cards, Cubics, Gold, and more through participating in in-game events like the Login Event, Lucky Draw, and Event Store. Additional events will unfold on the official Defense Derby's YouTube, Facebook, and Discord channels.
"We are excited to introduce Defense Derby as our fourth game in India, offering players a thrilling and unique strategy experience. Along with RisingWings, we have curated a captivating gaming adventure that sets it apart from other tower defense genres. With Defense Derby's launch, we are delighted to expand our strategy and casual game portfolio in India.  As we continue our journey and strengthen our commitment in India, we look forward to independently developing games for our Indian community as well as collaborating with our talented studios to bring more such exceptional experiences to our enthusiastic fans in the country." said Sean Hyunil Sohn, CEO, KRAFTON India
"We're thrilled to finally bring Defense Derby, two years in the making, to players across India," said Sinchan Park, Production Director for Defense Derby at RisingWings. "Our commitment is to ensure players have a delightful gaming experience, enriched with diverse content. We are dedicated to introducing regular updates and exciting new content keeping in line with the needs and feedback of our fans."
For the latest Defense Derby updates, please visit https://defensederby.krafton.com and follow along on social media (Facebook | YouTube | Discord | Instagram).
Know More About KRAFTON, Inc.
Based out of South Korea, KRAFTON, Inc. is committed to discovering and globally publishing games that deliver a uniquely fun experience with global production studios known for distinctive creatives. Founded in 2007, KRAFTON consists of PUBG STUDIOS, Bluehole Studio, RisingWings, Striking Distance Studios, Dreamotion, Unknown Worlds, 5minlab, Neon Giant, KRAFTON Montréal Studio and ReLU Games, each trying to innovate the enjoyment of games through continuously embracing challenges and new technologies, expanding our platforms and services to win the hearts of more fans.
KRAFTON is responsible for premier entertainment properties, including BATTLEGROUNDS MOBILE INDIA (BGMI), Road To Valor: Empires, PUBG: BATTLEGROUNDS, The Callisto Protocol, NEW STATE MOBILE, Moonbreaker, TERA and ELYON. With a passionate and determined team worldwide, KRAFTON is a technology-driven company that boasts world-class capabilities as it seeks to expand its areas of business beyond games to multimedia entertainment and deep learning. KRAFTON, Inc. is committed to enhancing the start-up ecosystem in India; and so far, the company has invested over $130 million in several Indian startups in the field of interactive entertainment, gaming, Esports and technology. For more information, visit www.krafton.com
Know More About Risingwings
RisingWings is a South Korean game developer studio focused on creating mobile games that are loved and enjoyed by all. RisingWings set out with the mission to become the most popular mobile game provider and continues to build on various successful mobile games from real-time strategy to casual games such as Castle Craft, Castle Burn, Archery King, Bowling King, Mini Golf King, and Golf King: World Tour. For more information about RisingWings, please visit https://en.risingwings.com.