Krsnaa Diagnostics Ltd enters into a PPP contract with Himachal Pradesh for hospitals in Solan and Bilaspur: The Company has entered into PPP contract with Himachal Pradesh Radiology, wherein each of the respective hospitals in Solan and Bilaspur will provide for vacant space within the hospital premises on which the company will establish the CT scan centers.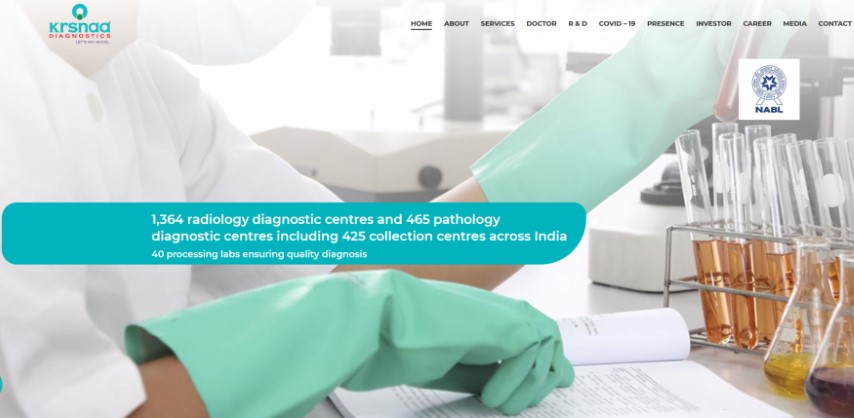 Therefore, it will not incur any cost towards land acquisition at the time of establishment of such diagnostic centres. Under the Himachal Pradesh Radiology contract, The Company is required to establish a CT scan center each, in a government hospital located in Solan and Bilaspur, respectively.
While critics of PPP model, particular in the infrastructure sector, are aplenty, in healthcare and diagnostics the government's Public Private Partnership (PPP) model is proving to be a tremendous success. Within a decade since its inception, Pune-based Krsnaa Diagnostics has surpassed all its peers in establishing a formidable presence in rural India. The company is a resounding testimony to the PPP model as well.
Here are the facts:
Jammu and Kashmir announced implementation of tele radiology services, in agreement with Krsnaa Diagnostics under its Free Diagnostic Initiative in 2020.
Punjab also has initiated a hub and spoke PPP model to set up diagnostic facilities across civil hospitals the tender for which was won by Krsnaa Diagnostics.
Uttar Pradesh is setting up 500 diagnostic centres under this model where HLL Lifecare and Krsnaa Diagnostics are present.
Karnataka also has a PPP model in place for diagnostic. As of January 2020, Karnataka had CT scan services in 14 district hospitals, MRI facilities in six district hospitals, and radiology services in one medical college (Vijayapura) under the PPP model with Krsnaa Diagnostics.
Today Krsnaa Diagnostics is present in 14 states under the PPP model of the state governments of Andhra Pradesh, Assam, Himachal Pradesh, J&K, Karnataka, Madhya Pradesh, Maharashtra, Manipur, Meghalaya, Odisha, Punjab, Rajasthan, Tamil Nadu and Uttar Pradesh. The closest competitor, Medall Healthcare is present only 4 of the 14 states. The northeast region has been a special focus point for government and National Health Mission (NHM) on account of difficult geographies and socio-economic profiles of the various states. Krsnaa Diagnostics has been providing tele-radiology services on behalf of the government in Assam, Meghalaya and Manipur.
The government-led (PPP model) diagnostic involves diagnostic players entering into a public-private-partnership agreement with the government to provide specific diagnostic services (pathology, radiology or both) for a specific concession period at predefined rates. In a PPP model, government contributions can vary from providing land lease, upfront capital infusion, to giving financial concessions on the capital infused by the private players, rent-free land and captive customers.
Players with established track records and most competitive prices are the ones which win such PPP tenders.
As a provider, the government contributes towards building infrastructure and managing operations of hospitals and diagnostic centres.
As a payer, it pays for healthcare services provided by the private sector.
The concession period for such agreements is generally long term, for a duration of 10 years.
Krsnaa Diagnostics operates primarily on a PPP model, which represents a market opportunity of Rs.950 crore to Rs 1000 crore as of Fiscal 2021. Krsnaa Diagnostics with its wide regional footprint has the largest presence in the diagnostic PPP space in India. Krsnaa Diagnostics has established 1,364 radiology diagnostics centers and 465 pathology diagnostic centers including 425 collection centers across multiple locations in all the 14 states it is present in.
Krsnaa Diagnostics Limited, is one of the largest differentiated diagnostic service provider in India (Source: CRISIL Report), proposes to open its Initial Public Offering on Wednesday, August 04, 2021. The Price Band of the Offer has been fixed at Rs. 933 to Rs. 954 per Equity Share. Bids can be made for a minimum of 15 Equity Shares and in multiple of 15 Equity Shares thereafter. The Offer will close on Friday, August 06, 2021.
The Initial Public Offering comprises of a fresh issue aggregating up to ₹4,000.00 million ("Fresh Issue") and an offer for sale of up to 8,525,520 Equity Shares ("Offered Shares"), comprising up to 1,600,000 Equity Shares Phi Capital Trust-Phi Capital Growth Fund-I, ("Selling Shareholder 1"), up to 3,340,713 Equity Shares by Kitara PIIN 1104 ("Selling Shareholder 2"), up to 3,563,427 Equity Shares by Somerset Indus Healthcare Fund I Limited ("Selling Shareholder 3") and up to 21,380 Equity Shares by Lotus Management Solutions (acting through Mayur Sirdesai) ("Selling Shareholder 4"). The offer includes a reservation aggregating up to ₹200.00 million, for subscription by eligible employees (the "Employee Reservation Portion").