La Trobe University strengthens partnerships in India: La Trobe University's Vice-Chancellor, Professor John Dewar AO, is in New Delhi this week with Australian Education Minister, The Hon. Jason Clare MP, to cement strategically important partnerships with universities, research centres, and industry partners in India.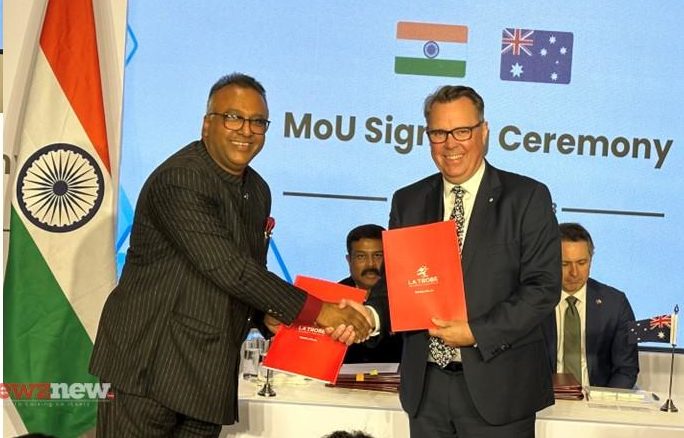 Official agreements signed at ceremonies over the three-day visit will strengthen global research and industry collaborations and create new international learning opportunities for staff and students at La Trobe, and its partner organisations in India.
Professor Dewar will meet with representatives from some of India's leading educational and research institutions, including the Bangalore Bioinnovation Centre, Lady Shri Ram College and Jindal Global Law School.
Professor Dewar said he was excited that these newly established partnerships with leading research and teaching institutions and industries would further deepen La Trobe's already established relationship with India.
"We have a long and proud history of close ties with many of India's leading research, educational and cultural institutions, and deeply value the contribution they make to our campuses and communities," Professor Dewar said.
"Whether offering Shah Rukh Khan scholarships for aspiring female researchers, partnering with the Indian Film Festival of Melbourne, or graduating thousands of students with Indian heritage who now hold senior positions across the globe, our partnerships in India are critical to our success as a university."
Professor Dewar said the ceremonial signings during his trip to India would reap many benefits for staff, students and communities in both countries.
"As a global University, we are always seeking new ways to foster and enhance international collaborations that not only benefit our own students and staff, but create new and exciting opportunities for those institutions with whom we build partnerships," Professor Dewar said.
"This is exactly what these exciting agreements signed today will do, and I very much look forward to us working productively with these four institutions over the coming years, as well as with our many other valued partners in India."