Let's work to restore Chandigarh's lost glory & Prestige: Bansal: Congress Lok Sabha Candidate from Chandigarh, Pawan Kumar Bansal today released the local manifesto of the party at a press conference at Congress Bhawan in Sector 35.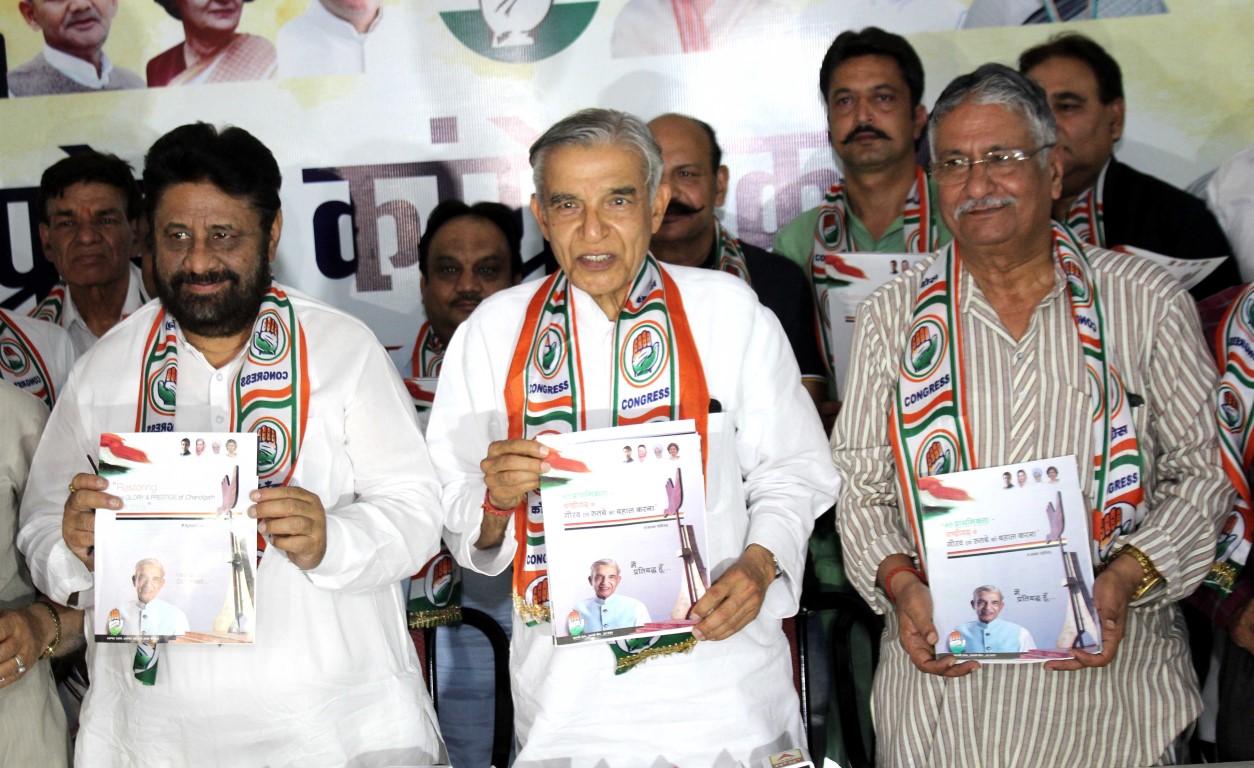 The manifesto spells out the Congress Lok Sabha candidate's plans to restore that glory and prestige once he is elected again as MP from Chandigarh.
"The Chandigarh spirit is being assailed by the pressures of irregular expansion, increased traffic and unprecedented vehicles entering, without adequate parking spaces and public transportation systems. Also, Chandigarh today, earns the ignominy of rising crime against women.  We have to make the city safe and create a kinder and gentler society that cares for those most at risk and vulnerable," he said in an introduction to the manifesto.
"We have to ensure that Chandigarh stays City Beautiful and not let its unique ethos be tempered or torn asunder. With your support, it would be my primary duty to restore the glory and prestige of Chandigarh and preserve the vibrancy, grace and dignity that makes our City truly one of its kind," he added.
In his manifesto, Bansal has emphasized on restoring the cleanliness and pollution-free environment of the city, colonies and villages, community parking and starting the metro to solve the problem of traffic congestion.
He has also envisioned a crime-free city with emphasis on women security, meaningful job creation for youth, once again bringing more funds from centre for education, health, roads, parks and other infrastructure. He also promises to work towards making 24 hours water supply a reality, introduce happiness curriculum in schools and ensure that the public demand for regularizing outstanding need-based changes in residential and commercial buildings is met.
He has also assured employees that contractual and temporary employees will be regularized and a transparent transfer policy adopted for them. To traders, businessmen and industrialists, he has promised that notices to traders and industrialists will be withdrawn and FAR (floor area ratio) for their shops will be increased. There will also be a far-sighted vendor policy in place. To give a fillip to business, Chandigarh will be developed as a tourism hub.
Villages, which have been crying for facilities and infrastructure at par with the city, will get a renewed focus.  Micro-planning will be ensured for each village to develop them as self-sustaining modern units. On the lines of Hauz Khas in Delhi, these villages will generate their own economic activity, including cottage industry, boutiques and street art. All old buildings outside the 'lal dora' will be regularized and basic civic amenities provided to them.
Coming to slum colonies, Bansal has assured that he will resume the "Slum-free City" project started by him and ensure that more houses are constructed and made available for rehabilitation of the remaining slum population in the city.
The Congress Candidate also said he would resolve the issue of centralized cadre of UT employees as per which Chandigarh Administration has centralized the recruitment, as per which any one can be transferred to any department. As per the administration policy the Secretary Personnel shall be the competent authority to order interdepartmental Transfer in respect of UT employees. This has caused a lot of resentment among the employees as they are being put to assignments which they are not experienced in.
Shun VIP culture
While finalizing his manifesto, Bansal has taken care to concentrate equally on issues which are taxing the minds of a modern, emerging society. He has pledged to work towards further discouraging VIP culture in the Union territory. He has advocated that there should be no "MP" flag on personal vehicle and MP's name should not appear on plaques. All foundation stones and inaugurations, including for works being executed with MPLADS funds, should be in the memory of martyrs from Chandigarh and the honours should be done by distinguished ex-servicemen or persons of literature and arts or senior citizens.
MP's work appraisal / accountability
Bansal has also undertaken that once elected he will report real time on his website and Facebook page about issues, works and projects taken up. He will also organize a monthly Open House meeting at a community centre (to be named Milan centre) on rotational basis in all MC wards/sectors.
For Strays & Pet lovers
While Bansal is for dealing with the problem of stray cattle and dogs in a time-bound manner and creation of more cattle pounds and animal shelters, he has catered for the concerns of pet lovers by promising upgrading of the existing Veterinary Dispensary in Sector 22 to include a pathology/diagnostic lab and equipped with surgical facilities.
There is something for all sections of society in Bansal's manifesto – youth, senior citizens, women, ex-servicemen, villagers, colony dwellers, employees, advocates, artists, trade and industry, air travelers, differently-abled, etc.
Among prominent present today included, Chandigarh Congress President Pardeep Chhabra, Mukesh Bassi, Bhupinder Singh Badheri, Rampal Sharma, Sandeep Bhardwaj, Gurpreet Singh Gabi, Satish Kainth, Anwal ul Haq, Harmel Kesari, among others.