Meet this unusual couple, Karan and Radhima as they come to Chandigarh to talk about their roles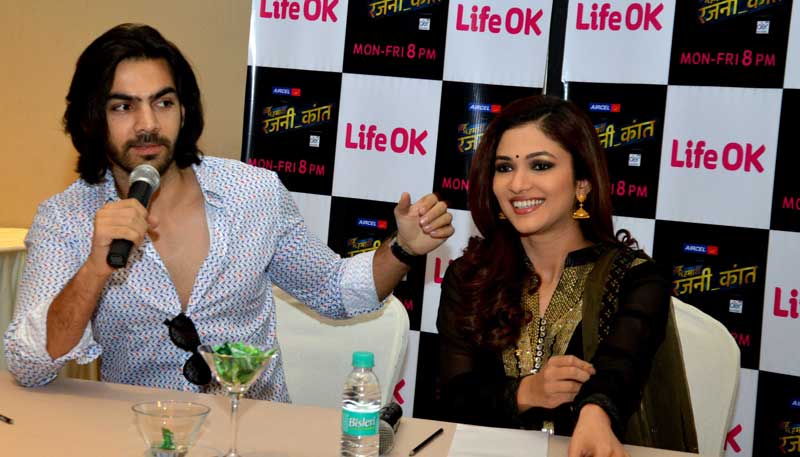 NewZNew (Chandigarh) : There is nothing that Rajni our protagonist can't do – she the perfect wife, the perfect daughter in law, a perfect lover and yet Shaan, her husband is hassled by her. Wonder Why? Life OK brings to you for the first time on Indian television a saga of a husband who, with a perfect wife still feels incomplete. Catch this Jodi Shaan and Rajni as they come to Chandigarh to talk about their new show.
The story revolves around a loving but dysfunctional family where everyone is often at odds with each other. Cultural differences further complicate matters and lead to unusual and hilarious challenges. Shaan, our lead protagonist, a scientist by profession, has immersed himself in science and robotics to save himself from the daily family drama. Through a quirk of fate Shaan finds himself marrying Rajni, who is the epitome of the perfect woman he had in mind. However Rajni has a secret that only Shaan knows of and becomes a big problem for him – Rajni is actually a humanoid that he has himself created as a robotics experiment. How will Rajni survive in this crazy family? And how will Shaan land himself out of this mess he has created?
Shaan is played by the very talented Karan V Grover who also just made his movie debut this year. He will be seeing in a geeky role where he only reasons with logic and practicality as he finds emotions tough to deal with. He is especially wary of women, as they are a whirlpool of mood swings and emotional complexity. Starring opposite him is our female protagonist Rajni played by RidhimaPandit who is making her debut in this show and will be seen as a robot.Due to the way she is programmed, she always ends up questioning human behaviour and its hypocrisy. The ensemble has talented cast like VahbeezDorabji, Tanvi Thakkar, Pallavi Pradhan and Rajendra Chawla.
Rajni, may be jack of all trades, but what happens when her husband still finds something missing in her? Watch this bizarre fun drama to find out why even with a perfect wife, the husband is still hassled?
Watch 'Bahu Hamari Rajni_Kant' from Monday to Friday at 8 pm only on Life OK