newznew (S A S Nagar) :  A Revolutionary dental technique 'All on 4' was showcased at Max Hospital by Dr Paulo Malo, a world renowned dental surgeon who has developed the Protocol called 'All-on- 4' for Edentulism – a state of partial or total teeth loss. 'All on 4' is a surgical procedure in which 12-14 teeth are fixed using just 4 implants. The workshop was organized by Department of Dentistry, Max Superspeciality Hospital, Mohali on the initiative by Dr Gaurav Malik, the Department's Director & Head.
The inventor of 'All on 4' technique, Dr Paulo Malo informed the delegates that the treatment protocol for Eduentulism was a recognised technology worldwide now. " We have discussed the science & technology behind the procedure using a proper lab set up & machinery that was specially imported for the session at Max Hospital." Formally trained professionals from Malo Clinic showcased the very same protocol being used abroad, through Live Surgeries.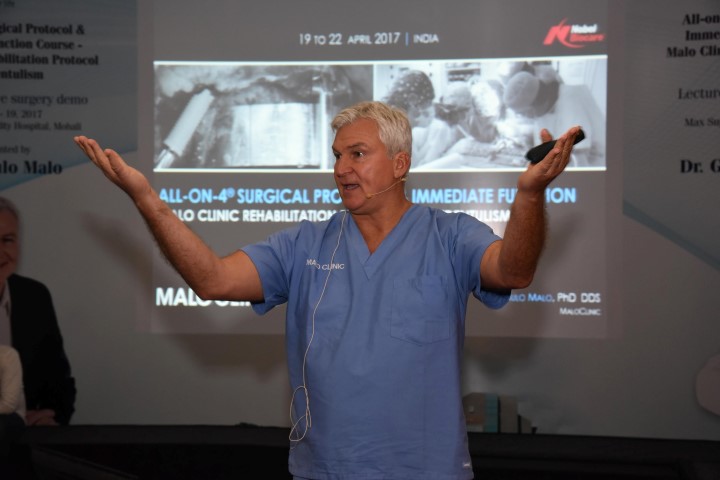 The PaMalo techniques, as they are popularly called were shown through live surgery for the first time in the region. The idea behind the session was to train dental practitioners in the revolutionary 'All on 4' system & create awareness of the original protocol & its implementation amongst the fraternity." said Dr Gaurav Malik, Director & Head, Department of Dentistry, Max Superspeciality Hospital, Mohali.
Nearly 80 Dental Surgeons from across India participated in the highly interesting interactive session interspersed with Live Surgery display, conducted by Dr Paulo Malo & his team. The surgeries took place in the Dental Surgery Room & were beamed live in the auditorium for the delegates to learn. Dr Malo was accompanied by Dr Gunaseelan Rajan a renowned Oral & Maxillo-Facial Surgeon based in Chennai, who is the First Indian Oral Surgeon to implement 'All on 4' processes.
Dr Paulo Malo & his team are here to conduct a 2 day interactive programme – 'All on 4 Surgical Protocol & Immediate Function Course – Malo Clinic Rehabilitation Protocol for Eduentulism in Max Hospital, Mohali'.
It's noteworthy that Edentulism is classified as a disability by WHO (World Health Organization), with more than 91 % of India's elderly population toothless to some degree, the state of affairs is indeed alarming. Due to incomplete mastication these patients experience rapid permanent loss of the underlying jaw bone which can contribute to nutritional deficiencies and speech impairment. What's more, according to the Indian Journal of Dental Research, the majority of patients remain untreated for Edentulism.  But the 'All on 4' treatment is ray of hope for patients.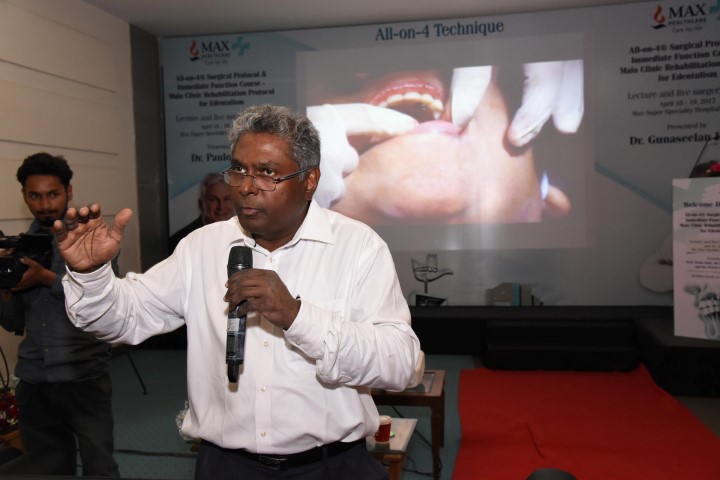 Many latest innovations were discussed at the workshop. Newer implants, connections & attachments that have been innovated for better success & longevity, were talked about. Awareness about these percolated amongst the attending dental surgeons. The workshop benefited the dental fraternity all across India. The dental surgeons who saw the live procedure were all praise for Dr Malo and his team and some were keen to commence the procedure in India as soon as possible.