RoboChamps to bring 20,000 Children together for a record-breaking Robotics Event
NewZNew (Ludhiana) : This young engineer who hails from Ludhiana has an ambition is life, not to be a successful professional, as any one of his age would have, but to bring about a change in the education system of the country. Through his start-up, Robotics Education World, Akshay Ahuja is excited to host the first of its kind Build Your Bot (BYB) event to be held this year in the national capital, New Delhi.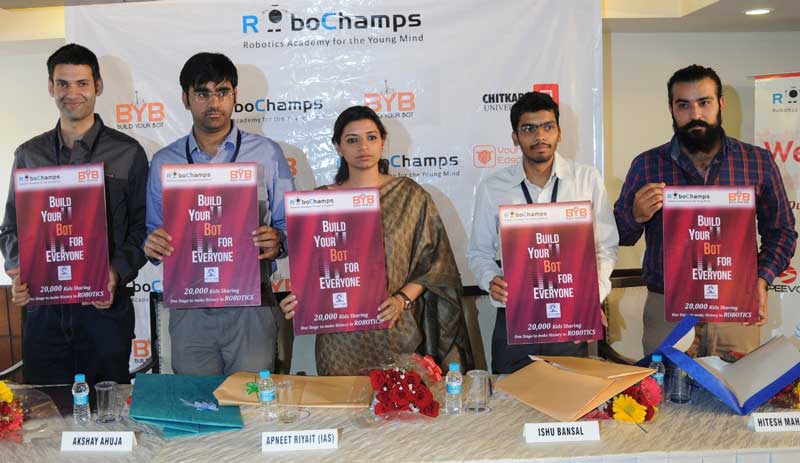 The event poster was officially released at Hotel Park Plaza here today by Ms. Apneet Riyait, IAS, ADC (Development), who was the chief guest on the occasion. Soon after releasing the poster she lauded the efforts of RoboChamps, saying the start-up was setting an example for other youngsters in the country by doing something for the betterment of society.
Record-breaking Event:
While 4500 students from Ludhiana will be a part of the event, over 20,000 children from across the country will share the stage this year in India's first and largest ever robotics show which would be held in the month of July this year.  RoboChamps is a sister concern of Robotics Education World being run by Ahuja and is engaged in providing Robotics and Technology based education to the young minds through schooling education in India.
Free training for the underprivileged
The initiative is being supported by Delhi based Young Edsplorer, Rolling Frames Entertainment, while Truck-Suvidha, a leading portal for the transport industry is also supporting the cause. While the event is unique, there is a social cause attached to it as several hundred underprivileged children from slums are being trained free of cost by the RoboChamps team and would be a part of the record-breaking event.
Akshay Ahuja, Director, Robotics Education World, while interacting with media here today said, "Through the event, Build Your Bot (BYB), participating 20,000 children will attempt to find a place in Guinness Book of World Records by making robots at one place thus creating a history."
Children from other countries to be a part
These children from the across the country are being outreached by RoboChamps Academy. Over 500 children from other countries are also expected to be a part of the event. Prime Minister, Narendra Modi will be invited as the chief guest for the national event.
"We are inviting some schools from Pakistan, China, Nepal, Bhutan, USA, and many more countries, while some of the prominent Indian cities from where the students will be participating include Chandigarh, Panchkula, Mohali, Ludhiana, Jalandhar, Amritsar, Solan, Shimla, Ambala, Panipat, Faridabad, Gurgaon, New Delhi, and Chennai besides others", Ahuja informed.
Promoting 'Skill India' & 'Make in India' initiative
He informed the event, which can be considered as an opportunity to promote 'Skill India' and 'Make in India' initiative of the government, will be held at Pragati Maidan, New Delhi. Ahuja said, "We will have an extensive training of participating children through RoboChamps. This event will bring change in education system by encouraging hands-on practice."
What is Build Your Bot all about?
Giving details of the event he said, students will start from scratch and make their own line following Robot. While making Robot they will come to know many concepts practically rather that theoretically, he said, adding, the event has been divided into four levels: ALPHA, BETA, GAMMA AND OMEGA, each level contributing to the enhancement of STEM (Science, Technology, Engineering and Math) skills of the participants.
Hitesh Mahashay, Director, Young Edsplorer, explained, "We are proud to have been associated with Robotics Education World and have constantly endeavoured to facilitate the young explorers to carve a niche for themselves in the field of science."
Ishu Bansal, Founder Director, Truck-Suvidha said it was indeed a privilege to be associated with this event, adding that children of truck drivers are also being trained for the event free of cost as a special gesture by RoboChamps.
Ojaswee Sharma, Director, Rolling Frames Entertainment, while speaking on the occasion said, objective of the event is not just to be a one-time activity, but to make such an impact that youngsters from the across the country pledge to bring about a change in the society.