Leading home-grown Indian brand turns 30
Luminous Power Technologies today unveiled ambitious plans to become India's leading provider of future-ready sustainable and energy-efficient products. The company, which is celebrating the completion of 30 years of excellencehas identified the solar sector as a growth area where it offers consumers complete end-to-end residential solar solutions.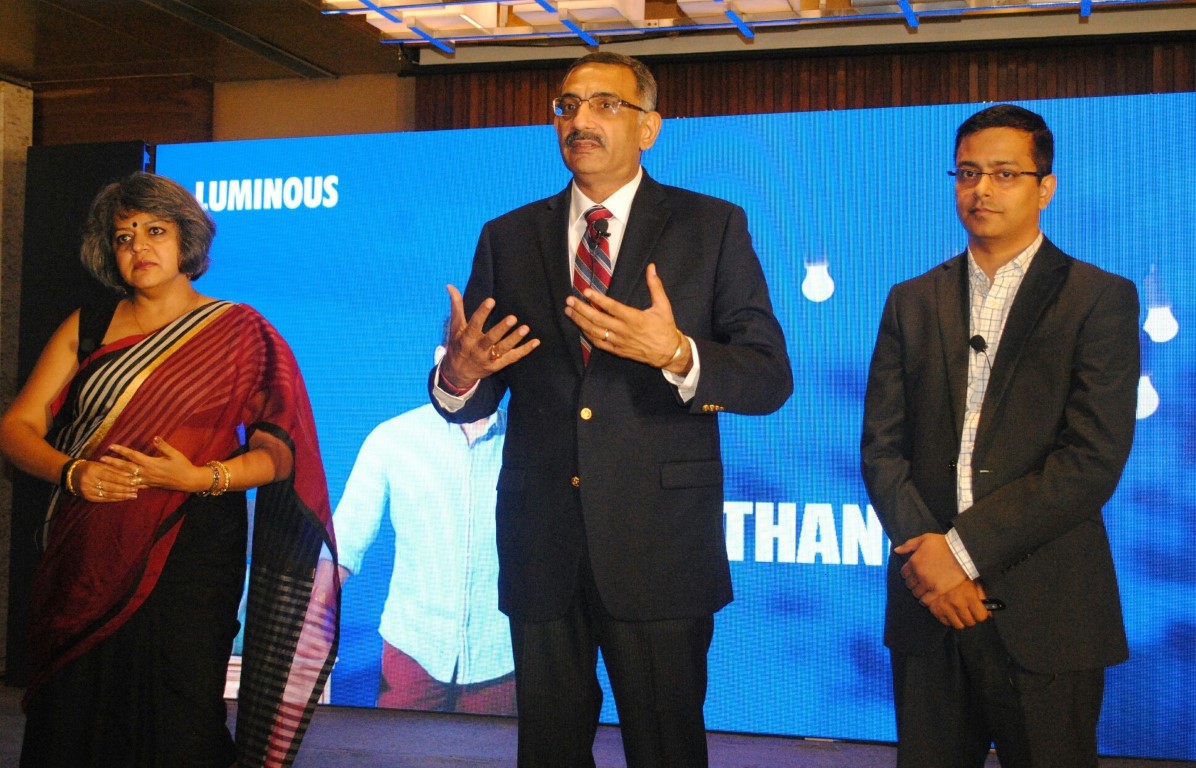 In the last 10 years alone, Luminous has invested close to INR 1,000 crores in North India alone and it plans to significantly ramp up investments in the next three to five years in R&D to develop innovative home electrical solutions for the India market.
Commenting on the company's plans on the occasion, Mr. Vipul Sabharwal, Managing Director,Luminous Power Technologies, said, "The last 30 years have been a great journey for the brand. Our aim is to further strengthen our presence and empower India by making three out of every five homes, a Luminous home by 2022.The Luminous brand caters to over 70 million Indian consumers today, and we expect 50% of our growth to come from our solar and home electrical products in the next five years."
We strongly support theGovernment of India's vision of 'Make in India' and are proud to share that we manufacture85% of our products in India. Although, a part of a global electricals leaders, our Indian roots enable us to understand the needs of our consumers anddevelopinnovative products to make life comfortable and efficient for every Indian", added, Mr. Sabharwal.
States like Punjab, Haryana and Himachal Pradesh are the company's biggest growth drivers, making north India a priority market for the brand. These states have accounted for 22 % of growth in the last five years. Luminous Technologies' headquarters and R&D facility are based in Haryana while Himachal Pradesh is home to six manufacturing units and the company's largest warehouse in India. With 12000 channel partners in Punjab, Haryana and Himachal, Luminous has a far-reaching network across these states.
Mr. Sachin Bhalla, Senior Vice President, Marketing, Luminous Power Technologies, said, "In the last three decades, 95% of our products have been manufactured in North India. The special economic zone in Himachal Pradesh houses one of our largest facilities in India and employs around 3,600people.Our investment of close to INR 1,000 crores till date in this statehas not only fuelled economic growth in several ancillary industries but has also created an ecosystem that has delivered significant social impact."
Luminous Power Technologies has impacted over 1,00,000 lives through initiatives like Luminous Advanced Mentoring Programme (LAMP) and Luminous Advanced Health Initiative (LAHI). LAMP delivers accessible, affordable and quality healthcare services while LAHI empowers girls by providing access to good quality primary and higher technical education. The company is also working towards creating a qualified and skilled workforce through vocational and livelihood-linked training programmesin North India.
Luminous Power Technologies has grown from an inverter company to India's leading home electrical solutions providers, with a presence in over 36 countries globally. Its vast portfolio comprises Power Backup solutions such as Home UPS, Batteries, Stabilizers and Home Electrical offerings such as Fans, LED lighting, Wires and Switches. Today, the company has seven manufacturing units, more than 28 sales offices, and employs 6000 people in India. Its country-wide network consists of more than 60,000 channel partners. Voted asConsumer Superbrand in 2016-2017, the company is known for superior performance, continuous improvement, operational transparency and social responsibility.