Luxor partners with Schneider Pen for new product range and onboards Virat Kohli as Brand Ambassador: Luxor, a prominent Indian organization and a leader in the writing instruments industry, has announced its exclusive partnership with Schneider Pen, Germany to launch a new portfolio of innovative and high-performance writing instruments in India.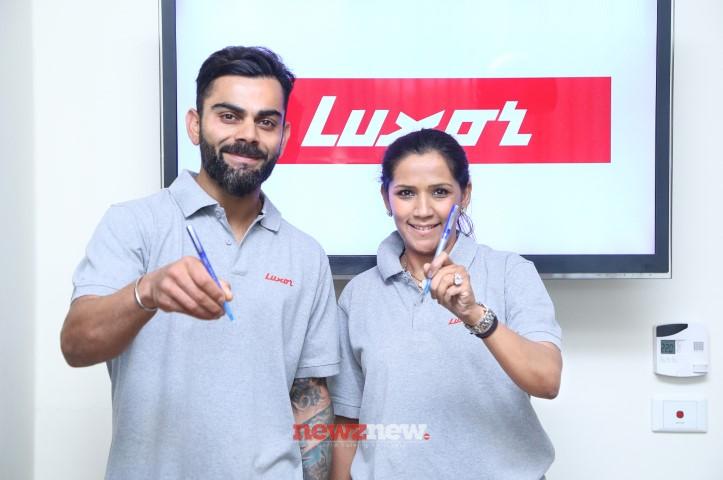 Schneider Pen, based in Germany is a global leader with 85 years of excellence in writing technology, widely recognized for its product quality and design as well as its commitment to sustainable development in all its business practices.
The strategic partnership brings together Luxor's brand equity, manufacturing capability, distribution strength and deep understanding of the Indian market, and Schneider's technological expertise and world-class product range.
Luxor and Schneider Pen also announced their first launch together – Luxor Schneider LXMAX, a pen in the liquid-ink system category, one of the fastest growing and most popular segments in the Indian writing instruments industry.
Luxor, LXMAX comes equipped with German technology, water-proof ink, consistent ink-flow and is designed to deliver "maximum smoothness, writing length and clarity" for today's consumers. The Luxor Schneider LXMAX is a refillable pen, affordably priced at Rs.60 per pen and will be available in 4 colours – blue, black, red and green.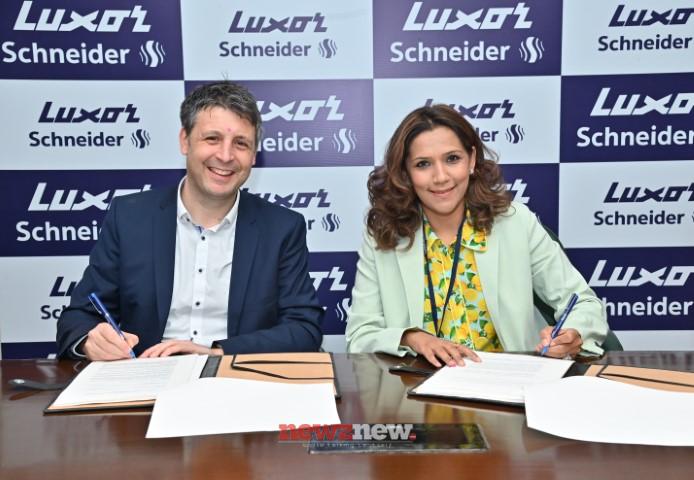 The new brand is targeted towards all users regardless of age and profession, and is expected to be especially useful for students who seek pens with consistent and reliable performance combined with great value-for-money.
On this significant occasion, Luxor announced it has onboarded youth icon and sports legend, Virat Kohli as its new brand ambassador. Virat, recognized as one of the all-time cricket greats and known for his record-breaking performances, will be the face of Luxor across its stationery range. The association is expected to strengthen Luxor's appeal among young writers and fortify its position as the provider of high-performance writing instruments in the country.
Speaking on the developments, Pooja Jain Gupta, Managing Director, Luxor Writing Instruments Pvt. Ltd. said, "We are elated to partner with Schneider Pens for our upcoming portfolio of products. This is a significant milestone in our growth journey and in line with our continued endeavor to bring world-class products to Indian consumers. Schneider is renowned for its engineering and design superiority, and we look forward to jointly creating best-in-class writing instruments for the Indian market through our partnership. Further, our association with youth icon and cricket legend Virat Kohli as the new face of Luxor epitomizes our shared commitment to the highest standards of performance and excellence. With this association, we also look forward to encouraging today's youth to express themselves through the power of writing and bring change in the world."
On the occasion, Christian Schneider, Managing Director, Schneider Pen, said, "We see India as an emerging market with immense potential and are excited to partner with Luxor, an established leader of the Indian writing industry. We look forward to leveraging our exclusive partnership with Luxor to bring the best of German engineering and design to India through multiple products that we aim to launch together in the coming future."
On the new association, noted cricketer Virat Kohli said "I'm excited to be part of the Luxor family and launch their new range of writing instruments. I've been using Luxor products for a long time and it's great to know that it continues to be a pioneer in the industry. The new Luxor-Schneider range brings the best of German engineering to deliver the finest writing performance."
The Luxor-Schneider range of products is expected to hit the market soon. Through this partnership, Luxor and Schneider aim to use their combined expertise and experience to script a new chapter in the Indian writing industry.
Know More About Luxor
Luxor, a proud 'Made in India' brand, is a pioneer in the Indian Writing Instruments industry and has completed 60 years since its inception in 1963. The company has grown to become the leading writing instrument provider in the country as well as a significant global player in the industry.
In India, in addition to Luxor, the company has also brought world-famous brands like Parker, Pilot and Waterman to the country, creating a diverse and renowned portfolio of products to serve Indian consumers. Globally, Luxor is a registered trademark in more than 106 countries, playing a vital role in building India as a global manufacturing hub in the writing instruments industry.
Know More About Schneider Pen
Schneider Pen, founded in 1938 in Germany, is a global leader in the writing instruments industry and recognised for its superlative technology and design. For 85 years, Schneider has been manufacturing writing instruments which meet the highest standards of quality, writing comfort and longevity.
With a stellar record of success and innovation, today Schneider is present in more than 130 countries world-wide and has a portfolio of over 100 models across several product categories. Schneider is a champion of sustainability with significant commitment to environment protection and adoption of socially responsible and sustainable business practices.