Manav (Greater Noida) : Mahindra & Mahindra Ltd., a part of the US $19 billion Mahindra Group, today unveiled its plans to shape the 'Future of Mobility' at the Auto Expo 2018. The Future of Mobility is a showcase of Mahindra's sustainable mobility solutions that are technologically advanced and aim to optimally address the evolving needs and preferences of the consumers. It highlights the company's future-ready suite of unique passenger and mass mobility products, concepts and solutions built around its '3Cs' philosophy of Clean, Connected and Convenient. As India's EV pioneer, Mahindra also displayed its widest range of electric vehicles, including concepts and technology.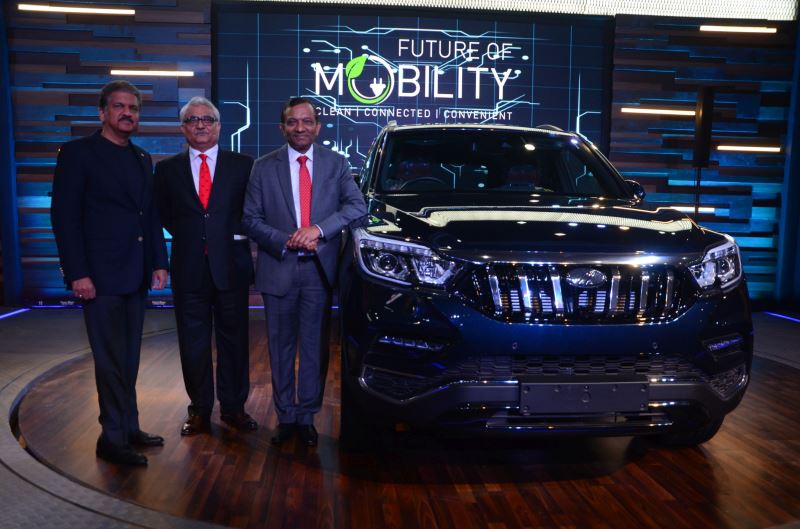 In the spotlight, was Mahindra's entire range of electric vehicles, the widest ever displayed, as well as mobility solutions and concepts from three wheelers to buses. This included the UDO, a stylish 2 seater electric pod concept; the ATOM, a new age urban mobility solution for emerging India; the Treo, a cutting-edge Lithium-ion battery powered electric three-wheeler; the e2o NXT, a refreshed version of the e2oPlus hatchback; the eKUV100, India's first electric mini SUV; and the e-Cosmo, the company's new electric bus.Apart from its wide range of electric vehicles, Mahindra also showcased its futuristic range of products. This included SsangYong Motor's new G4 Rexton, the global SUV with Mahindra badging, which will be launched in India with an all new brand name; the TUV Stinger, the first Indian convertible SUV that personifies Mahindra's "Live Young Live Free" spirit.
Staying true to the '3Cs' philosophy and Mahindra's promise to deliver utmost customer convenience, the 'Dealership of the Future', in collaboration with Pininfarina is an industry-defining concept.UDO – The UDO is a compact two-seater Concept Electric mobility pod which has been conceptualized to address the issues that plague urban mobility, including traffic congestion and pollution. The UDO is targeted at the tech savvy urban citizen and offers an enclosed architecture with micro climate control, lighting, touch-screen infotainment and blue-tooth enabled audio systems, insulating the urban commuter from the harshness of the urban environment. It is designed to slash congestion and emissions, and also features a "smart fitness" mode which allows commuters to work out while commuting, via a 'smart cycling' feature. Moreover, the battery recharges as you pedal, thereby extending the UDO's range in an environment-friendly manner. Its unique 'tadpole' construction also eliminates the need to balance the vehicle with one's feet, unlike motorbikes or cycles.
ATOM – A futuristic and new age urban mobility concept for a smart India, ATOM is a unique object of mobility designed to cater to varied passenger needs with the perfect blend of 'Convenience, Comfort and Intelligence'.. It aims to reimagine last-mile connectivity, thereby changing the face of public transportation, while its minimalist design philosophy allows it to retain a compact footprint without compromising on interior space
As India's first electric SUV, the e-KUV100 heralds a new generation of EVs. Staying true to Mahindra's lineage of Sports Utility Vehicles, the e-KUV100 combines the benefits of an SUV with the unique advantage of an electric vehicle. At the core of this eco-friendly vehicle lies a city-friendly motor. It boasts a range of over 140 km, and optional fast charging which can extend its range by 80% in less than an hour. Its unique SUV design coupled with a compact footprint means it can go anywhere, while its silent drive coupled with auto transmission offers a relaxing and fatigue-free drive in chaotic city traffic. The future is not only electric but also connected. The e-KUV100, thus, boasts smart phone connectivity, remote diagnostics, cabin pre-cooling, location tracking and it even monitors your driving pattern and battery status. As the SUV of the future, the e-KUV100 is nothing short of an object of desire!
Treo – Mahindra's first low maintenance Li-thium ion battery powered three wheeler is aptly named Treo. This vehicle aims to promote mass adoption of electric vehicles in the country. The Treo will facilitate last mile movement and connectivity in tier 1 as well as tier 2 and 3 cities.
e2o NXT – The e2o NXT is a refreshed version of the e2oPlus and boasts of a modified exterior and interior as well as a larger infotainment system.
e-COSMO Electric Bus – With innovation and technology as a core theme, Mahindra has designed and developed its first electric bus, the e-COSMO in India. At the heart of this electric vehicle is the efficient "state-of-the-art" direct drive motor developed in partnership with TM4, Canada, one of the most renowned players in the global EV eco system. This zero-emission bus has the highly reliable electric power train system, battery packaging with sophisticated BMS (Battery Management System), regenerative braking system and many more custom made solutions.