newznew (Chandigarh) :  The premium IGNYTE rider jacket by steelbird provides the very best protection, comfort and style on your bike. This black and grey combination rider jacket is one of those timeless wardrobe investments that will retain its look and utility year after year. "Our Rider jackets are designed in Italy for the global market. Especially targeting the youths and addressing the protection need while on the go, this rider jacket is also fashion without compromise." says Mr. Rajeev Kapur, MD, SteelBirds Group.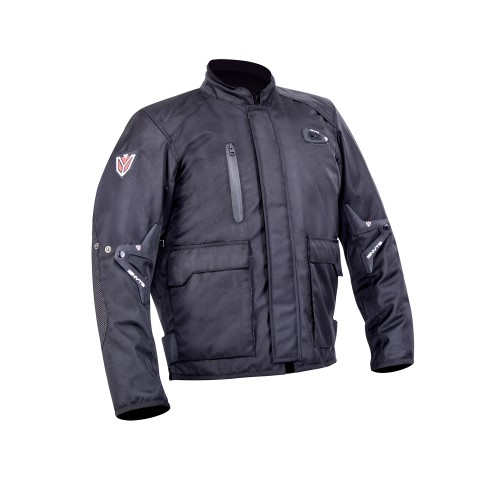 Made from breathable fabric, this rider jacket designed in Italy boasts of quality, style and attention to detailing.
Realising the protection needs of the bike riders, cordura has been used in protective areas like the elbow and shoulders. It also has ribbed stretch panel on the elbow area to provide flexibility and has an extra detachable liner. Additionally, it is very handy for those who go on a long and night rides as it has a reflector on the arms and the back. Also, to resist and escape the heat it has ventilations at front, back and sleeves. You can also easily attach it to rider pants. Furthermore, keeping in mind the durability factor YKK zippers has been used throughout the garment.
It is also extremely high on style. As everybody has a different body shape this rider jacket comes with adjustment tabs on waist and arms for a perfect personalized fit. Moreover, our reflective branding and logo only adds to the classiness of this piece. So riders it's time to swank off on your bike with the IGNYTE rider jacket!  The rider jacket is available in our steelbird store and you can also buy in online onwww.steelbirdhelmet.com. Price Range: Rs 9,999.00 (MRP inclusive of all taxes)
USP's of IGNYTE:
100% Nylon Fabric
Breathable fabric to remain fresh
Required very less space due to amazing and compact packing style
All seams are sealed with PU Tape
As per international standard
Lighter in weight, but trendy in looks
Best quality elastic for perfect gripping
Available in all sizes: S to XXXL
Designed in Italy