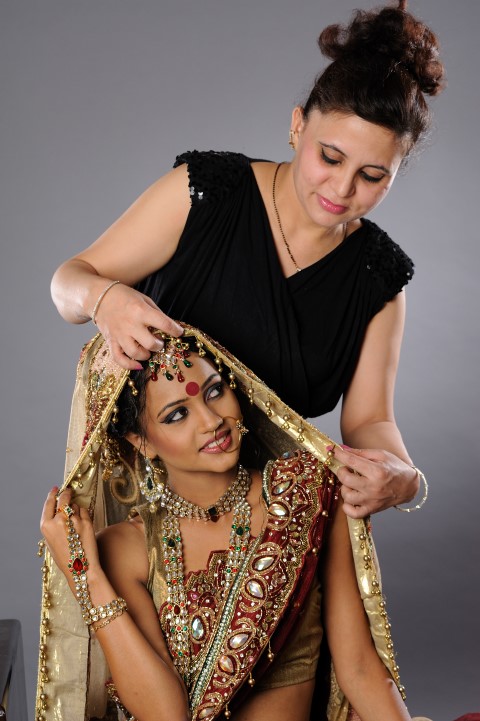 NewZNew (Health) : Monsoon weddings attain superior level on romantic factor but they are not very flattering for skin , hair and wedding makeup. Humidity, sweat, stickiness, dandruff, make up melt down are some of the worries that can elevate anxiety and stress for brides to be.  Brooding over these issues and getting carried away by using wrong products can only worsen the situation. Kanchan Mehra, Beauty & Makeover experts  draws up handy list of beauty shares DO'S & DONS FOR the radiant BRIDES TO BE to ensure she looks like a princess.
SAY NO TO OIL : Oil secretion is a common worry in monsoon and that gets accelerated. Make sure to use mild face wash that is parabane free and natural, if your skin is not sensitive you can also use scrub with soft beads. Don't go for new brand during ths time and use the product that has stood skin test trial by you before.
TIME TO GET PAMPERED AND INDULGED : Go spaliciaus, and give some rejuvenation and dose of relaxation to your tired nerves. You need to look fresh like a rose on your D Day & spa indulgence will do just that for you. Book your appointment in advance and discuss your skin type and other skin issues if you have with your spa therapist.  Unwind with relaxing facial that is customized for your skin typs, make sure its timely tested
HIGH ON PROTEIN; pre wedding anxiety increases your craving for food and you tend to eat anything available off the shelf. Increase intake of protein and fibre rich diet that is good for your skin and hair.
GO MILD WITH COSMETICS; Go mild & soft with cosmetics. Limit going overboard with them. Say NO to heavy makeup and opt for waterproof make up. Use make up that is non greasy and sweat proof. Increase moisture level in air can increase the risk of make up melt down so go easy with make up.
PRIMER IS THE WORD FOR YOU ; To avoid your make up from melting down you must use primer and prep up your skin.
Avoid Cream based makeup and glittery make up. Be pro matte to remain seat free and resplendent.
BE CAREFUL OF FUNGAL INFECTIONS; They can turn nasty if ignored. While shopping or pre wedding dates with your would be rain can play havoc although the weather will look and feel beautiful. Make sure you use anti fungal beauty products , soaps, face wash , talc or cream to ensure that you remain healthy and fungal free.
Avoid harsh chemical ridden hair styles or treatments; use mild shampoo and condition your hair after every wash to get rid of the frizz that comes with rain, keep hair treatments to minimum side to protect them from dandruff.
DON'T EXPERIMENT WITH NEW BEAUTY PRODUCTS ; Contain the desire and temptation to try a new beauty product.
DON'T GO OUT WITHOUT SUNSCREEN ; Applying sunscreen is a must for you for protection from harmful UV RAYS when you step outside or remain indoor infront of your tv set or computer screen as they emit UV RAYS.  Go for atleast SPF 30 to keep tanning and pigmentation at bay.
PAMPER YOUR FEET ;  During monsoon your feet tends to suffer the most as you step out in rainy and water. Soak your feet in warm water and add some antifungal shampoo, exfoliate the skin with scrubber and apply night cream or anti tanning cream before going to bed, make sure your feet is well moisturized.