Saloni Aggarwal and Rishab Thakur becomes Megamodel Manhunt North India Winner
newznew (Chandigarh) : The Wadia group announced the winners of the North India leg of its flagship pageant 'Gladrags Bombay Dyeing Mrs. India North India and Gladrags Go Air Megamodel Manhunt' at the Hyatt Regency. The prestigious Mrs India North title was won by Manisha Kaul while Manwinder Sandhu stood second and Anmol Gill stands third.  Saloni Aggarwal bagged the title of Megamodel & Rishab Thakur adjudged as Manhunt. Mrs. Maureen Wadia, President, Gladrags Beauty Pageants and Glenn Maxwell, Kings XI Punjab captain confer the awards to the winners.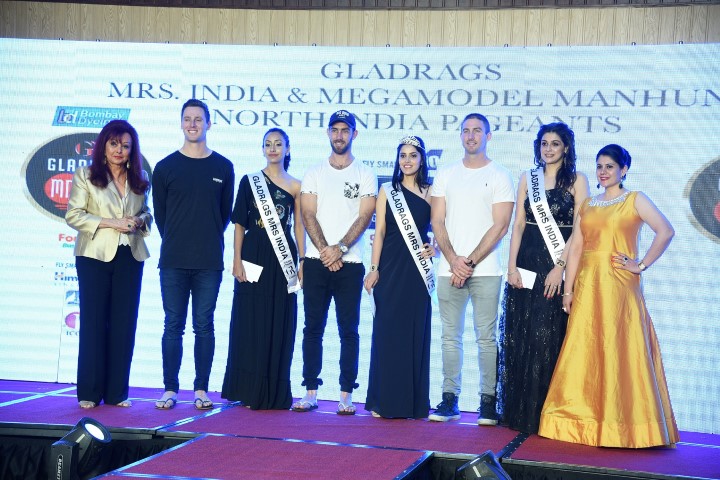 Gladrags is the only brand that conducts the Megamodel Manhunt Contest, a unisex pageant in India. A 23 year old brand which conducts unisex beauty pageant has four sub-categories wherein the contestants participate. The categories are; Gladrags Megamodel Manhunt, Little Miss and master India Pageant, Mister India and Mrs. India Pageant. Previous winners for the Megamodel Manhunt include Lisa Ray, Lara Dutta, Anchal Kumar, Kangana Ranaut, Mugdha Godse, Shweta Salve, Barkha Bisht, Mahima Chaudhary, Dino Morea, John Abraham, Sonu Sood, Karan Grover, Chetan Hansraj, Terrence Lewis, Vivian DeSena, Siddharth Shukla, Arjan Bajwa, Ganesh Venkataraman and hundreds more.
This year Gladrags has held selections in Mumbai & Chandigarh .Next selections will be held in Delhi. The winners of all these regional Pageants then win a fast track entry into the All India Megamodel Manhunt TV Series to be held in the next few months.
The Gladrags Mrs India contest is held every year and the past winners included names like Aditi Govitrikar, Jasmine Dsouza, Tania Soni, Naina Dhaliwal, Shilpa Reddy ,Jimmy Nanda, Madhavi Awasthi, Shilpa Singh, Sophia Handa, Kavita Sachdev ,Vaneeta Sabbarwal .
Speaking on the occasion, Maureen Wadia said, "It gives us immense pleasure to conclude the North India leg of the Gladrags Mrs India and Megamodel Manhunt contests. We have been organising the pageant from last 23 years and we are proud that Gladrags could significantly contribute to the India's fashion and entertainment industry by identifying and grooming the talent nationwide."