The trans media serial that reached out to  58 million viewers in Season One aims to  promote women's empowerment
The serial is a joint initiative by Population Foundation of India and Doordarshan
NewZNew (Chandigarh) : In a big push for women's empowerment in the country, the founder of the initiative MARD (Men Against Rape and Discrimination), Farhan Akhtar extended support to the popular trans media serial, Main Kuch Bhi Kar Sakti Hoon.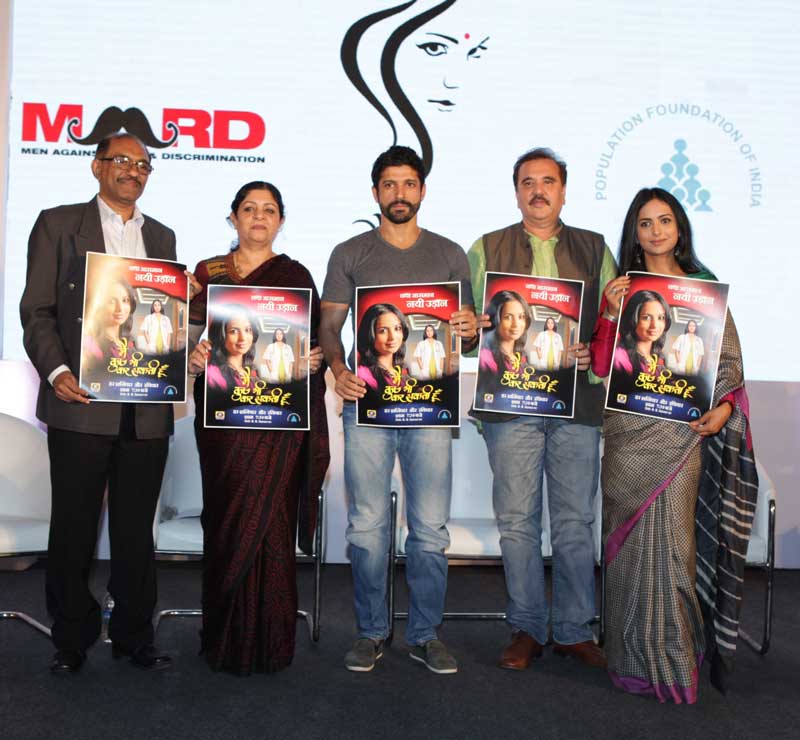 "Main Kuch Bhi Kar Sakti Hoon has shown great potential of being a catalyst for change as seen from the feedback the serial has received. Main Kuch Bhi Kar Sakti Hoon representing women's empowerment, and MARD, representing responsible masculinity, have come together as Hum Kuch Bhi Kar Sakte Hain to bring in the change we want to see. Women can achieve anything, they need to have the confidence and belief in themselves and society needs to create an environment of support and safety. Men play an important role in the creation of such an environment by being sensitive to these aspirations and by treating women as equals," said Farhan Akhtar.
Main Kuch Bhi Kar Sakti Hoon challenges deep-rooted social norms like child marriage, early pregnancy and gender based violence. Season Two began telecast on April 4, 2015 on Doordarshan and will run every Saturday and Sunday at 7:30 pm.
During its first season, Main Kuch Bhi Kar Sakti Hoon was one of the top three serials in its time slot during the course of its telecast.  As per TAM and IRS assessments, the serial was watched by over 58 million viewers.  PFI received as many as six lakh phone calls from people across the country, wanting to engage on the issues it had raised and to share their own stories.
House-listing data from an independent evaluation showed that 42 percent of households with TV have watched the serial in Bihar and Madhya Pradesh despite having high penetration of DTH and Cable networks. The Interactive Voice Response System (IVRS) data highlighted that the serial was liked by men and women alike, as the calls received were from 48% men and 52% women. The serial was also disseminated through other media channels, including the internet, the mobile space, and radio to maximize reach.
Season Two of Main Kuch Bhi Kar Sakti Hoon continues the inspiring journey of Dr Sneha, representing the young Indian woman of today, who thrives on challenges. The story also depicts issues of adolescents as they aspire to reach their potential. It shows the changes that takes place in a society as a group of girls come together to form a football team. The series has been written, produced and directed by Feroz Abbas Khan, eminent theatre and film director and the creative force behind Main Kuch Bhi Kar Sakti Hoon. It is a venture close to his heart where his aesthetic sensibilities and deep commitment to social causes come together.
Sharing his experience, Feroz Abbas Khan said, "It was inspiring to work on the second season of Main Kuch Bhi Kar Sakti Hoon. Through the turbulent journey of our protagonist Dr.Sneha Mathur, supported by a powerful story and compelling characters, the family drama deals with many relevant issues – violence against girls and women, child marriage, poor nutrition for girls, family planning, and prenatal care. We have raised the bar in the second season as we focus on adolescents, women empowerment through self-help groups, male involvement and responsibility, quality healthcare in villages and speedy justice for women through community arbitration, e.g. naari adaalats, women help-lines. We do not merely show problems but provide workable and evidence based solutions. We hope to sensitise the audience so that they are motivated to change and make a difference"
Jawhar Sircar, Chief Executive Officer, Prasar Bharti, said, "After the resounding success of Season One, I am delighted that PFI is launching Season Two of Main Kuch Bhi Kar Sakti Hoon. Television programmes such as this have great potential to bring in change."
Poonam Muttreja, Executive Director, PFI, said, "Changing social norms and behaviour is certainly not an easy task. The media plays a critical role in reaching out to audiences and challenging existing attitudes and practices as we saw from the messages our viewers shared with us over the Interactive Voice Response System (IVRS). We have touched people's lives. And now, with the synergy MARD will bring to the cause, we hope to involve men in a substantive way in improving the lives of our women, so that they can lead dignified lives free from violence, exploitation and neglect.