Marriott Hotels launched its ongoing partnership with TED in Asia, inviting three inventive TED fellows to share their views on travel and Innovation. Hosted at the newly opened Bangkok Marriott Marquis Queen's Park on June 29, the talk is the fourth in a series of TED Salons held at Marriott Hotels in Seattle, London and Abu Dhabi since the partnership was established in September 2016.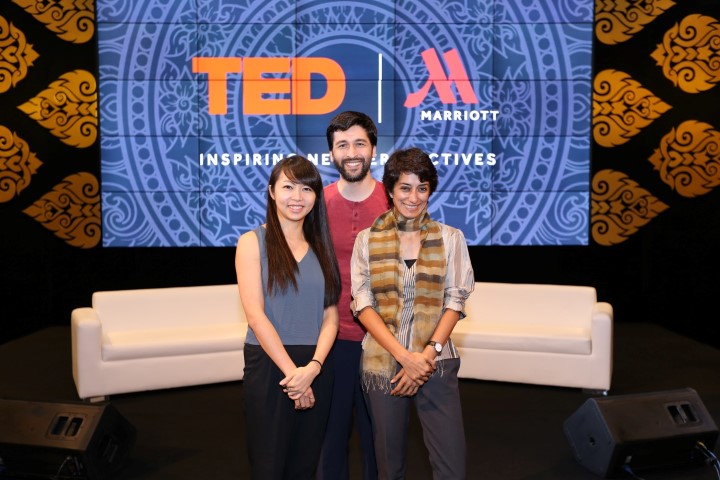 Three TED fellows took the stage in Bangkok to share how traveling has sparked new ways of thinking. Indian multimedia artist Aparna Rao highlighted how traveling informed her humorous yet socially poignant artworks, meanwhile Matilda Ho, owner of Shanghai-based online farmers' market Yimishiji, gave an inspirational talk about supporting local farming communities globally. Travel also prompted Hong Kong-based, French-Japanese TED fellow Cesar Jung-Harada to found startups MakerBay and Scoutbots. He discussed how advancements in robotics can lead the way to cleaner oceans for the next generation.
"We know that travelers today look for more in a hotel and we are bringing to life new innovations that help elevate guests' stays through more memorable experiences," said Mike Fulkerson, Vice President, Brand & Marketing, Asia Pacific, Marriott International. "TED content does not only entertain, but educates and engages on topics that are relevant to our guests. Together we are delivering a series of original content, events and experiences that will spark travelers' creativity and inspire new perspectives."
As part of Marriott Hotels' ongoing partnership with TED worldwide, TED Salons have been hosted at key Marriott Hotels properties, with past events taking place at Seattle Marriott Waterfront; Marriott Hotel Al Forsan, Abu Dhabi; London Marriott Hotel County Hall, and the next TED Salon to take place at the Santiago Marriott Hotel in Chile in July.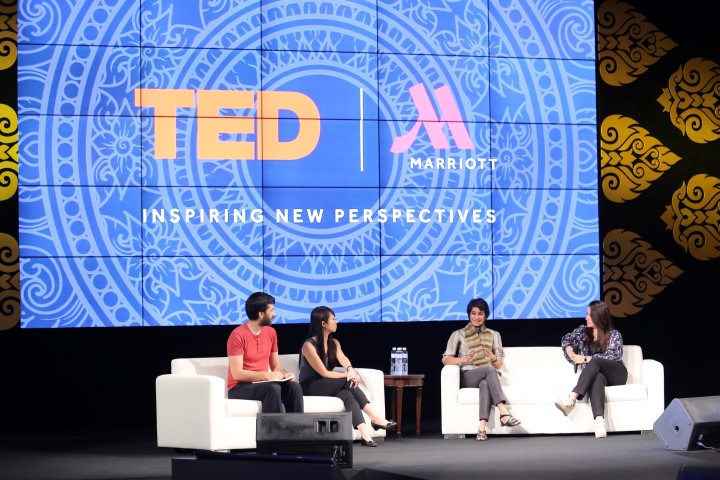 Bangkok Marriott Marquis Queen's Park is the first "Marquis" categorization for the Marriott Hotels brand in Asia-Pacific, making it a brand milestone. With over 50,000sqft of venue space spread across 35 events rooms, 1,360 modern rooms and suites, along with 6 dynamic dining venues that showcase the best authentic local and international cuisines, the hotel is well-positioned to host meetings and special gatherings given its location in central Bangkok.
"It's with great pleasure that our hotel kicked off the first TED Salon in partnership with Marriott Hotels in Asia. The TED speakers who presented today are each pioneers in their respective fields and bring a wealth of knowledge and insight," said Bob Fabiano, General Manager of Bangkok Marriott Marquis Queen's Park. "We look forward to sharing this enriching content with our guests and welcome like-minded creative entrepreneurs and business people to host their meetings and celebrate special occasions with us."
Travelers staying at Bangkok Marriott Marquis Queen's Park now have access to curated content to help ignite their own original, inventive thinking with a dedicated TED channel as part of in-room entertainment until the end of July. Currently, TED content is available as part of in-room entertainment in Marriott Hotels globally, with plans of introducing a TED-curated TV channel to in-room entertainment in hotels across Asia in the near future.