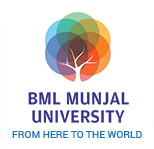 NewZNew (Ludhiana) : BML Munjal University (BMU), founded by The Hero Group, held an interactive Meet the Dean event at BCM School, Shastri Nagar, Ludhiana as part of their outreach programme to familiarize students and parents with their innovative, application-oriented undergraduate programmes.
Co-designed by Imperial College London, ranked second among the worlds' top universities*, the undergraduate programmes at BMU are designed to give students broad-based, hands-on training in order to create ethical leaders who are skilled, knowledgeable, and have the life skills required for leading their organizations to success.
BMU offers three undergraduate programmes – BTech, BBA, and BCom (Hons), and also offers an MBA programme.
Dr. Babi Mitra, Dean, School of Engineering and Technology met prospective students and answered questions ranging from the curriculum structure, internships and innovative pedagogy to campus life, faculty, scholarships tuition fee and placements.
During the event, Dr. Babi Mitra explained, "The focus of BMU's programmes is to produce leaders who are employable. To achieve this goal, upto 35% of our curriculum is based on hands on learning – including labs, projects, and internships. BTech students will spend approximately 32 weeks interning with industry, for which they are graded and awarded credits just like any other course. In addition, we are focusing on the holistic development of students in order to ensure they have well-rounded personalities and the life skills required to make an impact at the workplace."
BMU is also working closely with industry to create an immersive learning experience for students. Industries have set up centres of excellence on our campus where students can work on live projects and test real products. Dr. Babi Mitra said, "Siemens has set up the first centre, IBM has set up the IBM Business Analytics Lab, and other corporates are coming on board to set up such centres in the next few years. Furthermore, we will also provide 25 BTech students an opportunity to pursue an MSc from Imperial College London upon completion of the BTech course."
BMU believes in collaborating with the best in industry and imparting practically oriented knowledge which is the need of the hour. As a result, from this year, BMU is offering BBA and BCom (Hons) programmes in association with KPMG in India so that students gain industry relevant skills and improve their employability prospects upon graduating from the University. Experts from KPMG in India will teach 200 hours of the curriculum and students will gain an additional certification from KPMG in India upon completion of the course.
Keeping the international grading and point systems in mind, BMU follows a multi-dimensional evaluation process to assess an applicant's suitability for the courses offered by the university. These include entrance exams scores, class XII scores, performance in extracurricular activities, essays, and performances in personal interviews.