NewZNew (Auto Feature) : We tend to get more excited when someone says sports car instead of say…er…car! But that's natural isn't it? Especially the birth of an all-new sports car? Now that is always extra special. I had got myself quite wired up to drive this particular one, ever since I attended its grand unveiling in September at the AMG headquarters in Affalterbach near Stuttgart.
The reasons are simple: The new AMG GT is the next big thing from the company. It follows in the footsteps of the mighty SLS AMG, though it is not a successor to that car. It boasts all sorts of new technology and materials. And last but not least – it looks and sounds H.O.T!
It is the second independent AMG car that is not derived from an existing Mercedes-Benz model line, but the first to drop the 'Benz' name from its moniker. And unlike the SLS AMG, which was a super sports car, the GT is a sports car. Yes I know to those of us down here on mother earth, it all looks like it's all up there in the stratosphere! The distinction is key though not only because it's physically different and so in a different segment, but also since it's going after a different kind of buyer. It is also the first time AMG is taking direct aim at its Stuttgart neighbour – Porsche!
I drove the new GT-S in California – specifically in and around the San Francisco- Carmel Valley area. Now I get the fact that California is one of the world's biggest sports car markets, and that it usually guarantees great weather and scenic locales. But its single lane highways and low speed limits are a killjoy. San Francisco also has some rather bumpy and uneven roads – again not best suited for a sports car really. But grumbling aside, I did get a LOT of attention as I made my way through the thick Frisco traffic, along the wharf, past the Golden Gate bridge and into the Carmel countryside.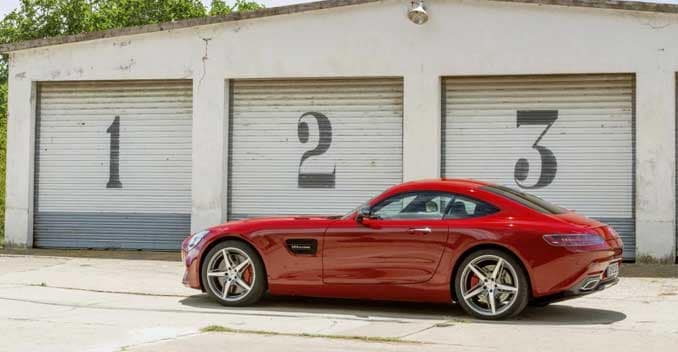 The mid-engined car features a 4-litre V8 biTurbo engine that makes 503 bhp and a generous 650 Nm of torque. It can do 0-100 kmph in a mad 3.8 seconds, and has a top speed of 310 kmph – these are figures for the GT-S of course. The slightly tamer 456 bhp GT variant will be available globally only later next year. The engines are turbo charged, unlike the SLS's, but have what AMG calls the Hot V configuration. This means the engine has two turbos mounted inside the cylinder banks. The idea is to get a much better throttle response, and also a naturally aspirated feel. And I have to say that's clever.
Also new are dynamic engine and transmission mounts that adjust real time. They therefore provide a soft setting for comfort, and go stiff for agility. And while that is rather cool, in actual terms it doesn't necessarily show up as drastically as you'd like or expect.
See the thing is AMG claims that the GT is trying to be two things at once: it's a proper sports car and it's also the car you can use every day. In my view to be that dual-car it needs to have a much softer side. The car is just too stiff even in comfort mode. So you feel every undulation, every little bit of the road and that is not really the most comforting thing when you want to drive a car every day, is it? Of course there are three drive modes, that modify everything from throttle response, to braking and clutch feel and of course the suspension settings. But the 911 remains way more versatile, and so more of an everyday car.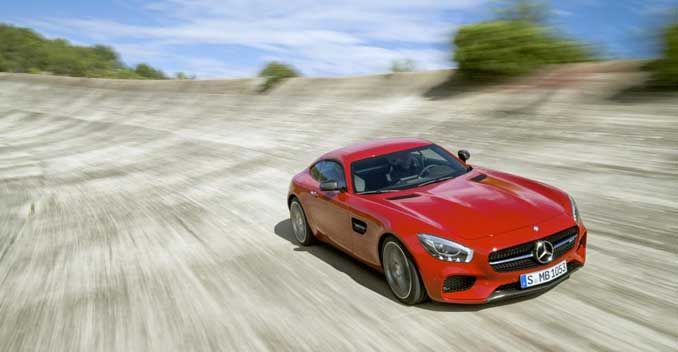 Let me clearly state that for me that is not a major disappointment, because someone buying a sports car is really looking for performance attributes over comfort. Heck if you want comfort go buy a Camry – right? Okay so I am being flippant!
The GT-S is quick. Power delivery is tremendously satisfying, especially when you use the paddles on the dual-clutch 7-speed AMG Speedshift gearbox. The car's agility is helped since 93% of the body shell is aluminium, and the front end is made of magnesium. AMG claims the GT's 3.08 kg/bhp power to weight ratio is best in class.
What AMG has managed to do is to sort of remind you of that SLS AMG styling. So even though this car is smaller and shorter, it has that huge expanse of metal up front with its long snout and wide hood. That doesn't just give it a the sense the power that is under the hood, it also provides great weight distribution, because it's a relatively smaller V8 engine & so it gets to sit just behind the front axle. You have also got the transmission sitting on the rear axle so the weight distribution is a great 47:53. Add to that its sharp lines along the side, sexy taillights and very striking LED headlamp cluster – and you've got a head-turner on your hands for sure.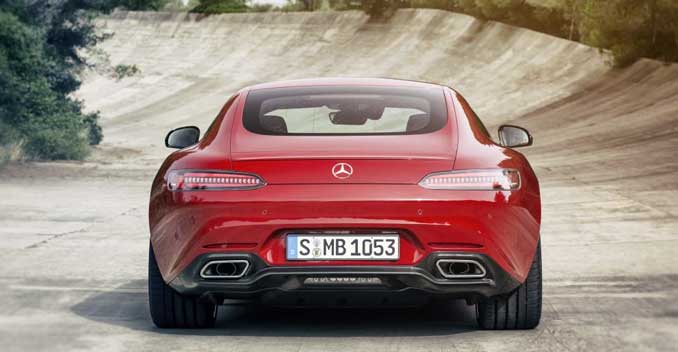 After all my cribbing and complaining about how the car has been behaving on the road and indeed in city traffic, I simply had to get on to the track. And how much luckier could I get, with the track on offer being the famous Laguna Seca Circuit, with it's promise of an elevation difference of 180 metres. Laguna Seca literally means dry lake – and that's where this track was built in 1957. It is 3.6 kilometres long and it has eleven turns; the most famous of which is the indomitable corkscrew.
I was especially excited to finally drive on this legendary circuit, and began with some warm-up laps to get to know it better. Then we picked up the pace, and I had the chance to really accelerate and take the fast corners.
This is where the GT responds like a dream. It is also very forgiving and isn't hard to drive, meaning anyone can drive it hard, and more easily than a car like the SLS. The GT was born for the track and all its performance attributes instantly come racing to the fore, especially when you have it in sport mode on a fast track. The car's weight distribution really plays a crucial role in how quickly it can exit a corner. The steering is also extremely precise, though I would have liked it stay a touch stiffer. But this car instantly comes across as a very well engineered machine.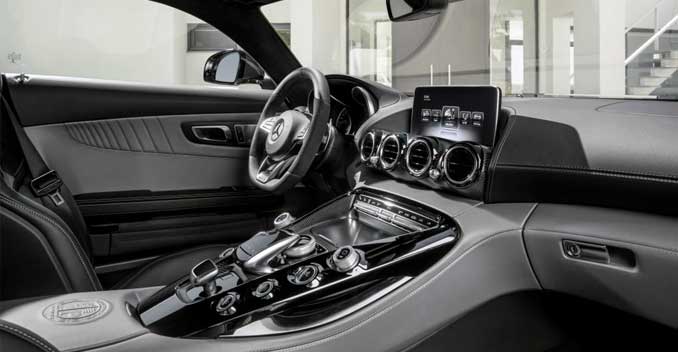 So it's a safe assumption to say that I was a lot happier driving the car on the Mazda Raceway at Laguna Seca than in city traffic a 100 miles away in San Francisco! Expect the GT to debut in India sometime in the second half of 2015. In India the focus will be on simply positioning this car as a flagship, and so don't expect to see too many of them on our roads. Globally though I am keen to see the contest that emerges between this, the Porsche 911 and the Jaguar F-Type. And yes I can't wait for Mercedes-AMG to offer the roadster version!