First-of-its-kind tie-up for Advanced Diploma in Automotive Mechatronics (ADAM) course with an all-women's college in Pune
This is Mercedes-Benz's first ever tie-up with a women's college in India as a part of their CSR initiative
Mercedes-Benz, continues its contribution to the 'Skill India' initiative of Government, to develop highly skilled resources for the automotive industry
The MOU was signed between Mercedes-Benz India and Maharshi Karve Stree Shikshan Samstha on 13th August, 2018 at Cummins College Campus, Karvenagar in Pune in the presence of Mr Santosh Iyer, Vice President – Customer Service and Corporate Affairs, Mercedes-Benz India, Smt. Smita Ghaisas, President, MKSSS and Dr. P.V.S. Shastry, Secretary of MKSSS
Designed by the Mercedes-Benz Global Training Center, the highly coveted 1 year ADAM course focuses on self-learning methodology and helps candidates upskill themselves with the latest technological advancements in the world of automobiles
Advanced Diploma in Automotive Mechatronics (ADAM) program by Mercedes-Benz is conducted in collaboration with Government and private educational institutions and now with an all-women college
The students of MKSSS College of Engineering for Women will be the beneficiaries of this MoU
The ADAM Course will fulfil the requirement for superlative service in the automotive sector
This course has been conducted since 2006 in government institutions in Pune, Aurangabad and Thiruvananthapuram Trained a total of 540 students through the Mechatronics course across these locations
Only 20 students who qualify will be eligible to take the course every year
Successful and aspiring women candidates can carve a successful career in automotive industry, by not only becoming trained technicians but also Customer Service consultants interacting with customers
Mercedes-Benz recently launched specially crafted program- She's Mercedes which celebrates the accomplishments and successes of women who made a mark
The country's largest luxury car manufacturer Mercedes-Benz continued its contribution to the government's 'Skill India' initiative by signing an MoU with Maharshi Karve Stree Shikshan Samstha, for conducting its highly coveted flagship CSR endeavor- Advanced Diploma in Automotive Mechatronics (ADAM) program. Reinforcing its commitment towards making the educated youth of the country employable, Mercedes-Benz's inks its first-ever association with an all-women's college to commence the one-year Advanced Diploma in Automotive Mechatronics course.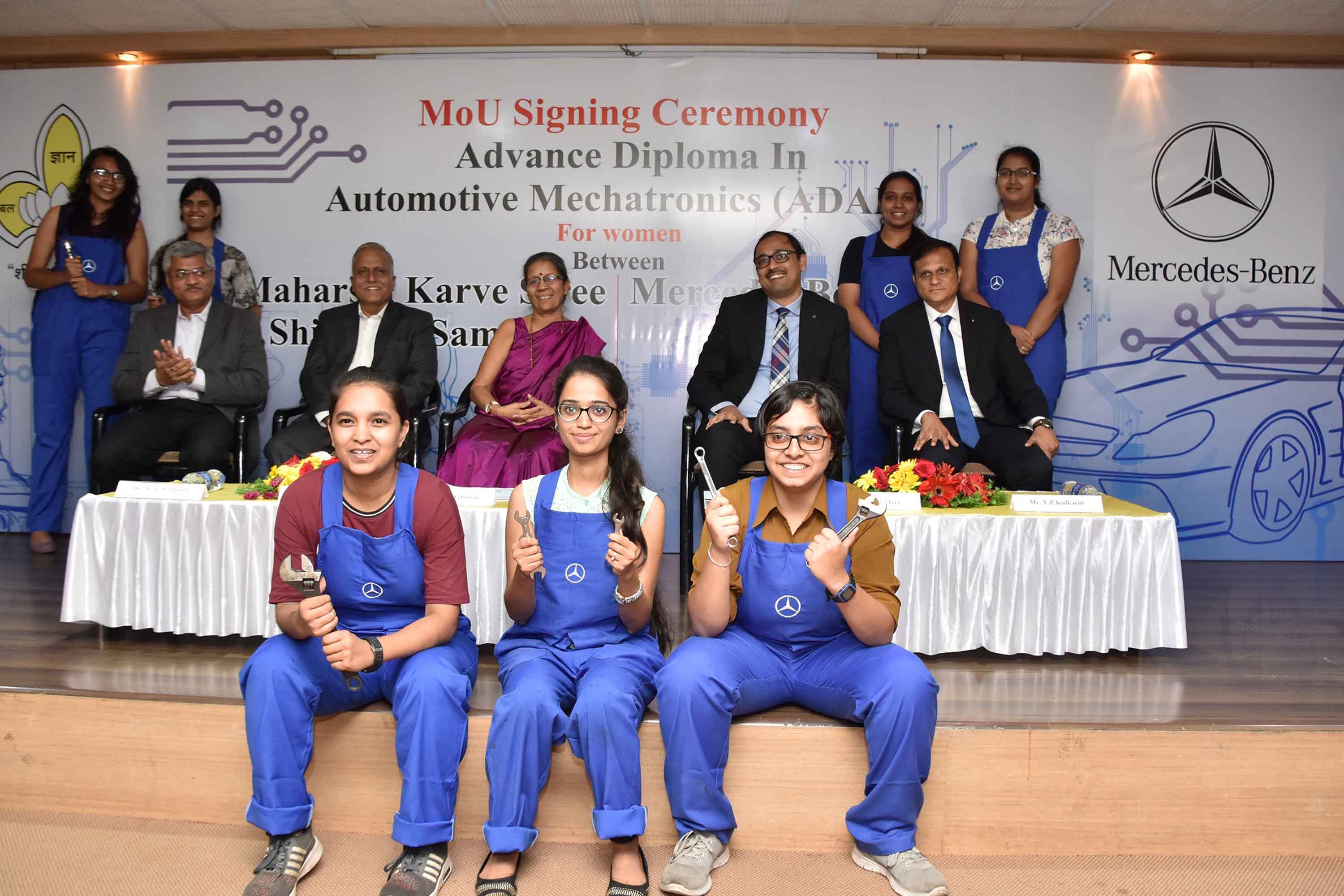 Present on the occasion of signing the MoU were, Mr. Santosh Iyer, Vice-President, Customer Services & Corporate Affairs, Mercedes-Benz India, Smt. Smita Ghaisas, President, MKSSS, and Dr. P.V.S. Shastry, Secretary of MKSSS, Pune. This will be Mercedes-Benz's second MoU signing in Pune and seventh in the country for the popular Mechatronic program. This course is currently available in Pune, Aurangabad, Delhi, Noida and Thiruvananthapuram across public and private colleges.
Santosh Iyer, Vice-President-Customer Service & Corporate Affairs, Mercedes-Benz India said, "At Mercedes-Benz we pride ourselves in the diversity of our employees and capitalise on the different experiences, skills and perspectives they have. Back in 2005, Mercedes-Benz was one of the first companies to make diversity management a key part of the corporate strategy. In continuation of that strategy, we are extremely proud of our collaboration with an all-women's college in India. With this association, Mercedes-Benz is extending its commitment to promote diversity and open the doors of automotive mechatronics for women aspirants. Recently we launched "She's Mercedes" a global initiative by Mercedes-Benz to recognize and celebrate the accomplishments of women in all walks of life. As the leaders in the luxury automobile industry, we want to break the stereotype associated with women in this sector and want more women to join the workforce."
Mr. Iyer further elaborated, "On the occasion of 72nd Independence Day in India, with this important initiative, we want to encourage, empower and equip aspiring women candidates to independently choose a career in automobile industry.  Initiatives like these will provide appropriate platform to aspiring women to gear up for a bright career in the automotive industry. The percentage of women in this industry is low right now, but we believe it has immense potential to have more inclusion from women work force in the foreseeable future. Mercedes-Benz Mechatronic course is a significantly advanced and industry oriented course aligned with the latest technological advancement in the domain of automotive engineering. With an all-women Mechatronics course, we are now confident that more women candidates would actively seek to hone their skillsets and decide to join the automotive industry. At Mercedes-Benz, we are witnessing an increase in the number of women customers as well in our portfolio. In fact 10-12% of our annual sales comes from women and it is an increasing trend."
Dr. P.V.S. Shastry, Secretary of MKSSS, commented, "Tie-up with an iconic brand like Mercedes-Benz is a matter of pride for us. Women students today want to explore industries which were earlier considered male dominant. Platforms like these provide an opportunity to the women who are keen on making a career in this automotive industry. The rigorous training and quality of education will ensure our students have a bright career in the industry and also help break the current stereotype in the automobile industry."
Advanced Diploma in Automotive Mechatronics (ADAM) program is the Corporate Social Responsibility initiative by Mercedes-Benz India which was propagated among students with the help of educational institutions. The Mechatronics training school at Mercedes-Benz India was started in the year 2002 with the aim of providing trained service personnel and engineers. To address this requirement, the parent company Daimler AG, Germany along with Mercedes-Benz India and the Mercedes-Benz India dealership network joined hands to start the program and train students to address the requirements of Mercedes-Benz technology and innovation. Only 20 students qualify to take the course every year. Since its inception, over 540 students have successfully completed the program and have been placed within various organizations in India. The Mercedes-Benz network is the largest among all luxury automotive manufacturers in India, spread over 45 cities and 93 outlets. The Mechatronics program also provides support to Mercedes-Benz India's state-of-the-art operations at Chakan, Pune.
The company is planning to strategically expand its network reach in a sustained manner and the Mechatronics program will offer qualified manpower to consistently deliver the superlative service which is associated with brand Mercedes-Benz. The total Investment for ADAM course across all institutions through CSR is INR 5.5 Crores including cars given to the institutes.
Maharshi Karve Stree Shikshan Samstha, Pune was established in 1896 by the great visionary and social worker Bharat Ratna Maharshi Dhondo Keshav Karve to provide education and shelter to widows and girls. The Samstha is relentlessly working on charities since last 122 years with the objectives of upliftment, emancipation and education of women. The majority of the students approaching the institution for education belong to the rural areas and financially weaker sections of the society.
Maharshi Karve Stree Shikshan Samstha is one of the best and greatest organizations in India which provides education to girls from primary level to professional education. The 122-year-old parent body has been committed to "Empowerment of women through education". The Institution has a century long history of dedicated work towards making women educated and self-reliant. The General Body of Maharshi Karve Stree Shikshan Samstha is constituted by members consisting of Patrons, Benefactors, Sympathizers, Ordinary members and Life Workers. The institution has expanded and is running 64 educational units having diversified branches all over Maharashtra with units located at Pune, Wai, Ratnagiri, Nagpur, Kamshet, etc. All these units are meant only for women. The institution has now established branches in fields of engineering, architecture, management, nursing, fashion technology, vocational training and health care.
The ADAM course will be offered under the Mechatronics Discipline in Cummins College of Engineering for women. The initial plan is to start the course with a single batch of 20 students and the selection of candidates will be strictly as per merit via an Entrance Test conducted by the college under the supervision of Mercedes-Benz. Engineering Degree/Diploma holders are eligible to appear for the entrance test. Certificates for the successful students shall be jointly issued by the authorities of the college and the company.
Mercedes-Benz India, with the Mechatronics program, creates a firm knowledge base for aspiring engineers in society. It is a part of the core process to be inducted into the world of superior technology, innovation and passion. The process that Mercedes-Benz India has put in place will benefit not only the growing demand of the workforce for the company's growth trajectory but also address the need of the industry as a whole. This Public-Private Partnership (PPP) Program is unique in nature due to the active participation and involvement of Mercedes-Benz in the planning of syllabus, supply of training cars, deputation of expatriate trainers and supply of tools & equipment for the students. It is a high quality, high cost program that Mercedes-Benz India has sustained since 2006.