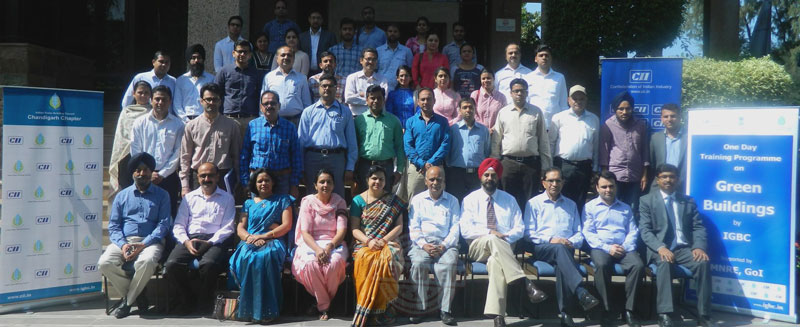 NewZNew (Chandigarh) : With an objective to impart knowledge on green building concepts and share best practices in green buildings, considering its huge relevance in making Chandigarh the first smart city of India, Ministry of New and Renewable Energy (MNRE) Government of India and Confederation of Indian Industry (CII) – Indian Green Building Council (IGBC) organised a Training Programme on Green Buildings at the CII NR Headquarters in sector 31-A, here today.
Mr A K Jaswal, Chairman, IGBC Chandigarh Chapter mentioned that IGBC with the support of Government & other stakeholders, is spearheading the green building movement in India. Today, India with over 2.68 billion sq. ft with 3,088 IGBC registered projects has the second largest green building footprint in the world.
"Today, going the green way is not only an imperative for a sustainable tomorrow but it also makes good business sense. It can significantly add to the top and bottom lines of a company, especially in the medium to long term. Chandigarh which is more suited for services and light engineering sector has immense potential in this area. The green agenda needs concerted and collaborative efforts of all the stakeholders including support from Administration and the initiative from industry. To pursue and promote growth in the most sustainable manner in Chandigarh, it is imperative to make the processes more participatory and sustainable", he added.
Mr Amarbir Singh, Chairman, CII Chandigarh Council, underlining the need and importance of green buildings mentioned, "Green buildings not only address ecological issues and concerns but will also significantly promote the health and wellbeing of the occupants. The need of the hour is to go back to our roots, rediscover our rich architectural heritage and promote buildings which are ecologically superior and economically viable.".
"Going green by design offers tremendous tangible & intangible benefits. This will go a long way in improving the quality of life. CII-IGBC is committed to facilitate a greener and healthier India, he highlighted.
Mr Jit Kumar Gupta, Co-Chairman, IGBC Chandigarh Chapter mentioned that IGBC foresees that next decade will be remarkable for integrated sustainable built environment. This will mostly be in form of the large integrated townships, green & smart cities and sustainable affordable housing. He also introduced IGBC Green Schools Program initiated by IGBC to seed the ideas of green in young minds. Encouraging and inspiring the young minds go green way will go a long way in preparing the young children for a future that would be bright & prosperous.
10 such MNRE & CII – IGBC Training Programmes on Green Buildings would be organised in different cities across the country that focus on sustainable architecture & design, site selection & planning, water conservation, energy efficiency, building material & resources, indoor environmental quality, innovation and case studies on green buildings.