NewZNew (Chandigarh) : Monthly house meeting of Property Consultants Association (regd.) Chandigarh was held on 18th feb 2016 in which the house delegated the powers to Executive Body to decide the process of elections for the post of president for the year 2016-17 . Subsequently in executive Body meeting held on 29th feb 2016, Mr. H.S. Monga , Mr Jasbir Singh kalra and Mr. Parmjeet Singh were appointed as Election Commissioners. In this regard, Election notice was published in the newspapers of 11th March 2016, in which 16th March 2016 was fixed for nomination.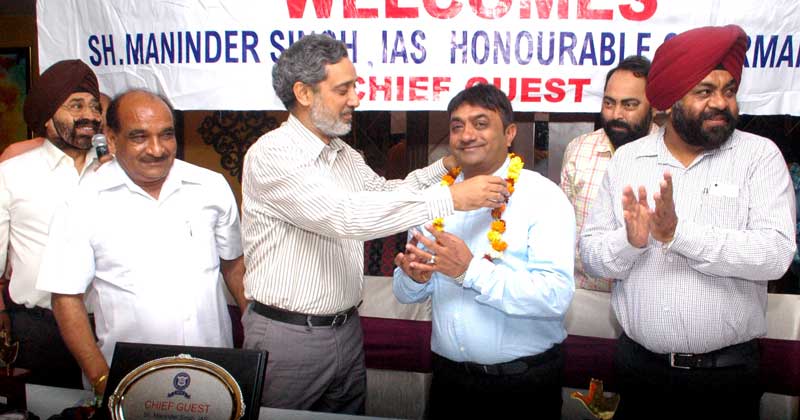 On this date, only Sh. Raj kumar Pal (existing president) filed his nomination. On 19th March 2016 in AGM of Association, the Election Commissioners declared Sh. Raj Kumar Pal as President for 2016-17. During this, Sh. Maninder Singh IAS, Chairman, Chandigarh Housing Board presided over the meeting as Chief Guest. After being elected as president, Sh. Raj Kumar Pal announced Sh. Madan Lal Garg chairman, Sh. Gurnam singh Saini Gen. Secy., Sh. Kuljit Singh Mintoo Fin. Secy., Sh. R.S. Sohal Organising Secy., B.K. Sharma Sr. Vice President, Sh. Naresh Kumar Thaman as Chief Spokesman, Sh. Jaskarn Bir Singh Sandhu as Chief Advisor, Sh. H.S. Monga as Advisor, and Sh. Bhupinder Sharma as Spokesman. All these Sr. office bearers were also on the same post in 2015-16.
During press conference Sh. Raj Kumar Pal informed about the activates and achievements of the Association during 2015-16. Sh. Raj Kumar Pal also thanked the hon'ble Chairman CHB for the work done in the interest of general public and requested him to reduce the high transfer fee of Flats. Hon'ble Chairman CHB fecilitated Sh. Pal on being elected president, by garlanding him.
Hon'ble chief guest also presented momentous to the founder members and executive members of the association. In the end, Sh. Raj Kumar Pal thanked the house and assured that he and his team will try to work more strongly for the betterment of the Association.