'Ms & Mrs. Punjab-Discover Yourself 2019' pageant gets rolling:  In an endeavour to provide an opportunity to young girls and married ladies of Punjab, to showcase their talent and excel in the world of fashion.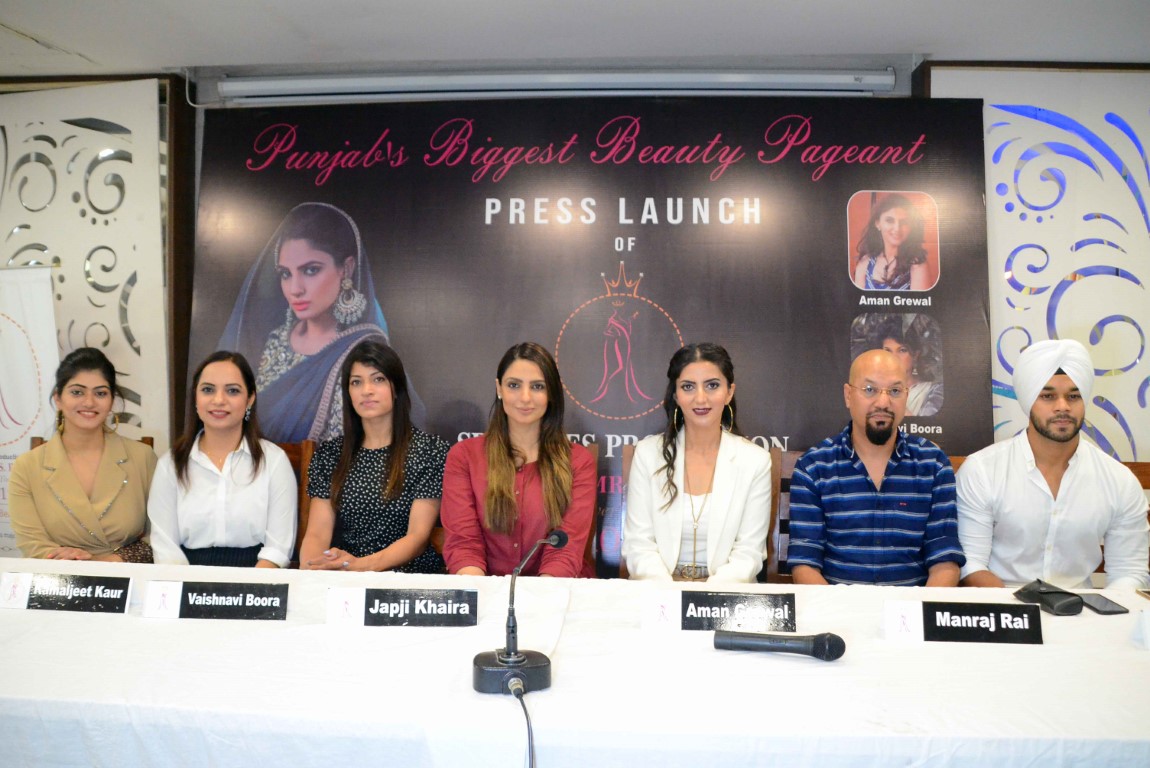 Sparkles Production is coming up with the 2nd season of 'Sparkles Production Ms & Mrs. Punjab – Discover yourself 2019'.
The one-of-a-kind beauty pageant was formally unveiled at a press conference by famous Punjabi film actress Japji Khaira, who is the face of the pageant. She was accompanied by Prabhjyot Kaur & Kamaljeet Kaur, Co-founders of Sparkles Production Miss & Mrs Punjab-Discover yourself' is the brainchild of this dynamic women duo. The press meet also saw participation of Aman Grewal, who has been Mrs. India Worldwide 2014, Vaishnavi Boora, a celebrity fitness coach & fitness model, who trains celebs like Jasmine Sandlas etc.  What's more, the celeb line up at the press conference which was held at Press Club here, also boasted of Gagan Chahal, a singer & model.
Japji Khaira, a renowned Punjabi Film Actress, who made her debut in Pollywood Industry after winning the title of 'Miss World Punjaban 2006 said, "  I am very privileged to part of the event, which is going to be organised on such a large scale across tricity & Punjab. The platform will provide a wonderful opportunity to young girls and married ladies to showcase their potential in front of the world."
She added, "I also started my career in the Punjabi Movie Industry after winning the title of Miss World Punjaban, which gave me great exposure to work in the industry. And I certainly believe that 'Miss & Mrs. Punjab – Discover yourself 2019' will provide the same exposure to each and every participant, which in turn will give wings to their dreams."
Speaking on the occasion, Prabhjyot Kaur said, "After getting an overwhelming response in Season 1, we are excited about unveiling formally, Season 2 of 'Miss & Mrs. Punjab – Discover yourself 2019'. Our sole aim is to provide a platform, where young girls and especially married ladies, who might have forgotten their dreams after marriage, can now showcase their talent."
Kamaljeet Kaur said, "We strongly believe that Punjab has a lot of talent but due to certain circumstances women have not been provided with the right platform to realize their dreams. But 'Ms & Mrs Punjab – Discover yourself 2019' am sure will unlock the doors of opportunities for young girls and married ladies."
She added, "The pageant is also associated with a cause, i.e., welfare of women and women empowerment. Home-makers can make a career for themselves in different fields in fashion industry. We as an organization will extend all support to such enterprising ladies. In fact some of the title winners from Season 1 are already doing good work in the entertainment industry."
The auditions of the pageant will be carried out in all major cities & colleges across Chandigarh and Punjab from the last of week of September 2019. The grooming session of finalists will be conducted by Aman Grewal, Vaishnavi Boora, & Gagan Chahal will hone the skills of participants holistically for the Grand Finale, which is going to be held on 24th December at Tagore Theatre, Sector 18, Chandigarh.
Those who are desirous of participating, can register themselves at www.sparklesproduction.in