MS University result for UG April 2017 examinations have been declared for selected courses. Manonmaniam Sundaranar University (MSU or MS University) declared the result for it's undergraduate programmes here on Friday, June 30. An official press note had earlier said that MS University result for UG April 2017 examinations will be declared on June 30. While the MS University declared the results timely, it's website www.msuniv.ac.in crashed and remained sluggish for hours, leaving students baffled and anxious to know their results.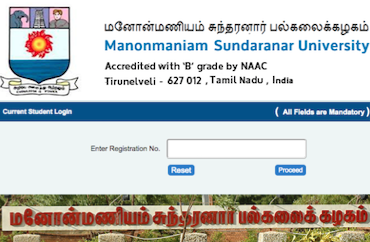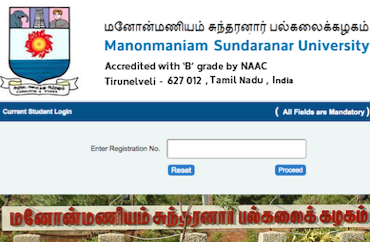 MS University possibly declared the results of some other UG courses but www.msuniv.ac.in is down since noon. But you can may check the website www.msuexamresult.in which is working fine and is official portal too.
Candidates may visit www.msuniv.ac.in to check their MS University result 2017 for April examinations. Candidate's university registration number will be required to access his/her MSU result. The University has also published the result at www.msuexamresult.in for students.
MSU, the public university located in Tirunelveli, Tamil Nadu, named after Tamil scholar/professor Manonmaniam Sundaram Pillai has over/under one lakh students enrolled to various undergraduate and postgraduate programmes in it's 102 affiliated colleges. These colleges come in the Tirunelveli, Thoothukudi and Kanyakumari districts of Tamil Nadu and offer courses currently in 24 departments including Arts, Languages, Engineering & Technology, and Sciences.
The April 2017 examinations in MS University had commenced from April 25 for UG courses such as Bachelor of Arts (B.A.), B.Sc., B.Com and B.B.A. while PG examinations had started from April 17.
Here are the MS University results declared so far:
MS University departments April 2017 exam results
PG April 2017 results
MS University UG result April 2017 for Bachelor of Commerce (B.Com).
The results for courses Bachelor of Science (B.Sc), B.A. and other degree courses' April 2017 exams still remain to be declared, going by the notice displayed at University website. The students would have to select the relevant examination result link to access the results. The results may be for both current as well as private students.
The Varsity is expected to announce the results of remaining programmes within a week or so and has not provided with the exact date of declaration.The declared results can be checked from here. We'll be updating the status here for the remaining programmes.